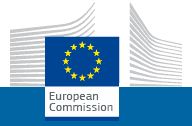 27-09-2016, 14:00–15:00 in Bern
Get First-Hand Information by the European Commission on Upcoming Funding Opportunities
Alison Imrie, European Commission Work Programme coordinator, will present background information on the 2017 calls of the Horizon 2020 Societal Challenge "Climate Action, Environment, Resource Efficiency and Raw Materials". Moreover, the Swiss National Contact Point (NCP) will explain how Euresearch can support you in ultimately submitting a competitive proposal, including information on the status of Switzerland.
Don't miss this chance to get first-hand information and answers to your questions directly from the European Commission without having to travel!
Further Information: