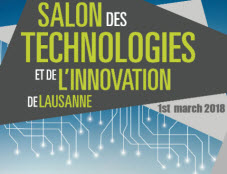 Located at the SwissTech Convention Center recently inaugurated on the EPFL campus, the salon offers 3700 m2 of space for its exhibitors and desires to be accessible to broad public. It is an opportunity for exchanges and horizons between exhibitors, speakers and visitors on the theme of new technologies. The 10'536 students on campus constitute first hand public for the exhibitors.
Strong, from the success of the last three editions, the STIL will come back on the 1st of March, 2018 with more ambitious objectives. It will expose recent breakthroughs answering current challenges.
The purpose of the day is to give an interesting and playful way for the visitors to discover the technologies of the different laboratories and enterprises.
Our salon is a space for dialogue and exchanges around innovation and technology, and also entrepreneurship. The STIL is opened to all public and allows to unite engineers, technologiy enthusiasts, and people simply eager to learn more on technological advances. Its exceptional location will reunite numerous curious people who came specially to discover to technological tendencies of the coming years.