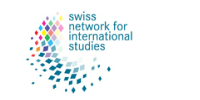 The Swiss Network for International Studies (SNIS) launches its Call for Projects
The SNIS offers project grants for pluri-disciplinary research teams. The project
grants run for two years and range from 100'000 to 300'000 Swiss Francs. Eligible
institutions of Swiss higher education and research (http://bit.ly/T01piQ) can submit
project proposals that qualify as:
International studies: Projects carry out research on global issues that are either
relevant in the international arena or at least concern multiple countries simultaneously.
The SNIS considers that International Studies deal not only with the analysis of
international relations, but also with political, economic, social, environmental, legal,
health, scientific and development issues.
Pluri-disciplinary studies: Projects are pluri-disciplinary and they can include
disciplines from the social and natural sciences.
In addition to the above criteria, the SNIS strongly encourages collaborations
with International Organizations and NGOs.
Thematically, submissions can be made in one of the following two sections:
• General call: In any area of international studies as defined above.
• Special theme 2015: Marrying development and …
— … affordable & sustainable energy
— … protection & sustainable use of terrestial and maritime ecosystems
— … safe & inclusive cities
— … sustainable production & consumption regimes
— … cybersecurity
Deadline for the submission of the proposals 22nd January 2015
Further Information: