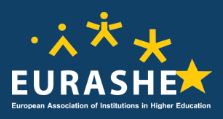 EURASHE is organising the Applied RDI –making innovation happen! – seminar in cooperation with Foundation Saint Paul Andalusia CEU on 26-27 September 2016 in Seville (Spain). The seminar focuses on two specific applied RDI topics: student engagement in applied research activities and market-based research.
EURASHE is the European Association of Institutions in Higher Education that offer professionally orientated programmes and are engaged in applied research within the Bologna cycles. EURASHE represents universities of applied sciences and university colleges; other members of EURASHE are national and sectorial associations of higher education institutions, and other individual institutions, such as universities.
The speakers will present (e.g.) the following topics and perspectives to applied RDI:
How to involve and engage students in practical research activities (through crowdsourcing, entrepreneurship and recognising innovation capacities)
The on-going development work on professional/industrial PhDs
UAS-business cooperation (through technology transfer, innovation vouchers, tailored research for SMEs)
The seminar brings together experts and researchers to network and to discuss the development of the topics at their respective institutions. Both days of the seminar also include panel discussions.
More information, as well as registrations are available on the event website.