Die Finanzbranche ist durch die Digitalisierung grossen Veränderungen ausgesetzt. Viele Finanzinstitute reagieren auf diese Entwicklung oft mit Massnahmen, welche sich auf einzelne Schnittstellen beschränken. Anders die Braingroup: gemeinsam mit dem Institut für Wealth und Asset Management und dem Institut für Marketing Management der ZHAW verfolgt das FinTech-Unternehmen einen gesamtheitlichen Prozess, um die Interaktion mit ihrem Finanzplanungstool zu transformieren.
Die Braingroup ist ein FinTech-Unternehmen aus Zürich, welches Banken und Versicherungen bei der digitalen Transformation von Beratungs- und Verkaufsprozessen unterstützt.
Bereits in der Vergangenheit, hat die Braingroup diverse Finanzplanungstools entwickelt, welche primär für die Bedienung durch einen Experten konzipiert wurden. Die Braingroup wollte nun das Bedürfnis von Retail-Kunden nach einem Online-Finanzplanungstool, in welchem die Finanzen individuell geplant werden können, erfüllen.
Wie auf untenstehender Abbildung dargestellt, soll der Retail-Kunde durch das Finanzplanungstool «Omnium Planify» befähigt werden, seine Finanzen über mehrere Lebensabschnitte zu verwalten. Verschiedene Online-Rechner und Informationen zu Finanzthemen ermöglichen es dem Anwender, eigene Finanzen weitgehend selbstständig zu planen. Die Unterstützung durch Experten erfolgt dann dort, wo komplexe Fragestellungen dediziertes Fachwissen verlangen.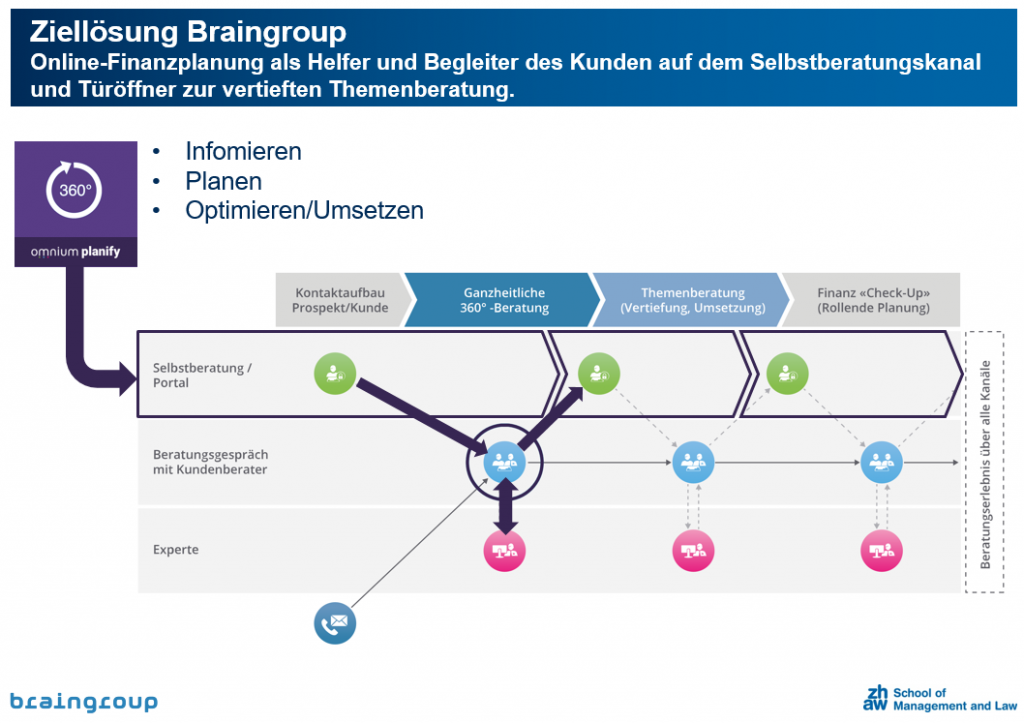 Zusammenarbeit mit der ZHAW
Um herauszufinden, wie «Omnium Planify» für Retail-Kunden aufgebaut werden und einen Mehrwert erzielen kann, wurden Experten des Institutes für Wealth and Asset Management sowie des Instituts für Marketing Management der ZHAW School of Management and Law herangezogen. Die ZHAW unterstützte Braingroup mit empirischer Nutzerforschung und bei der Erarbeitung und dem Testen der Anwender-Oberfläche. Unterstützt wurde das Projekt weiter auch durch die eidgenössische Innovationsförderung «Innosuisse» und zwei Praxispartnern, der SwissLife und der Berner Kantonalbank.
Mittels Design Thinking zum Prototypen
Durch Desk-Research, repräsentative Umfragen und Tiefeninterviews mit der Zielgruppe gewann man Erkenntnis darüber, welche Lebensereignisse für die Finanzplanung relevant sind und bei welchen Planungsschritten die Anwender Hilfe benötigen. Die Erkenntnisse wurden in einem «Live-Event-Modell» zusammengefasst. In einer für die Deutschschweiz repräsentativen Umfrage konnte herausgefunden werden, dass 62% der Befragten für finanzielle Sicherheit und 56% für Ferien sparen. Um Nutzer möglichst schnell in die Finanzplanung einzuführen, wurden diese Ereignisse als Einstieg in die Finanzplanung gewählt.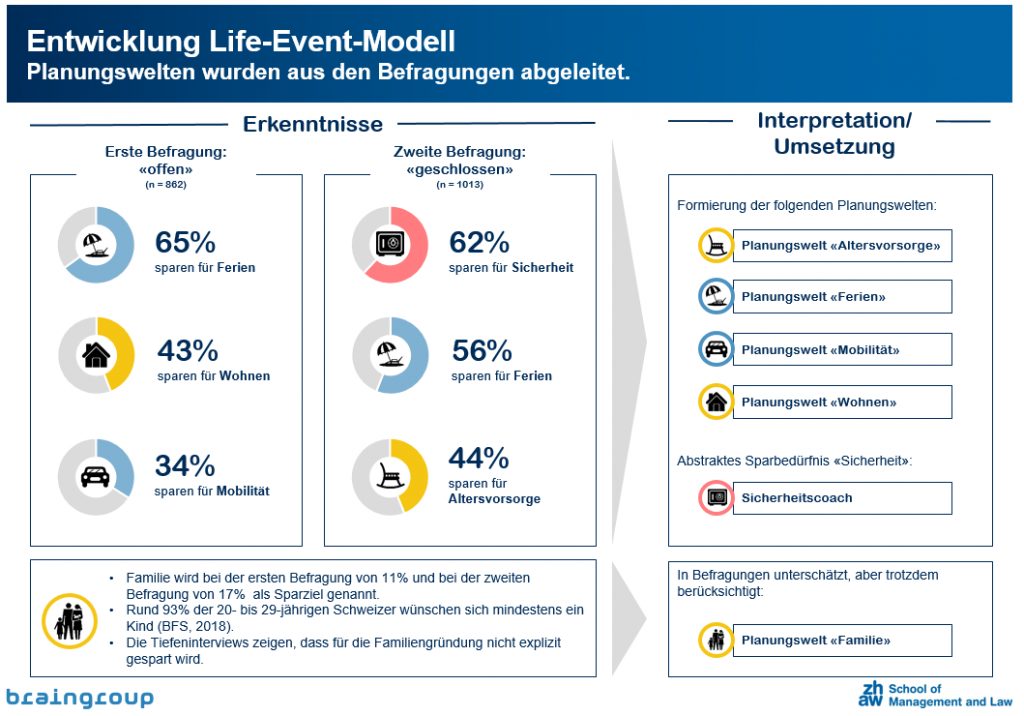 Mithilfe der ausgewerteten Resultate aus den ersten Phasen wurden Prototypen mittels Design Thinking in iterativen Design- und Test-Zyklen für das Finanzplanungstool erstellt. Aus diesen Zyklen ist nun ein grafischer Prototyp entstanden, welcher durch die Entwickler von Braingroup programmiert wird.
Spartipps für den Alltag
Während den empirischen Untersuchungen wurde das Bedürfnis nach Spartipps und finanziellen Hilfestellungen identifiziert und für die Online-Finanzplanung aufbereitet. An einigen dieser Spartipps möchten wir Sie natürlich teilhaben lassen:
Haben Sie mehrere Konten für verschiedene Sparziele (z.B. Steuern oder Ferien) eröffnet?
Sie können dadurch Ihre Selbstkontrolle erhöhen. Nutzen Sie die Sparkonten (ausser in Notfällen) nur für den bestimmten Zweck.
Haben Sie sich in letzter Zeit einen Überblick über Ihre diversen Abos verschafft? Ein Überblick kann aufzeigen, welche Abos inzwischen nicht mehr relevant sind. Kündigen Sie nicht genutzte Abos, da diese wiederkehrende Kosten verursachen.
Haben Sie einen genauen Überblick über Ihre Einnahmen und Ausgaben und ein Budget erstellt? Es gibt online wie auch offline diverse Stellen, welche Sie bei der Erstellung eines Budgets unterstützen. Sie finden auf verschiedenen Websites (Budgetberatung: http://www.budgetberatung.ch; Schuldenberatung Kanton Zürich: www.schulden-zh.ch) Beispielbudgets, detaillierte Spartipps und weitere nützliche Informationen.
Zusammenarbeit mit der ZHAW
Möchten auch Sie den durch die Digitalisierung veränderten Ansprüchen Ihrer Zielgruppe gerecht werden und Ihr Geschäftsmodell erweitern oder gar verändern? Die Zusammenarbeit mit der ZHAW ermöglicht Ihnen, mittels aktuellen wissenschaftlichen Erkenntnissen die Herausforderungen in der Praxis zu meistern.
Rafael Domeisen und Selina Grimm, beide Mitarbeiter der ZHAW, nehmen sich gerne Zeit, um mit Ihnen über Möglichkeiten einer Zusammenarbeit zu sprechen.
Schlagwörter:
Berner Kantonalbank
,
Braingroup
,
Design Thinking
,
Digitalisierung
,
Finanzbranche
,
Finanzinstitute
,
Finanzplanungstool
,
Finanzunternehmen
,
Fintech
,
Herausforderung
,
IMM
,
Innosuisse
,
Institut für Marketing Management
,
Institut für Wealth and Asset Management
,
Prototyp
,
Rafael Domeisen
,
Selina Grimm
,
Spartipps
,
SwissLife
,
Umfrage
,
zhaw
,
ZHAW School of Management and Law
,
Zusammenarbeit