Neben den CAS, können in der Weiterbildung auch diverse Master of Advanced Studies (MAS) absolviert werden. Auch das Institut für Marketing Management hat solche MAS im Angebot und konnte dieses Jahr weitere erfolgreiche Abschlüsse vermelden.
Ein CAS dauert durchschnittlich etwa drei bis vier Monate, ein Master of Advanced Studies hat eine etwas längere Studiendauer. Hier ist man mindestens zweieinhalb Jahre unterwegs und schliesst dann mit einer Masterarbeit ab. Beim Master of Advanced Studies in Marketing Management und beim Master of Advanced Studies in Customer Relationship Management konnten dieses Jahr 20 Absolventinnen und Absolventen ihren MAS erfolgreich abschliessen. Die Diplomfeier war der krönende Abschluss nach einer langen Zeit voller intensiver Arbeit.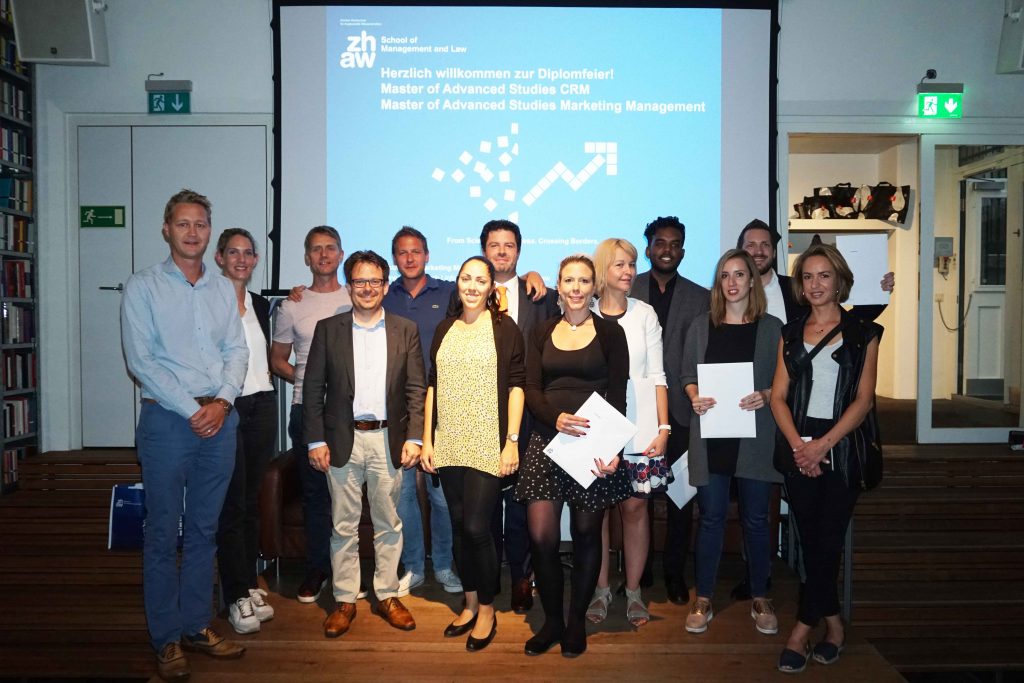 Stolze Studienleiter und ein besonderer Preis
Die Studienleiter Rolf Rellstab und Prof. Dr. Frank Hannich waren ebenfalls zufrieden und stolz auf die Abschlüsse. "Wir freuen uns über jedes einzelne Diplom, das wir vergeben können. Schliesslich begleiten wir die Studierenden während dieser Zeit und sehen, welche Entwicklungen sie durchmachen. Wir sind stolz auf diese Leistung, die sie erbracht haben", meint etwa Rolf Rellstab. An der Diplomfeier war natürlich auch der Institutsleiter Prof. Dr. Brian Rüeger dabei. Er wies daraufhin, dass sie nun in die Reihen der Alumni eintreten dürfen und somit auch weiterhin mit der ZHAW verbunden bleiben. Bei der Diplomübergabe wurde insbesondere die Kreativität der Studierenden gewürdigt. Zum Teil waren gewisse Themen den Absolventen besonders nahe, wie z.B. das Behavioral Marketing, Augmented Reality oder Mobility Solutions.
Sophie Fauser begeisterte die Studienleitung und die Betreuer mit ihrer Arbeit zum Thema "Customer Experience bei Corporate Website – Die Gestaltung von User Interfaces zur Imageförderung" und gewann damit den Preis für die beste Masterarbeit.
Das Institut für Marketing Management gratuliert zu diesen Abschlüssen und wünscht allen weiterhin viel Erfolg.
https://weiterbildung.zhaw.ch/de/school-of-management-and-law/programm/mas-marketing-management.html
https://weiterbildung.zhaw.ch/de/school-of-management-and-law/programm/mas-customer-relationship-management.html
Schlagwörter:
Absolventen
,
Allgemein
,
Brien Rüeger
,
CAS
,
CRM
,
Customer Relationship Management
,
Diplome
,
Diplomfeier
,
Frank Hannich
,
IMM
,
Institut für Marketing Management
,
Marketing Management
,
MAS
,
MAS Customer Relationship Management
,
MAS Marketing Management
,
Masterarbeit
,
Rolf Rellstab
,
Weiterbildung Alumni
,
Zukunft