Von Petra Meier
Brandaktuell und vielversprechend: Augmented Reality (AR). Innovationsgrössen wie Google, Apple und Ikea widmen sich dem Thema, auf Messen präsentieren Industrieunternehmen ihre neusten Maschinen virtuell und Agenturen speziell für diese Thematik werden gegründet. Nicht zu vergessen der grosse Hype 2017 um das Spiel «Pokémon Go». Doch welchen Mehrwert bietet die neue Technik tatsächlich? Ist AR eine futuristische Blase oder fixer Bestandteil zukünftiger Marketing- und Kommunikationskonzepte? Wir fragen bei David Hugi, Leiter Marketing & Kommunikation im Raiffeisen Unternehmerzentrum AG (RUZ) nach.
David, im RUZ wird Augmented Reality seit Januar 2018 in der Kommunikation eingesetzt. Was ist dein Zwischenfazit?
Wir haben uns vom Hype anstecken lassen, sind immer noch sehr begeistert und entdecken immer wieder neue Möglichkeiten. Jedoch ist es aktuell bei uns noch eine Spielerei. Wie wir als klassisches Beratungsgeschäft mit Augmented Reality einen Mehrwert für unsere Kunden schaffen können, ist nach wie vor eine offene Frage. Doch solche Herausforderungen suchen wir. Bei uns ist es enorm wichtig, Trends aus der Marketing & Kommunikationswelt auszuprobieren, daraus zu lernen und dann unsere Erfahrungen in der Begleitung an unsere Kunden weiterzugeben.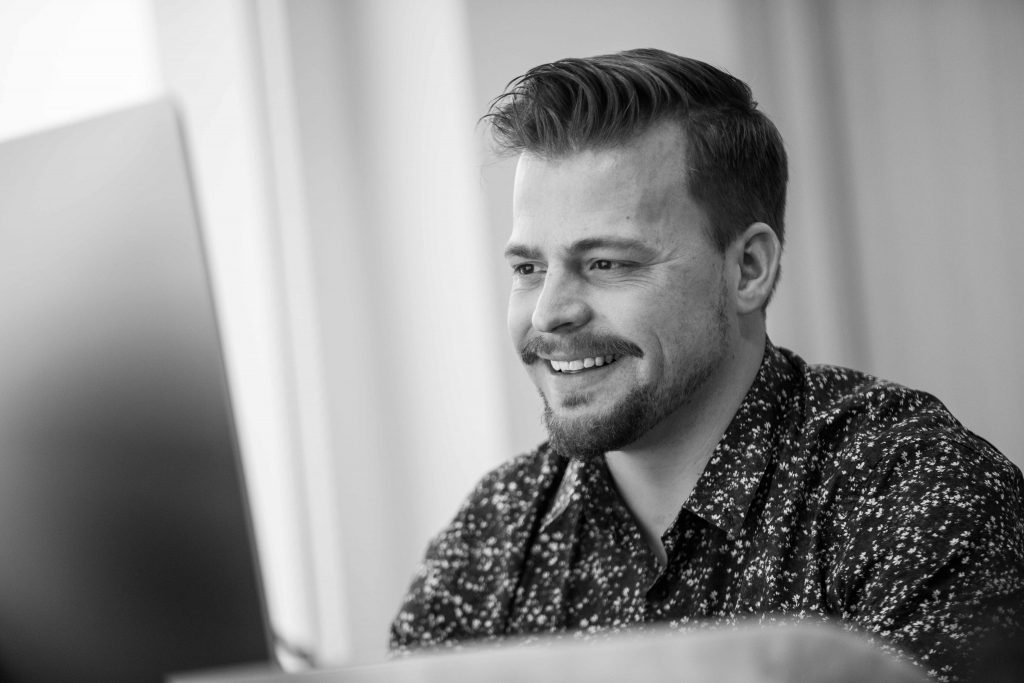 Tim Cook, CEO von Apple, sagte kürzlich zu Augmented Reality: «I don't think there is any sector or industry that will be untouched by AR». Was hältst du davon?
Jede neue Technologie erlebt früher oder später einmal einen Höhepunkt. Es folgt das «Tal der Desillusionierung», weil die Erwartungen der Leute dann doch nicht 100% erfüllt werden. Dann dauert es einen Moment, bis der tatsächliche Nutzen neuer Technologien für Geschäftsmodelle erkannt wird. Das zeigt auch der berühmte Hype Cycle von Gartner. Aber ich gebe Tim Cook Recht, Augmented Reality hat enormes Potenzial. Besonders im Industriesektor.
Warum im Industriesektor?
Ich denke beispielsweise an die Hannover Messe 2018, den globalen Hotspot für Industrie 4.0. Da haben unzählige Firmen mit der AR-Technik grosse Maschinen auf weisse Flächen projiziert und so die Maschine für Besucher in Echtgrösse erlebbar machen können. Oder zusätzliche Objektinformationen wie Seriennummer, Wartungstermine etc. können eingeblendet werden. Über die direkte Verbindung zum Dokumenten Management-System ist auch die Darstellung von bspw. Reparaturanweisungen möglich.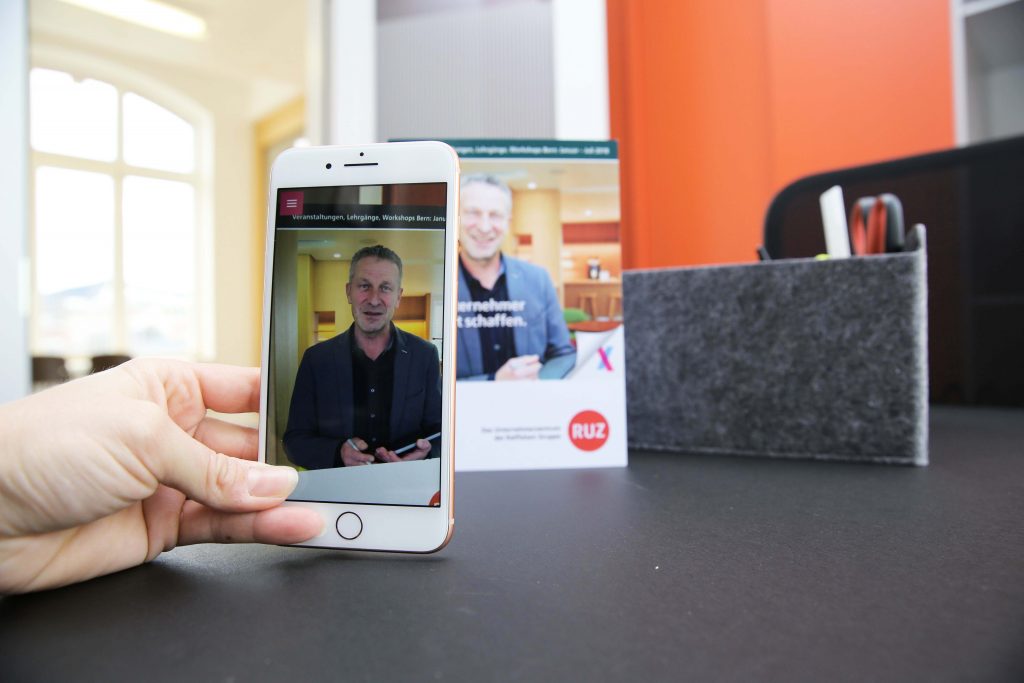 Die Zielgruppe des RUZ sind Unternehmerinnen und Unternehmer. Wie schätzt du den Einsatz von AR im Marketing für KMU in der Schweiz ein?
Das ist sehr branchenabhängig. Grundsätzlich sehe ich klaren Mehrwert mit dem Einsatz im Messebereich. Oder im Tourismusbereich mit dem Prinzip von «Pokémon Go». Bei Handwerksbetrieben bin ich schon eher kritisch. Denn der Faktor Mensch kann wie bei allen Technologien nicht ersetzt werden. Vor Allem Emotionen und die haptischen Fähigkeiten des Menschen sind unersetzlich. Ich rate einem KMU aber einfach auszuprobieren. Und habe für alle Trends aus der Marketing – und Kommunikationswelt eine klare Meinung: erfolgreiches Marketing basiert nicht auf entweder oder. Sondern lebt davon, die verschiedenen Möglichkeiten der heutigen Zeit schlüssig miteinander zu kombinieren.
https://www.ruz.ch/ruz-schweiz.html
https://www.facebook.com/ruz2014
https://www.linkedin.com/company/raiffeisen-unternehmerzentrum-ruz/
Erläuterung zu den Begrifflichkeiten:
Augmented Reality (AR): Nutzer sieht die reale Welt und erhält über ein Gerät (Smartphone, Tablet, Headupdisplay, Holographiesystem) zusätzliche Informationen.
Virtual Reality (VR): Nutzer nimmt reale Welt nicht mehr wahr und kann die virtuelle Welt nur mit einer VR-Brille erleben.
Mixed Reality (MR): analog AR, aber Inhalte können zwischen realer und virtueller Welt interagieren
Über die Autorin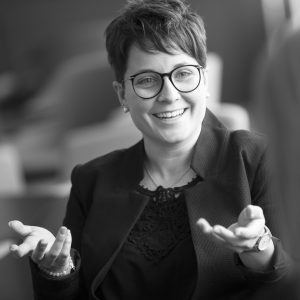 Petra Meier hat eine Leidenschaft für Bild & Video und ist fasziniert von deren Einsatz in der Kommunikation. Die junge Kommunikatorin arbeitet seit rund drei Jahren im Raiffeisen Unternehmerzentrum AG in Marketing & Kommunikation. Das RUZ ist die unternehmerische Initiative der Raiffeisen Gruppe und begleitet Unternehmerinnen und Unternehmer von der Gründung bis zur Nachfolge. Petra Meier trägt den Titel «Bachelor of Science ZFH in Kommunikation» und ist aktuelle Teilnehmerin vom CAS Marketing- & Corporate Communications an der ZHAW.
Schlagwörter:
Apple
,
AR
,
Augmented Reality
,
CAS Marketing- & Corporate Communications
,
CAS MCC
,
David Hugi
,
google
,
Hannover Messe
,
Hype Cycle Gartner
,
Ikea
,
IMM
,
Institut für Marketing Management
,
KMU Schweiz
,
Kommunikation
,
Marketing
,
Petra Meier
,
Pokémon Go
,
Raiffeisen
,
Raiffeisen Unternehmerzentrum RUZ AG
,
Tim Cook
,
VR
,
Zukunft