Marketing und Kommunikation wird auch für kleinere Non-Profit-Organisationen immer wichtiger. Der neue CAS Marketing und Kommunikation in NPO der ZHAW verbindet diese zwei Welten und bietet den Teilnehmenden genau das, was sie benötigen. Der CAS richtet sich an Allrounder, die (noch) keine Kommunikations- oder Marketingexperten sind.
Das Marketing und die Kommunikation von Non-Profit-Organisationen lässt sich nicht einfach von privatwirtschaftlichen Organisationen übernehmen. Es unterscheidet sich in vielerlei Hinsicht und weist seine eigenen Besonderheiten auf. Der Erfolg einer Non-Profit-Organisation drückt sich vor allem an der Beziehung zu den verschiedenen Anspruchsgruppen aus. Um langfristig im Wettbewerb um Spendengelder, aber auch um Freiwillige zu bestehen und ihren Auftrag erfüllen zu können, rückt das Marketing von Non-Profit-Organisationen immer weiter in den Vordergrund. Hierzu braucht es eine Weiterbildung, die sich an Allrounder richtet, die kein Marketing- oder Kommunikationsstudium haben. Die ZHAW schliesst mit diesem neuen Angebot eine Lücke und bietet eine optimale Mischung an Theorie und Praxis.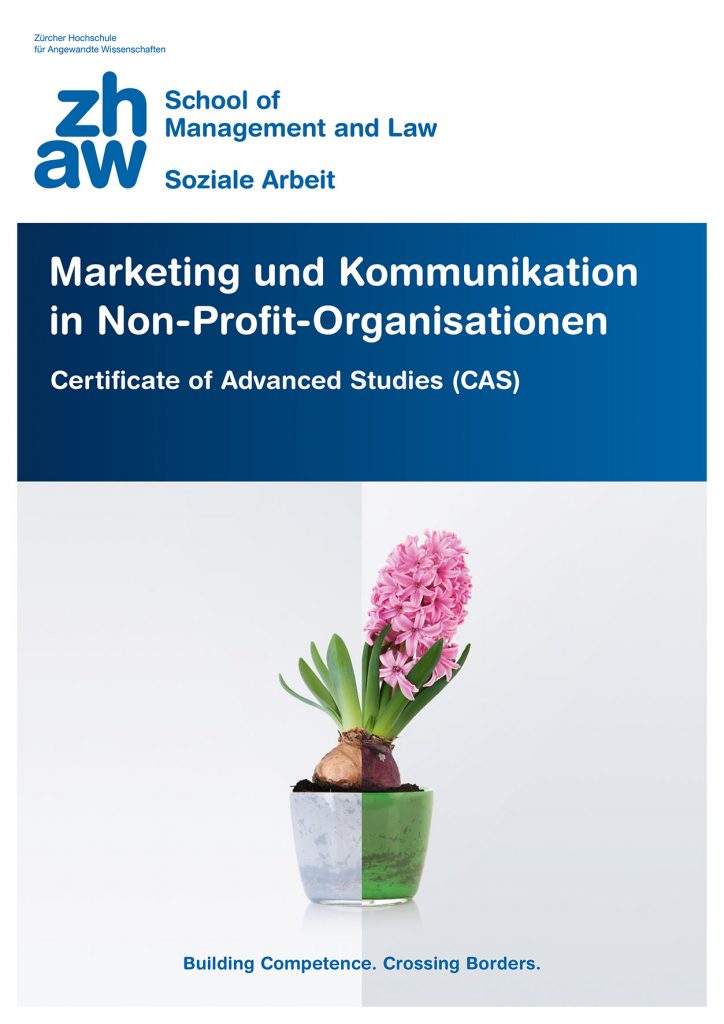 Die Zukunft in der Tasche
Der CAS gliedert sich in zwei Module. Modul 1 befasst sich mit den theoretischen Grundlagen wie dem strategischen und operativen Marketing, aber auch dem Campaigning, Influencing und dem Digitalen Marketing. Modul 2 wendet das Gelernte in praktischen Lektionen gezielt an. Vom Umgang mit Bildern, über Medientraining und Krisenkommunikation bis hin zu den rechtlichen Rahmenbedingungen ist hier alles dabei. "Eine bunte Mischung, die aber essenziell für die Teilnehmenden ist. So haben sie die wichtigsten Kompetenzen in kompakter Form", meinen die Studiengangleiterinnen Dr. Adrienne Suvada und Dr. Larissa M. Sundermann. Wie von der ZHAW gewohnt, sind auch bei diesem CAS erfahrene Dozenten an Bord, die ihre praktischen Erfahrungen aus dem Non-Profit-Bereich einbringen.
Verbindung von zwei Departementen
Konzipiert und realisiert wurde dieser CAS von zwei ZHAW Instituten aus zwei Departementen, einerseits vom Institut für Sozialmanagement (ZHAW Soziale Arbeit) und andererseits vom Institut für Marketing Management (ZHAW School of Management and Law). Somit wird die Fachkompetenz beider Institute zu einem einzigartigen Produkt gebündelt. Der Start des CAS ist am 26. Oktober 2018 und der Durchführungsort ist das Toni-Areal in Zürich.
Kontakt
ZHAW School of Management and Law, Institut für Marketing Management, Dr. Adrienne Suvada, Telefon +41 58 934 45 59, E-Mail: adrienne.suvada@zhaw.ch
ZHAW Soziale Arbeit, Institut für Sozialmanagement, Dr. Larissa M. Sundermann, Telefon +41 58 934 85 12, E-Mail: larissa.sundermann@zhaw.ch
https://weiterbildung.zhaw.ch/de/school-of-management-and-law/programm/cas-marketing-kommunikation-in-npo.html
Schlagwörter:
Allrounder
,
Campaigning
,
CAS Marketing & Kommunikation in NPO
,
Digitales Marketing
,
Dozenten
,
Fachkompetenz
,
Fundraising
,
IMM
,
Influencing
,
Institut für Marketing Management
,
Institut für Sozialmanagement
,
Kommunikation
,
Krisenkommunikation
,
Marke-ting
,
Medientraining
,
Module
,
Non-Profit-Organisationen
,
NPO
,
Praxis
,
School of Management and Law
,
Soziale Arbeit
,
Strategisches Marketing
,
Theorie
,
Toni-Areal
,
Weiterbildung
,
zhaw
,
Zürich