Von Patrick Pfenninger
In jeder Situation gibt es Industrien und Firmen, die profitieren. Wenn eine Herausforderung das Gesundheitswesen trifft, so ermöglicht das im Bereich der Life Science, Diagnostik, Health Care etc. auch immer Möglichkeiten der Weiterentwicklung. Kurz nach dem Ausbruch von Covid-19 haben Firmen und Forschungsinstitutionen rund um den Globus begonnen, nach Impfstoffen oder Behandlungsmöglichkeiten zu suchen. Die dafür benötigten Instrumente stehen vielerorts bereit; andernorts müssen diese erst zum Teil entwickelt und beschafft werden. Analog der Weltöffentlichkeit wurden auch die Entwicklungs- und Kommunikationsabteilungen der Life Science Supplier Industrie vom Auftreten und der Heftigkeit des SARS-CoV2 überrascht.
Als Reaktion darauf wurden Produktionen hochgefahren, Launch-Aktivitäten von nicht relevanten Technologien verschoben und neue Innovationen, die bei der Bewältigung der Krise helfen können, priorisiert. So hat beispielsweise die in Ems ansässige Hamilton Medical, deren Kerngeschäft die Entwicklung und Herstellung von Beatmungsgeräten ist, ihre Schichten verlängert, den Einkauf intensiviert und Lagerkapazitäten geschaffen.
Die Schwesterfirma Hamilton Bonaduz AG hat in ihrer Robotiksparte die Vermarktungsanstrengungen für Produkte, die bei der Diagnostik des COVID-19 helfen können intensiviert. Ein geplanter globaler Launch einer Schlüsseltechnologie, welche die COVID-19 Thematik nicht unmittelbar unterstützen kann, wurde auf Herbst verschoben.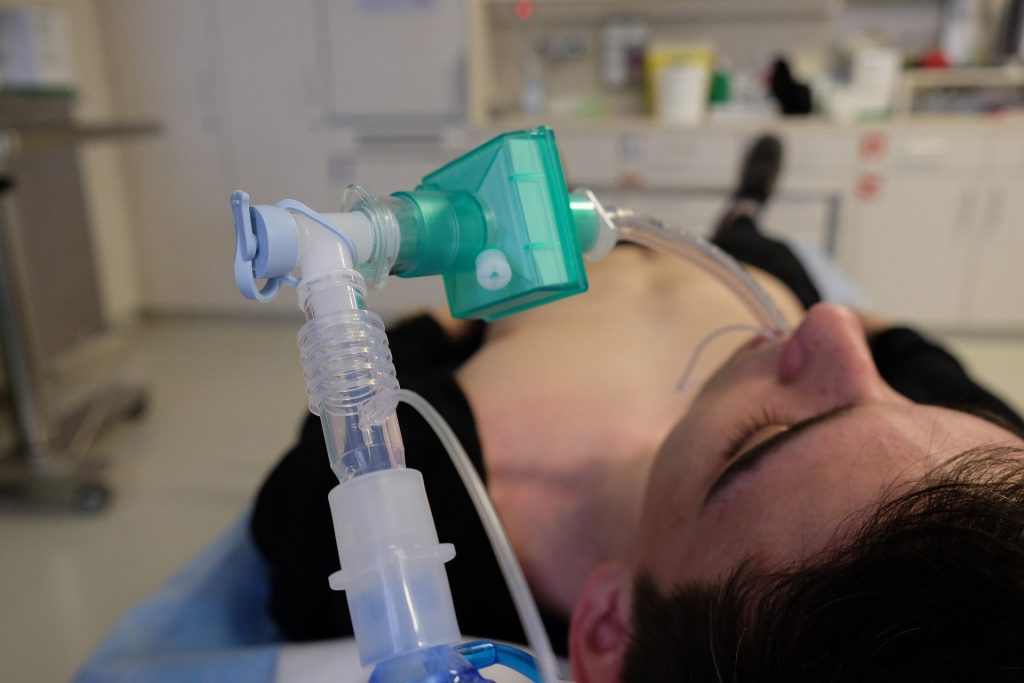 Veränderte Kommunikation
Eine besondere Herausforderung dabei ist die Kommunikation und die Tonalität der Publikationen. Viele der Marktteilnehmer in der Life Science Industrie profitieren zwar von der Krise, tun aber ihr Möglichstes um Leiden zu lindern, Leben zu verlängern und die Forschung nach Medikamenten und Impfstoffen zu unterstützen. Vor diesem Hintergrund hat sich die Sprache der Kommunikation verändert. Vermehrt trifft man auf Begriffe wie "aid public health", "committed to scientific research", "proud to support" oder "continued efforts to fight COVID-19" an. Bereits vor dieser aktuellen Situation wurde offensive Kommunikation im B2B eher zurückhaltend eingesetzt, doch war diese stärker von technischen Inhalten und der selbstbewussten Präsentation von Produkten, Features und Benefits geprägt.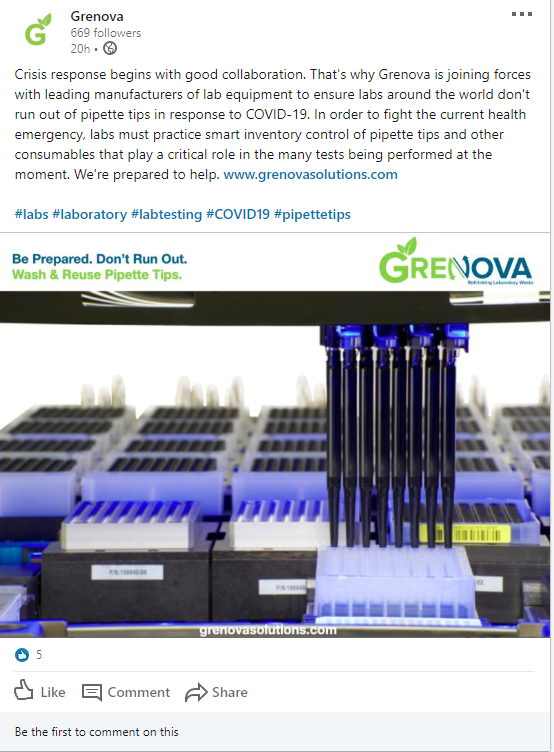 Natürlich gab es schon vor COVID-19 Kollaborationen zwischen Industrie und Wissenschaft, die auch in der Marketing-Kommunikation beschrieben wurden, dennoch ist die aktuelle Veränderung der Marketingsprache für den aufmerksamen Betrachter augenscheinlich. Man möchte Hand bieten, das Problem zu lösen und nicht in Verdacht geraten, die Situation auszunutzen zu wollen, obschon handfeste geschäftliche Interessen durchaus bestehen.
Dr. Jörg Katzenberger, Teamleiter Marketing Kommunikation Hamilton Bonaduz sagt dazu: "Jede und jeder in unserem Team fühlt mit der Öffentlichkeit mit und wir geben alle unser Bestes, um unsere Kunden bei der Bekämpfung dieser Krise bestmöglich zu unterstützen, dass der erhöhte Bedarf an medizinischem Gerät für unsere Firma positiv ist, steht dabei nicht im Vordergrund. Dementsprechend gestalten wir auch unsere Kommunikationsmassnahmen".
COVID-19 steht im Vordergrund
Ein anderer grosser Player in diesem Markt ist Tecan aus Männedorf ZH, der ebenfalls relativ früh auf die Krise reagiert hat. Bereits Mitte März wurde berichtet, dass man sowohl chinesischen als auch südkoreanischen Herstellern von entsprechenden Tests gegen COVID-19 mit Automationsplattformen helfen konnte aber auch, dass die Pandemie eine Herausforderung für andere Geschäftsbereiche darstellt. Bezüglich der Kommunikation, liess sich auch bei Tecan ein Wandel feststellen; so wurden auf der Firmen-Website als auch auf Branchenportalen Aktivitäten rund um COVID-19 thematisiert. Dabei rückten Kollaborationen und Unterstützung bei der Bekämpfung der Krise verstärkt in den Fokus.
Martin Brändle, Senior Vice President, Corporate Communications & IR sagt dazu: "Die Pandemie ist weltweit eine riesige Herausforderung. Schnelles Testen der Bevölkerung ist entscheidend bei der Bekämpfung dieser Krise. Wir unterstützen zahlreiche Kunden mit Automationslösungen für die Abarbeitung dieser Tests in den Labors. Auch bei der Erforschung möglicher Therapieansätze kommen unsere Produkte zum Einsatz. In der Kommunikation stellen wir daher vor allem diese praktischen Kundenbeispiele in den Vordergrund."
Es bleibt zu hoffen, dass mit Hilfe von Wissenschaft und Technologie baldmöglichst eine Lösung für diese Krise gefunden wird und die Menschheit in absehbarer Zeit zu den eigentlichen Plänen für 2020 zurückkehren kann.
Über den Autor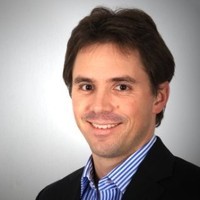 Patrick Pfenninger ist Senior Product Manager Microlab VANTAGE bei der Hamilton Bonaduz AG und absolviert aktuell bei der ZHAW den CAS Marketing- & Corporate Communications.