Von Gabriella Jetter
Schaffhausen ist mit rund 35'000 Einwohnern in Dieter Wiesmann's Lied richtig beschrieben, nämlich als "bloss e chliini Stadt". Der Hauptort des gleichnamigen Kantons belegt im Schweizerischen Ranking bezüglich Lifestyle und place to be wohl keinen Podestplatz. Die Munotstadt braucht keinen Glamour. Oder doch?
Digitalisierung in denkmalgeschützter Umgebung: eine perfekte Symbiose
Was hat digitale Transformation, personalisierter Service und Nachhaltigkeit in einem Friseurladen zu suchen? Haare wachsen immer. Dieser natürliche Prozess zwingt uns folglich regelmässig, den Gang zum Friseur anzutreten. Die Kundenakquise ist demnach nicht zwingend als prioritär zu betrachten. Für die Schaffhauser soll es in erster Linie einfach und preiswert sein. Praktisch, dass das wenige Kilometer entfernte Deutschland mit günstigen Preisen lockt. Trotz dieser Voraussetzungen eröffnete vor rund vier Jahren ein Hairsalon, in dem mehr als nur Schneiden, Waschen und Föhnen angeboten wird. Im knapp 300jährigen "Haus zur Ziegelburg" befindet sich das Casa Organica Terranova Hairsalon, Spa & Café. Ein Coiffeurstudio mit einem eigenen Marketingkonzept. Für grössere Orte wie Winterthur oder Zürich nichts Spektakuläres. Für Schaffhausen, das eher für die 300 Erker als für innovative Geschäftsmodelle bekannt ist, einzigartig.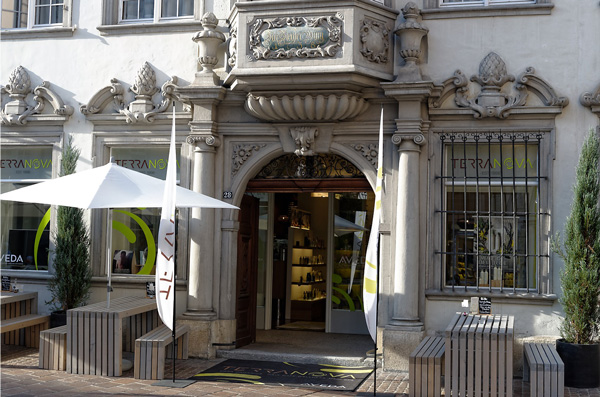 Passend zur heutigen Zeit ist der Termin mit wenigen Klicks online gebucht. Vor Ort kommt anfänglich die Vermutung auf, einen Concept Store zu betreten. Nebst den klassischen Friseurutensilien befinden sich eine grosse Auswahl an Haarprodukten aus nachhaltiger Produktion in Tuben und Tiegeln, die aus 100% recycelten Materialien bestehen. Überall riecht es dezent nach Aveda Düften. Es ist ein Irrglaube anzunehmen, hier ginge es ausschliesslich um Haarpflege. Das Hairlebnis in der Casa Terranova wird mit den zusätzlich zur Verfügung stehenden Masseuren, Visagisten, Coloristen und Kosmetikerinnen zum Event aufgewertet. Das Anbieten zahlreicher Services unter einem Dach spart Zeit. Das schätzen nicht nur Geschäftsleute.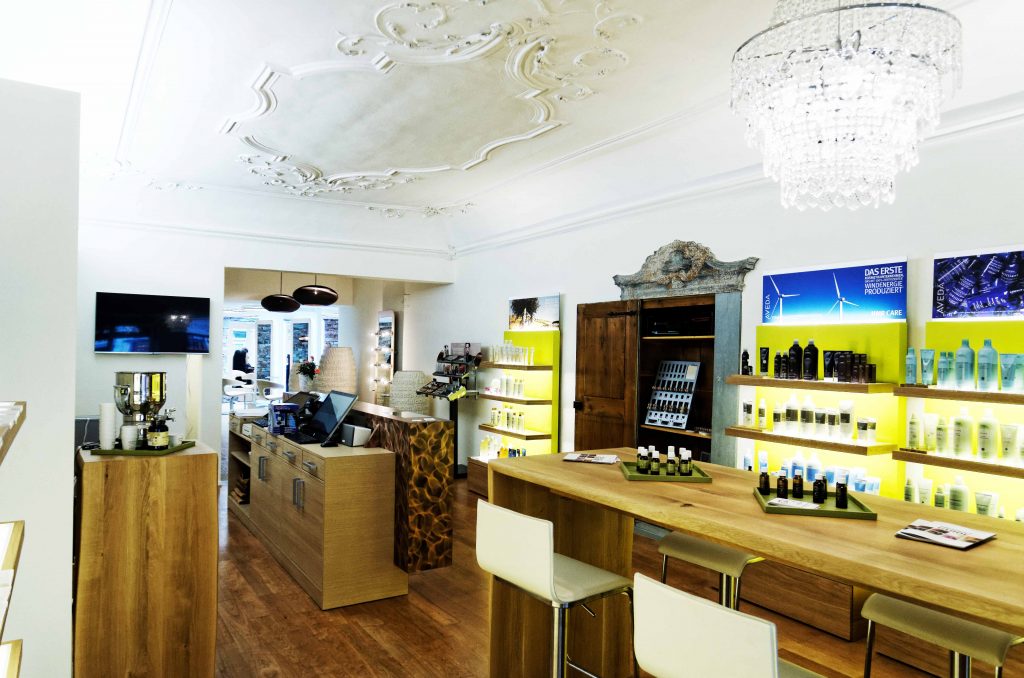 Auch für das leibliche Wohlbefinden ist gesorgt. Das integrierte Organic Café im Eingangsbereich bietet diverse selbstgemachte Biodrinks, Smoothies, sowie Tee- und Kaffeespezialitäten an. Die Zutaten sind aus ökologischem Anbau, denn das Einbinden der Natur ist nicht nur bei den Haarprodukten von zentraler Bedeutung. Generell ist die transparente Wertschöpfungskette wichtig. Die Konfektionierung auserwählter Produkte findet in einer Werkstatt für Menschen mit Behinderung statt. Regelmässige Workshops, wie das Mischen des eigenen Naturparfüms, oder Charity Events runden die Aktivitäten dieses Hairsalons ab. Die Anmeldung zu solchen Veranstaltungen erfolgt zeitgemäss über Social Media Kanäle.
Beim Umsetzen dieser Idee war zweifelsohne nicht nur die Handwerkskunst des Haareschneides zentral. Hier ist inmitten von denkmalgeschützten Gebäuden eine moderne Wohlfühloase entstanden. Immer wieder ergänzt der Geschäftsinhaber Giancarlo Terranova, das vielfältige Angebot mit neuen Ideen. Seit kurzem ist ein Chauffeurdienst verfügbar. Die Sorge, einen nahegelegenen Parkplatz zu finden, hat ein Ende. Und die Frage, ob wohl noch ein zweiter Prosecco drin liegt, erübrigt sich ebenfalls.
Der Zeit voraus; ein Visionär erzählt
In einem Interview mit Giancarlo Terranova verrät er, dass der Gedanke an ein solches Konzept bereits vor 20 Jahren vorhanden war. Es entsprach jedoch nicht der damaligen Denkhaltung. Es war zu früh. Weiter spricht der Geschäftsinhaber von Differenzierung und USP. In seinem Store vereint er, was ihm persönlich auch wichtig ist. Nachhaltigkeit, eine erholsame Atmosphäre und eine Vielfalt an diversen Serviceangeboten unter einem Dach. Für die Vermarktung greift er zusätzlich auch zu digitalen Lösungen und trifft somit den Zeitgeist.
https://www.casaterranova.ch/, https://www.aveda-terranova.shop/
https://www.facebook.com/TerranovaAveda/
https://twitter.com/casaTERRANOVA
https://www.pinterest.ch/casaterranova/
https://www.instagram.com/casaterranova/
Über die Autorin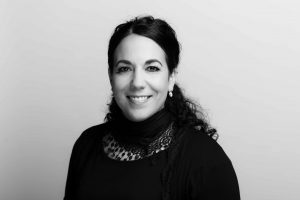 Gabriella Jetter ist als Department Manager Communication & Training bei der IWC Schaffhausen oft in den Grossstädten dieser Welt anzutreffen. Ihre Geburtsstadt Schaffhausen trägt sie jedoch immer im Herzen. Sie liebt innovative Ideen und bewundert Leute, die diese Ideen nicht nur zum Leben erwecken, sondern auch umsetzen. Sie absolviert zurzeit den CAS Marketing- und Corporate Communications an der ZHAW.
Schlagwörter:
Aveda
,
CAS Marketing- & Corporate Communications
,
CAS MCC
,
Casa Organica Terranova
,
Casa Organica Terranova Hairsalon
,
Charity Events
,
Coiffeur
,
Coiffeurstudio
,
Coloristen
,
Concept Store
,
Dieter Wiesmann
,
Event
,
Friseur
,
Friseurladen
,
Gabriella Jetter
,
Giancarlo Terranova
,
Haare
,
Hairsalon
,
IMM
,
Institut für Marketing Management
,
Kosmetikerinnen
,
Munotstadt
,
Organic Café
,
Schaffhausen
,
Services
,
Smoothies
,
Visagisten
,
Weiterbildung
,
zhaw