Von Tina Zanotta
Die fortschreitende Digitalisierung prägt alle Branchen und Märkte. In den letzten Jahren beeinflusst sie auch die Immobilienbranche, welche im Vergleich zu anderen Bereichen eher spät auf den Zug der Digitalisierung aufgesprungen ist. Mit dem digitalen Wandel verändern sich nicht nur Märkte, Angebot und Nachfrage, sondern auch die Ansprüche und Bedürfnisse der Kunden sowie das Pflegen von Kundenbeziehungen. Wie reagiert Mobimo auf digitale Kundenbedürfnisse und was tut sie für ihre digitalen Kundenbeziehungen?
Aus Bereichen wie der Vermarktung und dem Verkauf von Immobilien ist der Nutzen der Digitalisierung bereits bekannt. Die Vermarktung findet seit einigen Jahren über Online Portale wie homegate oder immoscout24 statt, wo auch virtuelle Rundgänge eingesetzt werden. In anderen Bereichen des Immobilienmanagements, wie beispielsweise der Kommunikation mit bestehenden MieterInnen, steckt die Digitalisierung jedoch noch in den Kinderschuhen. Kundenbeziehungen werden nach wie vor analog oder via Telefon gepflegt – Kundenkommunikationen erfolgen per Briefpost oder via E-Mail.
Die Antwort von Mobimo lautet "Digital Customer Services"
Mobimo setzt stark auf digitale Lösungen, und das in allen Bereichen des Immobilienmanagements. Ihre neuste hauseigene Entwicklung ist das Digital Customer Services (DCS) System, welches erstmals im August 2018 für das Aeschbachquartier Aarau eingesetzt wurde.
Das DCS setzt sich aus drei miteinander verknüpften Anwendungen zusammen: Mieterportal, Arealinformationssystem und Service-Desk, wobei jede der genannten Anwendungen individuelle Informationsbedürfnisse der verschiedenen Benutzergruppen abdecken soll. Die BenutzerInnen können in drei Kategorien unterteilt werden: MieterInnen (Gewerbe und Privat), externe NutzerInnen (BesucherInnen und Umgebung), sowie Bewirtschaftung, Areal-, Site- und Facility Management (Mobimo-Mitarbeitende).
Bestandteile und Inhalte
Den externen NutzerInnen steht die Website zur Verfügung. Darauf werden Informationen zu Events und Neuigkeiten aus dem Quartier publiziert. Exklusiv für MieterInnen gibt es zusätzlich das Mieterportal. Der Zugriff erfolgt via Login auf der Website oder über die Applikation (App Store/Google Play). Auf dem Mieterportal werden für die MieterInnen spezifische Informationen wie Vertrag, Merkblätter und Anleitungen (beispielsweise für Backofen oder Geschirrspüler) aber auch Informationen zu Carsharing und Entsorgung angezeigt. Zusätzlich werden die MieterInnen mittels Push Mitteilungen (wenn gewünscht) über Neuigkeiten und Events informiert.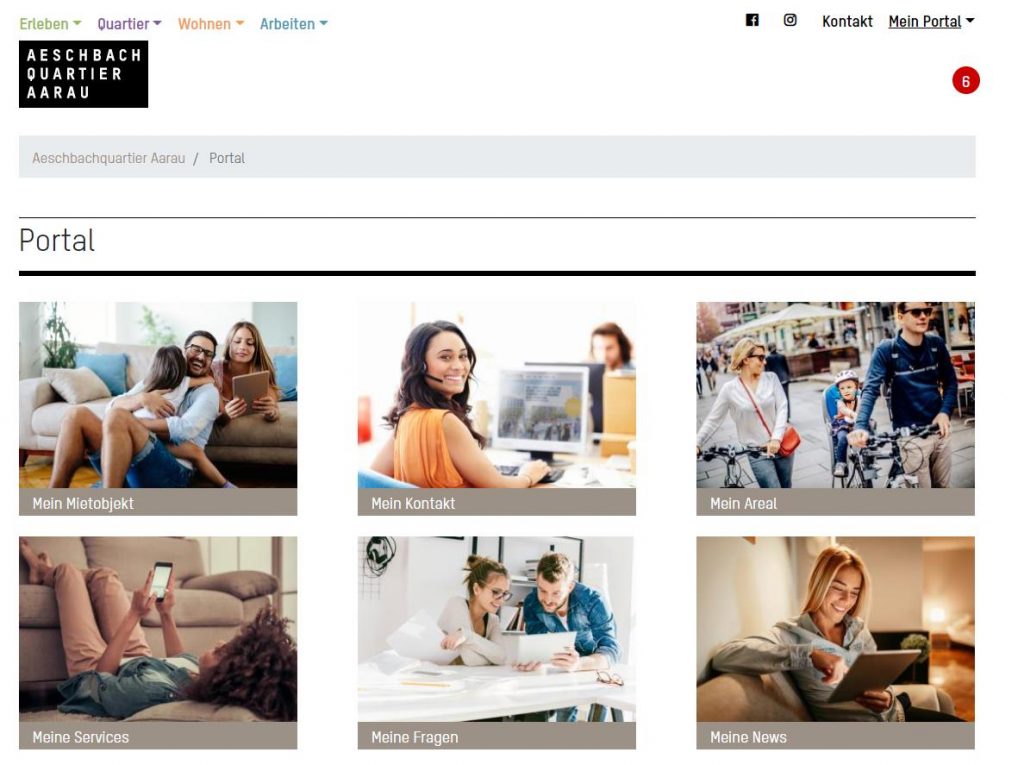 Via Arealinformationssystem wird auf öffentlichen sowie semiprivaten Stelen kommuniziert: Semiprivate Stelen befinden sich in den Gebäuden (meist im Erdgeschoss neben dem Lift), während öffentliche Stelen auf dem Areal platziert sind. Diese werden für das Publizieren von nutzerrelevanten Informationen wie beispielsweise dem SBB Fahrplan, Lageplan, kommenden Events und für die Vermarktung freier Mietflächen genutzt. Auf den semiprivaten Stelen werden zusätzlich mieterspezifische Informationen (wie z.B. Meldungen zu einer Betriebsstörung) angezeigt.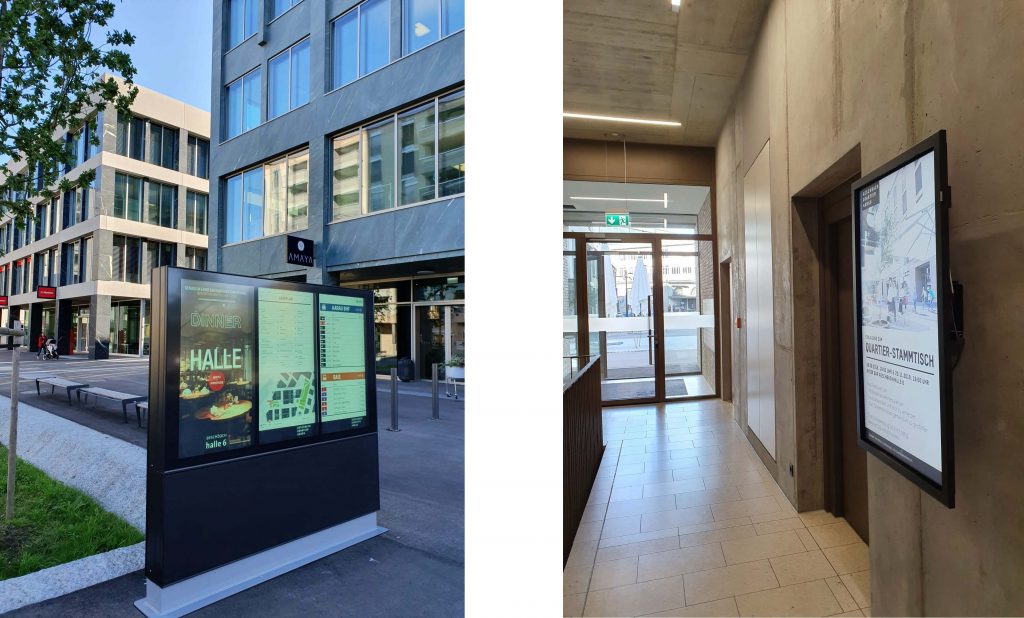 Über den Service-Desk können Anliegen von MieterInnen via Webformular jederzeit kommuniziert werden. Wer den persönlichen Austausch wünscht, kann nach wie vor via Telefon mit dem Service-Desk in Kontakt treten. Die meldende Person sowie das Mietobjekt werden dabei automatisch vom System identifiziert und es wird ein Ticket erfasst. Bei beiden Kanälen kann von den MieterInnen jederzeit der Status des Tickets nachverfolgt werden.
Hauseigene Entwicklung mit vielen Vorteilen
Neben der Stärkung der digitalen Kundenkommunikation und einer massgeschneiderten Lösung waren die zeitnahe Abwicklung und automatische Triage von Kundenanfragen zur Entlastung der internen Organisation weitere Ziele der hauseigenen Entwicklung.
Für das Projektteam war es wichtig, die Anwendungen miteinander zu verknüpfen und eine vollintegrierte Lösung zu entwickeln, also ein System zu schaffen, das mit den bereits vorhandenen internen Systemen verknüpft ist und die Daten teilt, beispielsweise mit dem CRM-System (Customer Relationship Management System), auf welchem mieterbezogene Daten wie Kontaktangaben, Grundrisspläne oder Mietverträge verwaltet werden. Die Verknüpfung der Systeme ermöglicht unter anderem die Führung einer "virtuellen Mieterakte", auf welcher alle relevanten Informationen und Interaktionen automatisch dokumentiert werden. Bei der Entwicklung spielte demnach die Erfüllung der datenschutzrechtlichen Anforderungen ebenfalls eine grosse Rolle.
Das DCS ermöglicht ausserdem eine segmentierte Informationsverteilung. Somit können Mobimo-Mitarbeitende sowohl kanal- und nutzerspezifisch als auch ortsunabhängig kommunizieren. Bei einer Integration des ganzen Portfolios wäre also eine schweizweite, zielgerichtete Kommunikation an alle Wohnungsmieter auf einem völlig neuen, einfacheren Weg möglich.
"Es werden Vorteile für extern und intern geschaffen – via unserer digitalen Kommunikationsmittel sind unsere Kunden stets "up to date", egal, welche Information sie abrufen oder welche Anliegen sie anbringen möchten. Die ganze Betriebsorganisation ist via DCS verknüpft – Bewirtschaftung, Facility Management, Site sowie Arealmanagement können direkt und zeitnah mit unseren Kunden kommunizieren, und das von überall!", so Manuela Stucki, Projektleiterin DCS. Gewerbemieter und externe Unternehmen können die Plattformen ausserdem für ihre eigene Werbung nutzen – Mobimo bietet auf Stelen, Website und Applikation digitale Werbeflächen für eine Monatsmiete an.
Wo geht die Reise hin?
Eine Endstation gibt es nicht, das DCS soll stetig weiterentwickelt und auf weiteren Liegenschaften und Arealen eingesetzt werden, so wie seit März 2019 im Areal Mattenhof in Kriens.
Mehr über die Mobimo und ihre Tochterfirma Mobimo FM Service.
Mehr über das Aeschbachquartier in Aarau: Facebook, Instagram, Aargauer Zeitung
Mehr über den Mattenhof in Kriens: App Store, Google Play, Luzerner Zeitung
Über die Autorin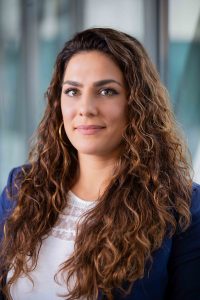 Tina Zanotta arbeitet bei der Mobimo FM Service (einer Tochtergesellschaft von Mobimo) als Leiterin FM Planung & Projekte / Business Administration und ist stellvertretende Geschäftsführerin. Sie besucht aktuell den CAS Marketing- & Corporate Communications an der ZHAW – School of Management and Law.
Schlagwörter:
Aeschbachhalle6
,
Aeschbachquartieraarau
,
CAS Marketing- & Corporate Communications
,
CAS MCC
,
Digital Customer Services
,
Digital Services
,
Digitale Kundenbeziehungen
,
Digitalisierung
,
IMM
,
Innovation
,
Institut für Marketing Management
,
Mobimo
,
Mobimo FM Service
,
Tina Zanotta
,
zhaw
,
ZHAW School of Management and Law