Der Laufsport ist seit Jahren im Trend und weltweit finden Marathons statt. Hier treffen sich Spitzensportler wie Amateure und machen aus den Wettbewerben riesige Laufevents. Einer davon ist auch der Zürich Marathon. Dieses Jahr war es bereits die 16. Austragung und verzeichnete mit über 11'000 Startern einen Teilnahmerekord. Darunter war auch eine Gruppe des ZHAW Instituts für Marketing Management.
IMM am Teamrun vertreten
Der Zürich Marathon ist ein Erfolgsformat. Es gibt verschiedene Kategorien, einerseits den klassischen Marathon (42,195 km), der als Einzelwettkampf absolviert wird. Dazu gibt es den sogenannten Cityrun (10km in diversen Kategorien) und den beliebten Teamrun. Im Teamrun laufen vier Teammitglieder jeweils 9km, 11.7km, 4km und 17.5km. Bereits einen Monat vor dem Event war die Anzahl Anmeldungen für den Teamrun erreicht. Neben einem Promi-Team und diversen Firmenteams, war auch das IMM vertreten. Das Training fing für Dana, Linard, Rafael und Amélie schon früh an. Jede Woche trafen sie sich zum gemeinsamen Training und bereiteten sich so intensiv auf den Teamrun vor. Als gute Marketeers waren sie selbstverständlich auch sichtbar mit ZHAW School of Management and Law T-Shirts unterwegs. Das Resultat kann sich sehen lassen, die Zeit betrug 3:32:50 und Rang 127 von insgesamt 559 Firmenteams. "Der Teamrun war eine tolle Erfahrung. Ich würde es auf jeden Fall auch anderen empfehlen hier teilzunehmen", meint Amélie.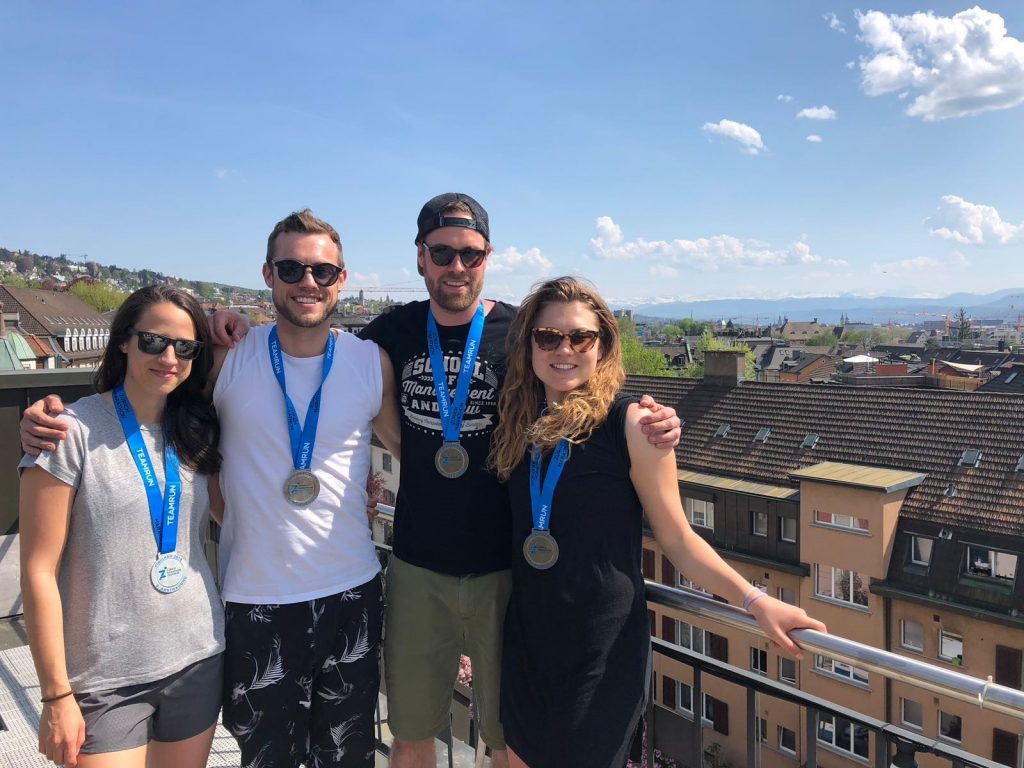 Das Marketing läuft mit
Der Zürich Marathon ist aber nicht nur aus Läufersicht interessant, sondern auch für Marketingprofis. Der Anlass wird natürlich entsprechend vermarktet. Bereits am Tag vor dem Event findet eine Messe in der Saalsporthalle statt. Dort präsentieren diverse Firmen die neuesten Produkte aus der Welt des Laufsports. Vermarktet wird der Zürich Marathon durch die Human Sports Management AG, die die Rechte von Bruno Lafranchi übernommen hat. Armin Meier, CEO und Inhaber der HSM will den Anlass weiterentwickeln und diesen möglichst attraktiv für die Läufer gestalten. Auch für den IMM Sportmarketingexperten Marcel Hüttermann ist es klar: "der Zürich Marathon ist aus Marketingsicht eine gute Plattform und eignet sich ideal für ein Sponsoring, denn die Visibilität ist hoch und die Zielgruppe ist vor Ort." Das IMM-Team gönnt sich nun eine Pause. Aber die nächste Austragung kommt bald, daher bleiben die Laufschuhe im Einsatz…
https://www.zuerichmarathon.ch/
Schlagwörter:
Armin Meier
,
Bruno Lafranchi
,
Cityrun
,
HSM
,
Human Sports Management
,
IMM
,
Institut für Marketing Management
,
Läufer
,
Laufevent
,
Laufschuhe
,
Laufsport
,
Marathon
,
Marcel Hüttermann
,
Marketing
,
Produkte
,
Saalsporthalle
,
School of Management and Law
,
Sport
,
Team
,
Teamrun
,
Teilnehmerrekord
,
Zürich
,
Zürich Marathon