Im Vordergrund des Ende Oktober stattgefundenen «Future of Marketing»-Events des ZHAW-Instituts für Marketing Management standen die Themen Nachhaltigkeit und die künftigen Entwicklungen der Marketing Technology. In beiden Bereichen konnten mit dem «Godfather der Marketing Technology» Scott Brinker und der Planetly-Gründerin Anna Alex hochkarätige Gastreferenten gewonnen werden, die den rund 250 Online-Teilnehmenden des Events interessante Erkenntnisse aus erster Hand liefern konnten.
Der jeweils Ende Oktober stattfindende «Future of Marketing»-Event gehört zu den Highlights im Veranstaltungskalender des Instituts für Marketing Management der Zürcher Hochschule für Angewandte Wissenschaften (ZHAW). Dass bei der diesjährigen Durchführung aufgrund der aktuellen Situation vieles anders sein wird, war bereits früh klar. «Wir haben bereits früh die Entscheidung gefällt, den diesjährigen Event digital zu planen und umzusetzen», erklärt der zuständige Projektleiter Valerio Stallone. So sei bereits im Sommer klar gewesen, dass man auf ein interaktives Live-Streaming-Konzept setzt. «Dies erlaubte uns nicht nur, ausgewiesene Experten aus dem Ausland als Referenten einzuladen, sondern auch den Teilnehmern die Möglichkeit zu geben, sich mit ihren Fragen direkt in die Diskussion einzuschalten», so Stallone.
Technologie und Nachhaltigkeit als Zukunft des Marketings
Der diesjährige Event profitierte zudem von einer Kooperation mit MarTech Europe, der Expertenkonferenz im Bereich der Marketing Technology. Im Rahmen der ersten Keynote-Rede erfuhren die Teilnehmenden von Scott Brinker, dem «Godfather der Marketing Technology» und Herausgeber des Chiefmartec.com-Blogs, welches die seiner Meinung nach bestimmenden Trends der Marketing Technology bis 2030 sein dürften. Neben der Automatisierung von Prozessen und der Artificial Intelligence, die den Marketing-Verantwortlichen in Zukunft vieles abnehmen dürften, legte Brinker ein Hauptaugenmerkt auf die zunehmende Bedeutung von digitalen Plattformen, Netzwerken und Marktplätzen. So dürften beispielsweise in den nächsten zehn Jahren No-Code-Tools ­– also Instrumente, die es Marketing-Verantwortlichen ohne Codierungserfahrung erlauben, Webseiten mit Interaktionsmöglichkeiten zu kreieren ­– an Bedeutung und Nutzung zunehmen. Dies dürfte auch die Aufgabe des Marketings dahingehend verändern, dass es künftig um eine Harmonisierung zwischen einer Vielzahl an technologischen Tools und den Bedürfnissen der Menschen und Kunden gehen dürfte.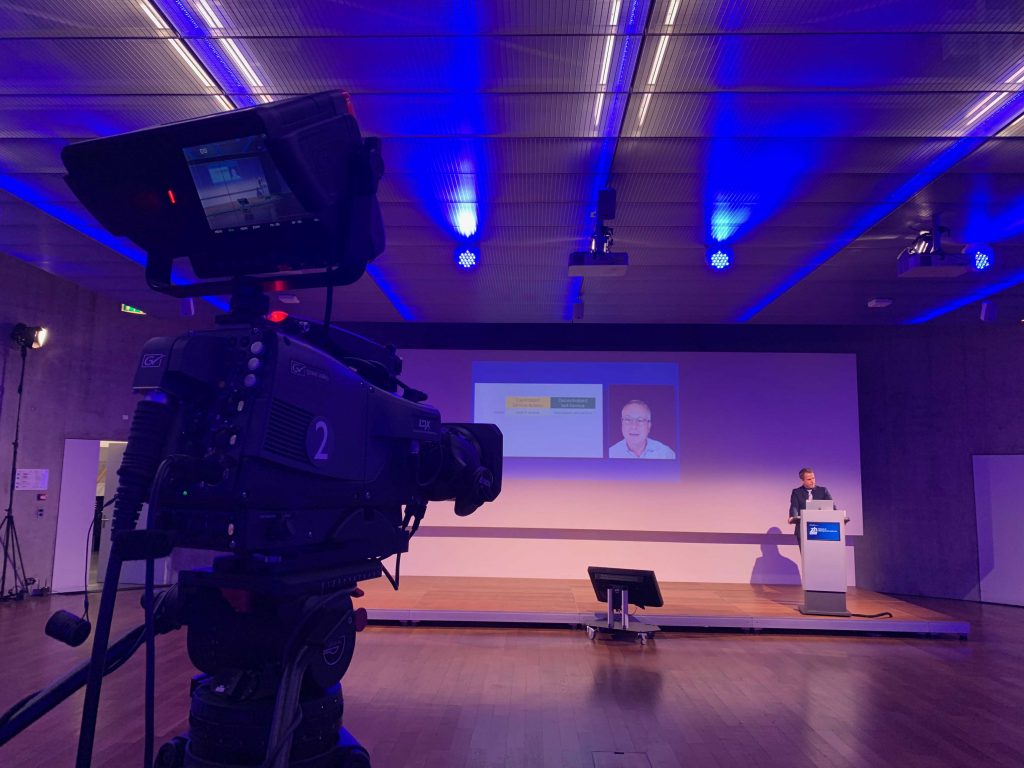 Um die Verbindung zwischen grossen technologischen Entwicklungen und deren Folgen für Menschen, Umwelt und Gesellschaft ging es in der zweiten Keynote des Abends. Gehalten wurde sie von Anna Alex, der Gründerin von Outfittery, die mit ihrem neuen Startup Planetly die Nachhaltigkeit von Unternehmen ins Zentrum stellt. Während sich Kunden heute klimabewusste Marken wünschen und auch Unternehmen zunehmend nachhaltig sein wollen, stelle sich oftmals die Frage, wie man den klimatischen Fussabdruck eines Unternehmens denn nun messen sollte. «Was wir nicht messen können, können wir auch nicht managen», so Alex. Genau hier setzt Planetly an: Durch die Nutzung von Technologie sammelt es in Unternehmen relevante Daten, definiert Benchmarks und macht durch regelmässige Messung das CO2– Management operativ einfacher. Unternehmen wird somit geholfen, ihre klimapolitischen Ziele nachweislich zu erreichen.
Das Marketing als Treiber der Digitalisierung
Gefolgt von jeweils zwei Diskussionsrunden mit Experten und Zuschauerfragen bekamen die rund 250 Teilnehmer des «Future of Marketing»-Events nicht nur einen guten Einblick in die aktuellen und künftigen Trendthemen des Marketings, sondern auch gleich von den damit verbundenen Herausforderungen für Unternehmen und Marketing-Abteilungen.
Die technologischen Entwicklungen hätten positive Auswirkungen, meinte IMM-Institutsleiter Brian Rüeger zum Abschluss der Veranstaltung, durch die er als Moderator führte. «Die Bewegungen im operativen Bereich der Marketing Technology werden uns wieder mehr Zeit geben, strategisch zu handeln», sagte er, auch mit Blick auf die in der Swiss Marketing Leadership Studie festgestellte Zeitschere, in der viele Marketing-Verantwortliche gefangen sind. Neben der Bedeutung der Daten und der regelmässigen Überprüfung der strategischen Ausrichtungen, gelte es in Zukunft, den Menschen nicht zu vergessen. «Digitalisierung muss den Menschen mehr ins Zentrum rücken und nicht weiter weg», so Rüeger. «Deshalb ist es wichtig, dass die Digitalisierung in Unternehmen vom Marketing und nicht von der IT aus betrieben wird. Denn sonst könnten wir uns weg vom Kunden bewegen.»
Schlagwörter:
Anna Alex
,
Event
,
Future of Marketing
,
IMM
,
Institut für Marketing Management
,
Marketing
,
Marketing Automation
,
MarTech
,
Nachhaltigkeit
,
Planetly
,
Scott Brinker
,
zhaw