Von Dr. Jesse Bächler
Die diesjährige Connecta hatte vor allem die Auswirkungen der Digitalisierung auf die Gesellschaft und auf die Geschäftsmodelle zum Thema. Die Appelle verschiedener Keynotes und Workshops betonten wiederholt die Bedeutung der menschlichen Komponente in diesem technisch getriebenen Umbruch.
Drei grosse Aufgaben für Unternehmen
In der digitalen Transformation sind Unternehmen darum gezwungen, ihre internen Silos aufzubrechen, also über verschiedene Bereiche, Arbeitsprozesse und Hierarchiestufen hinweg zu kooperieren. Bei diesen Kooperationen steht jeweils nicht Perfektion, sondern Geschwindigkeit im Vordergrund. Das Ziel dieser Geschwindigkeit ist es, Datenpunkte zu generieren, die dank eines installierten Feedback-Loops den nächsten notwendigen Schritt anzeigen.
Massiver kultureller Wandel verlangt
Zusammengenommen bedeuten diese drei Aufgaben nichts weniger, als dass von den Unternehmen ein massiver kultureller Wandel verlangt wird. Dieser Wandel ist darüber hinaus auch kein "nice to have", sondern absolut fundamental für das weitere Bestehen. Denn fortlaufend treten neue Mittbewerber in den Markt ein, die sich gerade auf Kooperation, Tempo und Feedback spezialisiert und das entsprechende Gedankengut tief in der Unternehmenskultur verankert haben. Diese Botschaft ist jedoch nicht neu – woran sich alle die Zähne ausbeissen, ist die Umsetzung.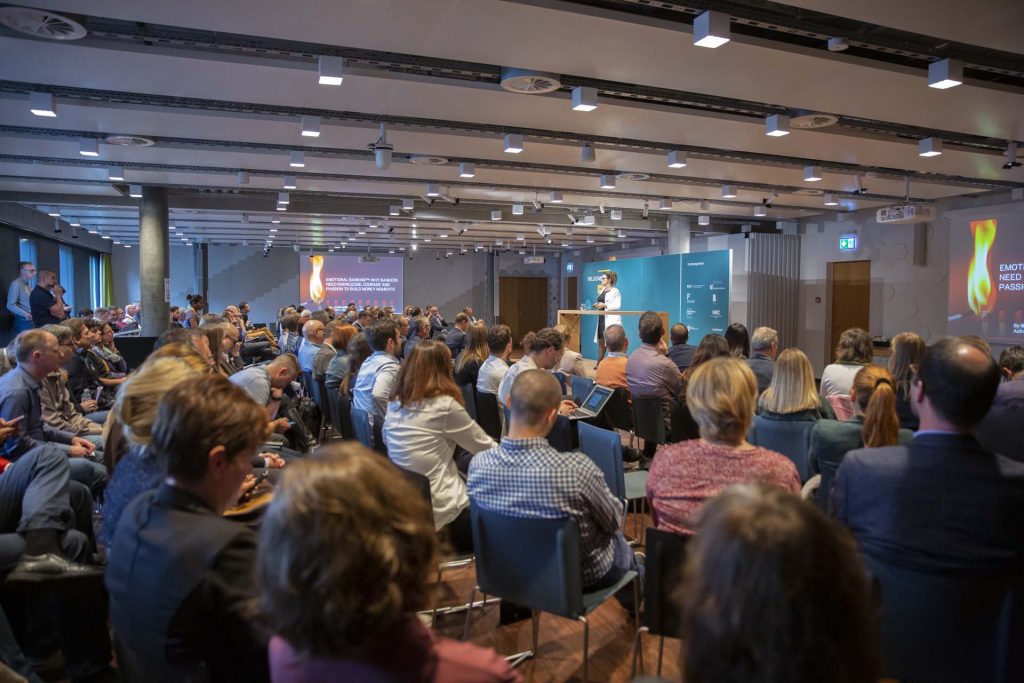 Aufgabe 1: Kooperation
Um die Kollaboration und Kooperation zu fördern, bedürfe es entsprechender Anreize, Prozesse und Tools, teilte Thomas Husson von Forrester Research dem Publikum mit. Alles beginne, ende aber nicht mit Employer Branding. Der Referent wies damit auf die Wichtigkeit hin, die geeigneten Talente anzuziehen und zu halten. Einerseits ist dieser Aspekt zu begrüssen, denn er leitet den kulturellen Wandel bottom-up ein. Andererseits müssten Unternehmen wissen, wie sie den Spagat zwischen den "alten" und den "neuen" Arbeitskräften hinbekommen und alle mit auf die Reise nehmen können.
Aufgabe 2: Tempo
Während die Iterationsschlaufen kürzer und damit schneller werden, ist die digitale Verschiebung insgesamt ein mehrjähriger Prozess. Es wurde in verschiedenen Workshops darauf hingewiesen, dass sich Digitalisierungs-Cases in gewissen Branchen eher nach drei bis fünf, anstatt in nur einem fiskalischen Jahr amortisierten. Während gewissermassen die "willingness to digitalize" enorm sei, geschehe sie oftmals noch zu wenig durchdacht.
Aufgabe 3: Feedback
Obwohl sich wohl jedes Unternehmen auf die Flagge schreibt, "kundenorientiert" zu sein, bleibt die tatsächliche Offenheit für Feedback aus den Operations in die Strategie- und Prozessplanung ein Dauerbrenner. Feedback ist denn auch weniger ein Digitalisierungs-Thema, sondern mit Blick auf die Kundensegmente der Gen Y, Gen Z oder bereits Gen Alpha wichtig. Sie bilden die Käuferschaft der Zukunft, deren Bedürfnisse heutige Unternehmen verstehen und befriedigen können müssen. Ein simpler Reminder lautete: "Sprecht nicht über die Generationen, sondern mit den Generationen!"