ZHAW Service Engineering ICCLab periodically sends Newsletters with short information about latest activities of the lab and relevant events. This is the newsletter for July 2014.
In this issue
Editorial
At last Cloud World Forum  there was a big emphasis on case studies presented by end users. Presentations were dedicated to show how companies embrace public cloud computing to solve problems that traditional IT practices can't address. It is really interesting the view of Lotus F1 with the discussion on how the team uses cloud computing to support its race calendar. Beside the extensive telemetry data race cars can produce, there is a strong analysis of real-time conditions of the specific race (temperature, humidity…) and historical data to tune the car for the specific race and for future races according the F1 calendar. Using public cloud computing has increased data capacity and reduce costs avoiding the transport of large amounts of equipment to each site, as done in the past. This is an example of cloud economics with positive impact on aspects of a business and logistics.
Foreground
European Conference on Networks – EUCNC 2014: SDN and Cloud Computing played a strong role within the 5G ecosystem with implementations of NFV many meetings around three important goals: Bandwidth maximization, Delay optimization and Link amount. Towards these objectives, ICCLab was present in several areas at the conference: Mobile Cloud Networking – Workshop and Booth, T-NOVA – Special Session with NetIDE and Full Stack Monitoring in OpenStack – Poster Session.


___________________________________________________________________________________
Major event: Open Cloud Day 2014
Bern, June 10, 2014
The 3rd Open Cloud Day in Bern showed, by means of sustainable practice examples (public administration and private sector), how open cloud infrastructures are currently applied. In addition to the presentations on the current and next developments at the plenary sessions, some parallel workshops were held, in which the knowledge was deepened. "The future of the company are clouds. If you want to avoid vendor locking or minimize the effect that builds on the principles of the Open Cloud Initiative" says Matthias Günter, President / ch / open. The Swiss Open Systems User Group (/ch/ open), the Institute for computer science of the University of Bern, ZHAW, the Swiss computer science society SI and the Java User Group Switzerland organised on Tuesday, June 10, 2014 in Bern, this Swiss third Open Cloud Day with over 130 participants through. Jean Christophe Schwaab (National VD / SP)  gave, in his keynote speech, high importance to own cloud industry for Switzerland. In his opinion, Swiss quality here is also important to justify the higher prices. GovCloud has again played an important role this year. Daniel Hüsler from ISB outlined the general thrust: Promoting good cloud deployment, adaptation of the legal framework and  development of dedicated cloud offerings for the authorities. As an end–goal a certification of providers will be envisaged. The potential for cloud solutions for Swiss authorities remain large. The platform www.govcloudforum.ch contains useful information about cloud computing and cloud services for government agencies and will be continually expanded.
______________________________________________________________________________________
Next events:  ECFI-2 Munich,  2nd European Conference on the Future Internet Munich | 17 – 18 September 2014

Why you should participate?
ECFI will cover a wide range of Future Internet application sectors in which the FI-PPP will advance innovation driven by SMEs which is supported via an 80 million euro investment, including: eHealth, Smart Cities,  Multimedia, Smart Manufacturing, Smart AgriFood, Smart Energy,  Creative Industries, Social Interaction, Food Chain Logistics, Media & Content,  Learning & Training.
Attending the event will give participants a number of key benefits, including:
●  Insights on the latest developments in Future Internet technologies
●  Direct access to key players in European Future Internet initiatives who are the drivers of the Internet infrastructures and services of tomorrow
●  A unique opportunity to discuss major Internet-related topics with stakeholders from large industry players and innovative SMEs
ICCLAB is partner of the FI-PPP programme with some projects described in the project corner of this newsletter.

_________________________________________________________________________________
Relevant Calls for papers
ICCCM'2014 2014 International Conference on Cloud Computing and Multimedia Computer networks, Engineering, Information Systems, Multimedia Hammamet, Tunisia 17-Jan 2015 – Deadline: August 9, 2014 06:00:00 CEST
Operating systems SCNS'14
2014: First Workshop on Smart Cloud Networks & Systems
Paris, France Dec 3, 2014 – Deadline: September 1, 2014 12:59:00 CEST
CIVEMSA 2015
2015 IEEE International Conference on Computational Intelligence and Virtual Environments for Measurement Systems and Applications
Shenzhen, P.R. China Jun 12, 2015 – Deadline: January 2, 2015 05:59:00 CET
ICC'15 (10) CSSMA
IEEE ICC 2015 – Communications Software, Services and Multimedia Applications Symposium
London, United Kingdom Jun 8, 2015 – Deadline: September 30, 2014 23:59:00 EDT

______________________________________________________________________________
Project Corner

The 2nd General Assembly of T-NOVA was held in Aveiro, Portugal, on June 4-6. 2014, as planned. Extensive discussions led to the more thorough definition of the system architecture and as well as the separate subsystems and clarified the technical approach of the project. ICCLAb is progressing in WP2  with contribution to deliverables on architecture aspects, orchestrator and virtualisation platform.
Main events attended by T-NOVA teams:
T-NOVA presented at the Cloud Computing Conference, in Athens, 20/3/2014

ICCLAB is now working on the
MOBILE CLOUD NETWORKING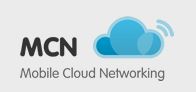 The EU FP7 Mobile Cloud Networking (MCN) project organized the exhibition: MCN – Mobile Cloud Networking. The exhibition was held at the EUCNC 2014 conference premises,  Bologna, Italy) at Foyer "Europa and Italia" (stand 12) during 24 – 26 June 2014.
The general assembly meeting take place on June 16th and the 19th at the  Instituto Superior Técnico (IST) of the University of Lisbon.

The project, dealing with supporting and coordination actions of the FI-PPP programme, is now involved in many sides: organisation of the ECFI-2 conference, re-organisation issues of the supporting framework in Phase-3 of the programme and new workplan for concord partners. There will be a key role in the new Programme Office which includes all phase-2 and phase-3 projects.

The project is almost over and most of the focus is now on the follow-up of this project (FI-CORE) which will play a fundamental role in the phase 3 of the programme.
.

ICCLAB is now involved in the state of the art r
_
____________________________________________________________________________________
Communities
CH Openstack User Group
ICCLAB was again selected to organise the 2014 OpenStack birthday with a BBQ on the fantastic landscape of lake of Zurich. Around 25 people attended the event and this was really a good opportunity for relaxing and talk about society and life interleaved with some  conversation on interesting technical topics related to OpenStack and overall deployment issues.


Swiss Special Interest Group – Cloud Computing
The group is progressing on the action items and in particular with the preparation of an index of European and National projects in execution and participated by Swiss organisations. The index concentrates the attention on those projects having technical goals in the sectors of Cloud Computing (IaaS, PaaS, SaaS), SDN, NFV, HPC, Computer Grids and platforms for future internet. The analysis conducted by some partners of the community will be completed at SIG level in Q3-2014. This preliminary analysis shows that there are near 50 projects in execution and around 30 organisations from public and private sectors.   The index will be published soon.
_______________________________________________________________________________________
Tutorial:
Introduction to Docker
by Florian Dudouet
Docker is an open-platform for developers and sysadmins to build, ship and run distributed applications. It enables apps to be quickly assembled from components which will run anywhere that Docker can run on. Docker in essence provides boxes ("shipping containers") which can be shipped anywhere, from a developer's laptop to a production cluster. To achieve that, Docker relies on Container-based virtualization. The administration teams also appreciate the standardized environment provided by the docker containers, reducing the "works on my machine" syndrom. Additionaly, it enables flexibility in where workloads run, as Containers are not constrained by the underlying infrastructure technology as long as it has a Linux Kernel (at the moment).
Giving a complete overview of container-based virtualization is outside the scope of this tutorial, but the diagram below summarises the main differences between VMs and Containers:
Whereas in VM, each virtualized application also includes an entire guest Operating System, a Container runs an an isolated process in the userspace of the host operating system, sharing the kernel with other containers. Consequently, it reduces the overhead of classic virtualization by removing the guest OS layer.
Docker has plugins so Containers can be developed by the OpenStack framework, either through Nova or through Heat. This will be the object of future posts, but it is important to understand how a Docker-managed container works before integrating this technology in an OpenStack infrastructure. A short introduction tutorial based on the longer version from the Docker website is presented there. The reader is encouraged to follow the full tutorial to understand Docker thoroughly.
$ sudo docker run ubuntu /bin/echo 'Hello world' 
Hello world
docker run started a container based on the ubuntu linux distribution (in Docker terms an image is the source of the container which will be run, and can contain pre-configured software which may be run directly when the container is started) and ran the the /bin/echo 'Hello world' script, displaying it on the standard output. Once the script is over, the process is stopped and thus naturally the Docker container is also stopped. This can be verified with docker ps, which lists the running containers: our container is not there.
This is not very useful, so now we will start a shell in a container, and using the -t option, which assigns a terminal inside the container, and the -i option, to grab the standard input of the container and map it to the current terminal.
$ sudo docker run -t -i ubuntu/bin/bash
root@9a457ebc3957:/#
The command line is now in the container, you can explore the folders to realize that you have your own personal root folder.
Finally we finish this simple tutorial with the deployment of the training/webapp image developed by the Docker team.
$ sudo docker run -d -P training/webapp python app.py
This time the -d option, which specifies that the container will run in the background, "daemonized", and the -P option, which tells Docker to map any required network ports inside our container (and specified by the image file) to our host. A simple docker ps will then show the port association. For instance:
$ sudo docker ps
CONTAINER ID IMAGE COMMAND CREATED STATUS PORTS NAMES
093bcf16fc4a training/webapp:latest python app.py 3 seconds ago Up 3 seconds 0.0.0.0:49153->5000/tcp thirsty_fermat
Port 5000 inside the container is mapped to port 49153 on the host. You can then use a browser and point it to localhost:49153 to see the Hello world! message!
With this our tutorial is concluded. As previously described, more information can be found on the Docker website. Docker orchestration with various frameworks and especially with OpenStack will be the object of future posts.
_
How to design a Cloud Economics course
by Antonio Cimmino, Harsh Piyush
This year, both Cloud Computing course for Bachelor's and USA-SWISS Summer school have introduced lectures and lab exercises on economics related to the deployment of Cloud IaaS.
One of the major goal of the lecture was to understand the startup business, and related business planning, to attract and justify,  venture capitalist funds dedicated to acquisition of cloud infrastructure over a predefined period. Therefore, this lecture had the scope of improving the skill of ICT architect with basic financial elements and planning tools to evalaute in advance the economic results of companies moving towards the utilisation of the cloud technologies.
Towards the above objectives, the course has been organised in the following chapters:
1. Basics
Having the objective of introducing a framework for business planning, it is necessary to  describe the framework to plan a business and to introduce basic concepts related to costs (operational and capital) and revenue with specific focus on characteristics for evaluating economic results like ROI and NPV.  This framework was also applied in a Lab exercise with a cloud business planning tool designed by ICCLAB. .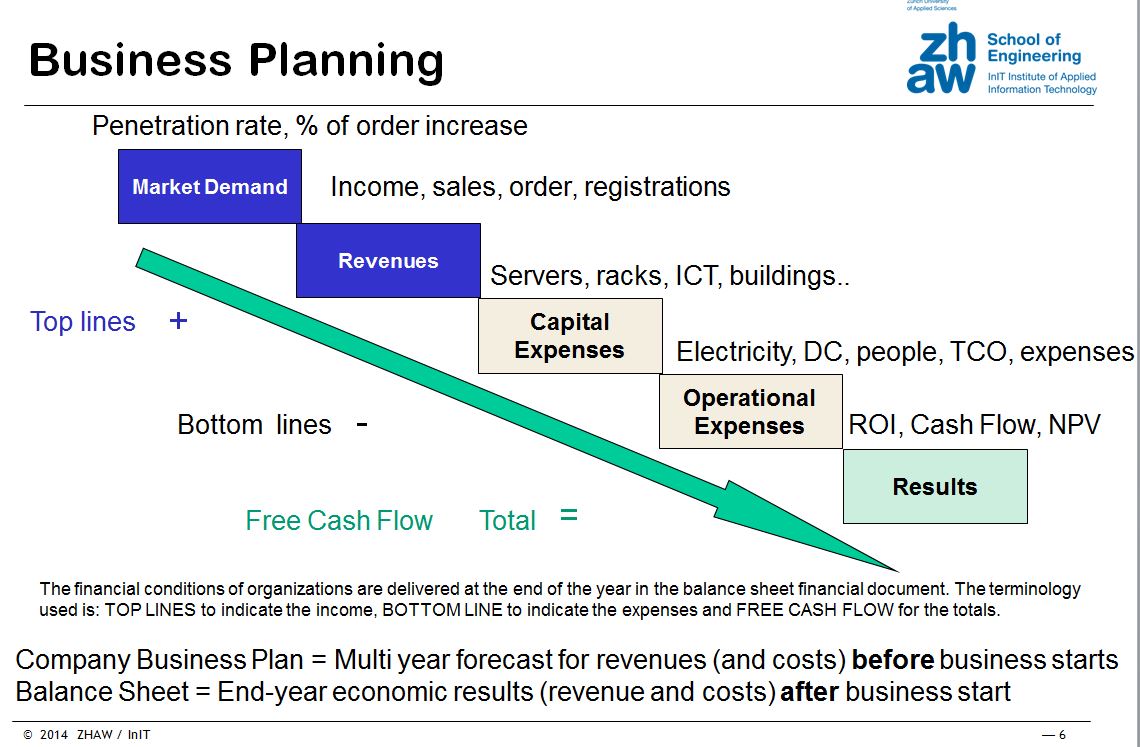 2. Cloud economics
The investors of your business and your sales / marketing teams need to show their customers the basic technical principals of cloud technologies together with the economic benefits that the usage of this technologies will yield. This short section is conceived to illustrate the behaviours of the demand side and to understand how all the effect of the virtualisation and economies of scale will produce efficiency in the cloud provider and related economic viability.
3. Prizing Comparison – public cloud
In many cases the first cloud move is to base  IT infrastructure on public cloud like AWS, rackspace,  Microsoft or CloudSigma. Therefore, financial officers will need to know what are the prizing policies, and availability conditions, from the market of the public cloud. In many cases the web portal, of these providers, offers opportunities to show the costs to lease the cloud resources needed for your case. According the web business and its technical requirements, in terms of resource, one provider might be better than others. This section will guide the student to evaluate various alternatives for the operating costs integrated with a practical Lab exercise.
4. CASE STUDY (Total Cost Analysis)
There are different factors involved when you deploy and manage a scalable web application hosted on-premises and  when you deploy an equivalent web application in the public cloud. It is necessary to understand basic mechanism that will guide the selection of public cloud versus private cloud. Sometimes the guidelines are purely based on pure cost evaluations and in other cases on the risk of investing in private cloud.
Three cases studies have been prepared for stable,  predictable and estimation based cloud resource demands with walk through three example scenarios using AWS public cloud
5. Monetization
Cloud providers, as any other service provider, deploy specific systems to rate, charge and make billing of the resources utilised by customers. This technical section is dedicated to the main architectures and technologies utilised for the monetization. There will be also the need to introduce open-source platforms (OpenStack, Telemetry) for monitoring the resourse usage in case of pay per use model or flat rate. The student will also know how these infrastructures have common parts for other types of service monetization (Cloud, telecommunication, mobile etc..)
6. CASE STUDY (Zynga, gaming)
There are business cases that allow to migrate from a public cloud infrastructure to hybrid or private cloud. In order to understand available tools for business planning, and basic principles for migration, a cases study and simulations of  Zynga company has been prepared. The case study includes analysis of economics and triggers for the migration and comparision of business cases of public cloud with private cloud.
___________________________________________________________________________________
Imprint
Editor: Antonio Cimmino, ICCLab ZHAW
ZHAW ICCLab Contributors: Thomas Michael Bohnert, Andy Edmonds, Piyush Harsh, Florian Dudouet, Cristof Marti, Sandro Brunner, Philipp Aeschlimann, Mathias Hablutzel, Sean Murphy, Vincenzo Pii, Diana Maria Moise, Victor Ion Munteanu.
Please send an e-mail to cimm@zhaw.ch for commenting articles or suggesting topics for upcoming issues.
Acknowledgement
FI-PPP Programme receives funding from the European Commission under the Seventh Framework Programme (FP7). The European Commission has no responsibility for the contents of this publication.