The Service Prototyping Lab (SPLab) at Zurich University of Applied Sciences performs scientific research and development to rapidly and easily bring applications into the cloud while maintaining quality standards for high availability, high resilience, high degree of insight and other predictable characteristics.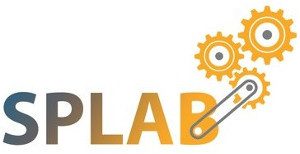 Having been founded in 2015, SPLab advances the state of the art in Service Prototyping. From applied research on novel service architectures and technologies to applied research on migrating software to the cloud through suitable services, SPLab is available for innovative technical collaboration projects with state-of-the-art open research methods. Headed by Josef Spillner, the lab hosts three long-term research initiatives. SPLab on demand operates in conjunction with the ICCLab to realise complex cloud application systems.
We are proud to regularly publish annual research lab reports; please refer to the most recent one (Service Prototyping Lab Report – Y2 (2017)) to get a summary of our activities.
The research initiatives which get fueled in funded projects (EU H2020, CTI, …) are as follows:
Cloud Accounting and Billing
If you are interested in our work, subscribe to the joint ICCLab/SPLab blog feed, check our open source software on SPLab at Github, our peer-reviewed publications, or just follow SPLab on Twitter. We also run two public mailing lists: cloud-announce for academic community announcements of conferences, vacancies and so forth, and splab for updates on what happens in the Service Prototyping Lab. Furthermore, you may check out our research videos and datasets.
Amongst our lab results and its impact, we can point to the following recent highlights.
Education

Internet Service Prototyping elective module (ISPROT-EN) for IT bachelor students

Software
Publications

Preprints, journal articles, conference and workshop proceedings: see publications page

Community

co-chairs of UCC'18/17/16, CLOUD'18 workshops, MIDDLEWARE'18 posters, …
Future Cloud Applications meetup for the greater Zurich region
Our expertise includes: Experimental comparison of stacks and frameworks; provocation and emulation of live conditions, e.g. popularity spikes, failures and malicious interruptions; decomposition of existing applications; cloud-aware designs for new applications; connectivity between services and devices; multi-cloud applications; continuous development and deployment of bundled microservices.
Contact Josef Spillner [josef.spillner / / zhaw.ch] regarding any SPLab matters such as joint research and innovation proposals.
Recent blog posts (list might be outdated):
Call for Contributions: IEEE/ACM UCC and BDCAT 2018, Zurich, Switzerland