Cyclops team is proud to announce that Cyclops Dashboard 2.0 id finally out.
Since Cyclops 2.0 was released, the Cyclops team have been working on a new dashboard that seamlessly works with the new framework and represents with ease all the functions that Cyclops supports.

Currently Dashboard 2.0 supports all the Usage and Charge monitoring and the Bill generation for use cases linked to OpenStack, either Ceilometer Collector or OpenStack Events (for Nova and Neutron). If you are using our OpenStack collectors together with the Cyclops framework, then all the Usage data will be reported to Cyclops and displayed by the Dashboard. Currently only static rating is support in our public release and the charge records generated by CDR micro-service is also represented in the dashboard. The resource consumption and charge data can be seen in either a Pie Chart as aggregated representation or as a histogram that displays the data over time. The time windows for the histogram can be controlled through a configuration file parameter.
This release of Dashboard also enables admin to send Bill generation request for a specified OpenStack Tenant within a time window. The computed bill is shown to the person requesting it in the browser as well as in a PDF file if desired.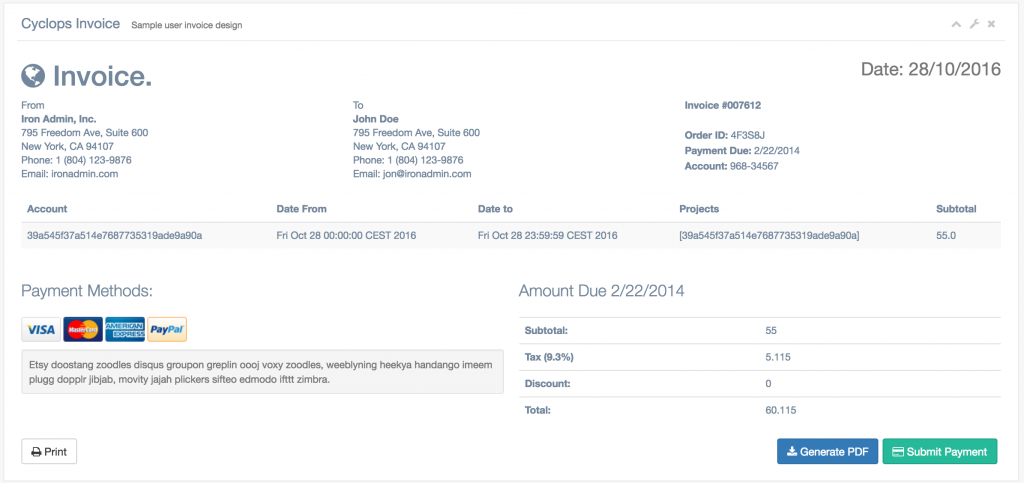 Dashboard 2.0 is still under development and as soon as more use cases are covered, new versions will be released along with specific installation and configuration instructions.
Currently, the following features are implemented:
 Authentication / Authorisation via Keystone
 Dynamically created charts for usage data
Usage data over time details
Dynamically created charts for charge data
Charge data over time details
View billing information
 Create bills for Tenants
 Cyclops with OpenStack Event Collector
 Cyclops with OpenStack Ceilometer Collector
And has the following limitations which will be addressed in future releases of the dashboard:
No Generic Authentication / Authorisation implemented
No support for Cyclops with CloudStack collector
No support for Cyclops with self-developed collectors
User information displayed in the landing page as well as in the bill details are placeholders.
Keep tuned if you want to hear more about the Dashboard 2.0 and Cyclops.
Cheers!
Cyclops Team.