7th Fokus FUSECO Forum – Day 1 can be found here.
The second day of the 7th Fokus FUSECO Forum consisted on a single track of Conferences and time for Demos.
Demos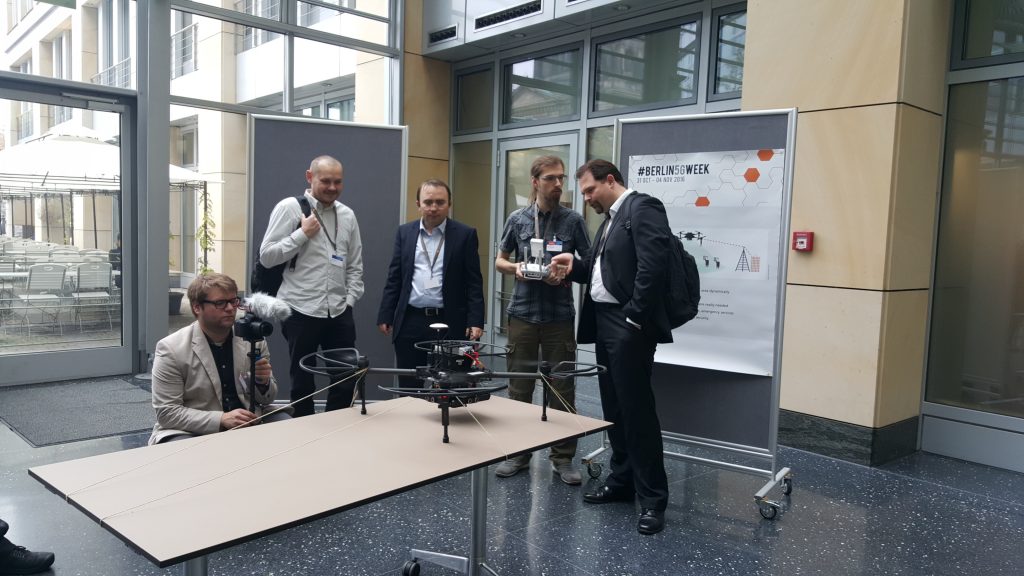 Among the demos, one particularly appealing was UAV-NET, related to "Mobile-Mobile Networks", consisting of a drone that could distribute a network over an area, it proposed the extension of the communication coverage area dynamically, dynamic wireless backhaul management, dynamic data acquisition when and where really needed, dynamic data acquisition when and where really needed, provision of appropriate crowd protection  and emergency services; and, support for public event logistics and security.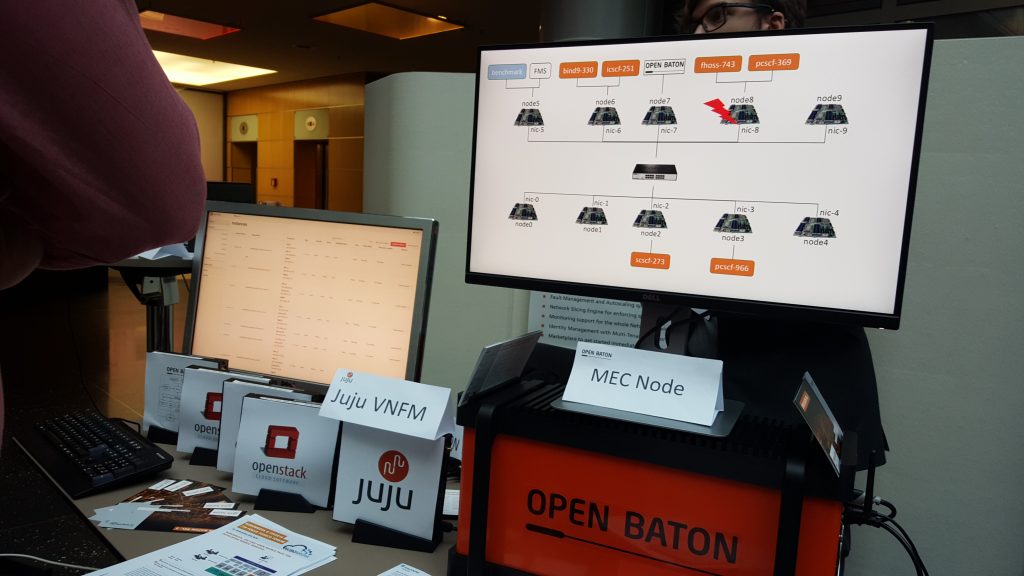 Then, on the OpenBaton demo we saw it is currently on its 3rd release, which added support for network slicing and Juju charms; and its effort is concentrated now on making it stable for production.
Talks
ESA supporting SATCOM/5G and considerations for In-orbit demonstrations (presentation pending): satellite communications (SATCOM) is a highly commercial and global industry and they too see the need and trend to go towards new services, very much like how the Telcos see their domain. A number of candidate use cases are being assessed to best demonstrate the benefit of SATCOM for 5G, with the involvement of European Space Agency (ESA) as a neutral broker for the activities.
Millimeter wave for V2X: The 5G for Automotive use case was extended, pointing out that low delay connectivity across cars and X, where X is anything, can increase safety through collision warning, traffic efficiency and provide more data and reports about/to vehicles and the city. Why would 5G best fit? Sensor technologies radar use less than 1 Mbps and LIDAR uses 10-100 Mbps; nevertheless, cameras used for collision warning, pedestrian warning, which rely on sophisticate Machine Learning, use from 100-700 Mbps. A Google car has six cameras, which gives an idea of how much data is transferred.
5G Key Technologies for Industry 4.0: Why is 5G relevant? It will provide extreme broadband (10 Gbps peak data rates), massive M2M communication and ultra-reliable, low latency communication. Moreover, it is relevant to the industry because, as the timeline tells the industry evolved from its mechanization to its electrification (conveyors, etc.) and later its digitalization; finally, it is time to improve its connectivity. All of this to improve flexibility, versatility, user support and cost efficiency in manufacturing and logistics, robots, AR, mobile control panels, localization and factory automation. It is worth mentioning that close collaboration between vertical and telecom industries us required to leverage 5Gs full potential. The industry-related challenges include seamless integration, security, self-management, new ecosystems and new billing methods for the industry.
Business meets 5G: From an operator's point of view, 5G represents both opportunities and challenges: connectivity isn't enough to make money (usage of data vs revenues do not go hand in hand), but there are many use cases that can change this. Endlessly one can talk about use cases, but can we understand them and identify the role of an telecom operator?
Moreover, are we realistic what the limits could be in e.g., eHealth, more specifically, remote surgery, if it wanted to be done from Chicago to Munich? we're far from the "speed of light"; connecting a doctor with an ambulance in case of emergency is possible, but is 5G necessary for that? To sell beyond connectivity it is important to understand the customers across all industries (energy, health), which all have networks but different requirements. It is important to not underestimate this learning curve will take time to convince customers. Lots of talk is held around bandwidth, radio, network slicing, and radio-only talk is held when we talk about 3GPP, but "we should open the window for different things" in 5G. The only way to understand customers is with many trials (putting something on the table), understanding their lifecycle and researching about them.
Standards evolution towards the next generation core network to support 5G requirements: Regardless of all the talks about 5G, network slicing, etc. we could not miss the talk on… standards! ETSI is working to have a phase 1 release of the 5G spec in early 2018, whereas phase 2 is planned for 2020. There is a push to bring the dates forward because of:
Operator rush to "be the first"
Winter olympic games in Korea in 2018
Rugby World Cup in Japan 2019
Given that 5G is on the way and was requested by the European Commission, it is important to highlight it's not about connecting people to people but things to people, on all possible fields (agriculture, aviation, education, entertainment, factory automation, transportation, healthcare) and that no single tech will satisfy 5G's requirements.
Refactoring for the Cloud: Challenges in the transition towards an SDN-based Mobile Network Architecture: As the cost of manufacturing memory and cpus has decreased, software developers have discounted the efficiency in their code, leading to overlaid frameworks with bloated code, poor memory management methods and poor thread management.
Therefore, it is essential to remind the importance of optimizing code, data models and the decomposition of software into microservices; refactoring code is not a new concept and is necessary to improve existing code and a way to export code to different OS and environments. Ways to do this include writing code to reduce system demands (memory, storage and CPU) and to take into account the 12 factor app attributes.
We had a lot of new insights on the Telco world in Berlin which left us with the question: Are we ready for Softwarization? 5G is more of a philosophical change more than a technical change.