On 9th of March, we organised the 12th OpenStack meetup. A big shout out to Red Hat Zurich who sponsored the event. They also provided the location, at Neue Borse Zurich. As past OpenStack meetups, we had 6 talks again.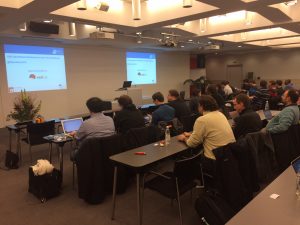 The first talk was done by Krist Van Besien, from RedHat who talked about the traditional way to configure High-Availability in OpenStack with the 3 controller with Pacemaker/Corosync architecture on baremetal nodes. The slides are unfortunately not available to us.
The 2nd talk was done by our own researcher Bruno Grazioli, who spoke about the tool for understanding OpenStack cloud performance using Stacktach and the OpenStack notification system. His slides can be found here.
Saverio Proto from SWITCH, spoke about backporting Openstack features. In this talk he showed how they backported to Openstack Juno of the RBD Object Map feature. The slides can be found here.
Giuseppe Paterno from Garl spoke about efficient multicloud with a Cloud Management Portal and Ansible. In this talk he spoke about how he optimized workload in a complex oil&gas company to achieve their goals. The slides were confidential and weren't shared with us.
The 5th talk was given by Dimitri Vanoverbeke from Percona. He talked about the need for high availability in OpenStack. The talk focused on open source DB usage, restoring, maintaining but also HA-high availability using OpenStack. The slides can be found here.
And finally the last talk was by Chris Bingham from Mirantis who talked about Fuel 8 in a nutshell. His slides can be found here.
More meetups are coming up. Stay tuned for more information!