Here in ICCLab, we've always been interested in the hackathon approach as a way to develop small but practical ideas and make demonstrable prototypes rapidly. With all of our other commitments, it has been difficult for us to set aside the time for such an event, but we finally managed to do this last week.
The scope was loose, with the objective being to develop something which can be demonstrated; we had a small preference for work which was related to our core business – cloud technologies – but we were quite flexible on this point.
We had a simple pre-hackathon process in which folks proposed projects in a document; others could then comment on them, identifying any issues or shortcomings or proposing enhancements or alternative approaches. This (short) discussion was then followed by the team formation process in which everyone indicated their first, second and third preferences for teams to engage with. The result was that there was a fairly even distribution of first preferences across the teams and consequently everyone got to work on their first preference.
We ended up with the following 4 teams:
Bettercast – DIY Wireless projector: a raspberry pi based wireless projector sharing solution
Bodkin disks: a raspberry pi based storage solution
StickTrack: a mobile/QR-based solution for inventory tracking
iXport: a solution for backup of dynamic and static data on an Openstack cluster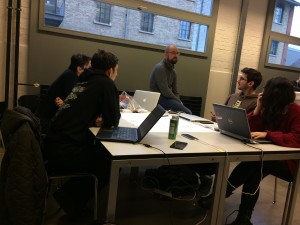 Team SitckTrack bouncing around ideas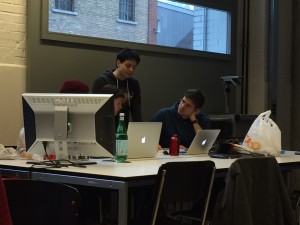 The Bodkin leader briefing his team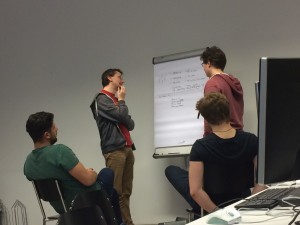 Team iXport hacking with a flipchart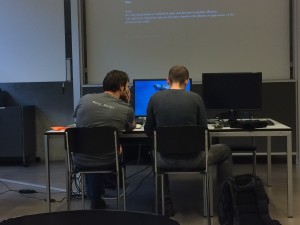 Team Bettercast pondering over the projector

The hackathon itself took place over Thurs-Sat, going til 10pm on Thurs and Fri and wrapping at 6pm on Sat. Importantly, we moved to a room in a different building, moved the tables around to support the teamwork and had some cool laid-back music to add to the atmosphere. At the end of each day each team had to do a show and tell and on the last day there was a longer show and tell with a couple of slides and a bit more discussion.
Generally, there was a great buzz around the room and folks who generally don't work together got the opportunity to work closely together; also people got to work on projects which were a bit beyond their realm of expertise and consequently they learnt much.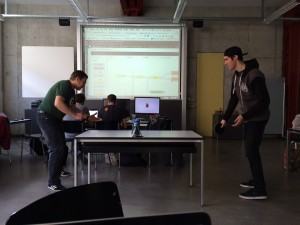 TMB and Manu taking a break
Each of the teams managed to produce a reasonable working system and each will go through their achievements in separate blog posts (coming soon!).
Overall, the event was a great success in multiple dimensions. Firstly, it was great for producing rapid outputs (albeit immature); secondly, it enabled (and somewhat forced!) folks to learn new tools and technologies quickly and thirdly, the environment strengthened the team spirit in the lab with everyone focused on progressing their projects and lots of fun facilitated by mock-competition between the teams.
We're still discussing whether the outputs will go further and this of course is dependent on the teams. The bodkin disk project is very aligned with the ICCLab Cloud Storage initiative and will most probably feature there in some capacity in the future. The iXport project will probably present at an Openstack User Group meet to see if the solution is of interest to other parties. The StickTrack solution will be tried out here in the office and the Wireless Projector solution will be probably be tried out in our meeting room.
We hope to run another one in the not too distant future!