Seán has a diverse background spanning the academic space, large industry and has dabbled in the world of startups. Having completed his PhD in telecommunications in DCU in 2001, Seán then went on to work in a nascent research lab in Ericsson in Ireland. He left this lab to join the Performance Engineering Lab in UCD and spent 10 years on the leafy Belfield campus. Following a stint in Poland, working on a Marie Curie project, he joined ICCLab with a mandate to drive work in Energy Efficiency and Cloud Computing.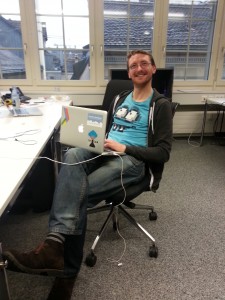 Seán on his first day in ICCLab
Seán has experience of many aspects of the crossover of telecommunications, networking and cloud computing. Working on projects ranging from different flavours of wireless access to video distribution mechanisms to mobile applications to automotive IT, he has a broad experience which he can bring to bear in the lab. Seán has a keen interest in commercial opportunities and is excited to explore the potential offered by the ICCLab environment in this regard.
Seán will lead ICCLab activities in Green Cloud Computing. Initially, this will be done through the vehicle of the FP7 GEYSER project, but is working on more initiatives to broaden the scope of these activities.