We're delighted to announce that Dr. Seán Murphy (twitter, linkedin) has just joined ICCLab. Seán has been a friend of the lab for many years – somehow before the lab actually existed! – and his ideas and energy are very much in line with the infamous ICCLab spirit.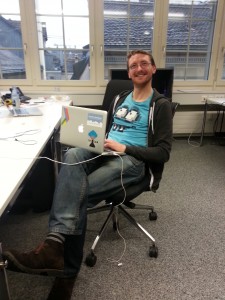 A tough day at the office!
Seán has a diverse background spanning the academic space, large industry and has dabbled in the world of startups. Having completed his PhD in telecommunications in DCU in 2001, Seán then went on to work in a nascent research lab in Ericsson in Ireland. He left this lab to join the Performance Engineering Lab in UCD and has been there for 10 years. Following a stint in Poland, working on a Marie Curie project, he is now committed to driving a new ICCLab initiative here in the land of the purple cow.
Seán has experience of many aspects of the crossover of telecommunications, networking and cloud computing. Working on projects ranging from different flavours of wireless access to video distribution mechanisms to mobile applications to automotive IT, he has a broad experience which he can bring to bear in the lab. Seán has a keen interest in commercial opportunities and we believe that the ICCLab environment provides a rich vein which can be tapped.
Seán will lead our activities in Green Cloud Computing. Initially, this will be done through the vehicle of our new FP7 GEYSER project, but Seán is already working on a number of initiatives to give this focus area more depth. No doubt he will post here often on new activities in this exciting space.