Keynote: T. M. Bohnert and C. Marti, "Platform as a Service: The Future of Software Development" (slides).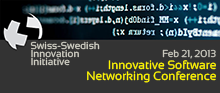 Event background:
Are you a Swiss or Swedish Multinational Enterprise (MNE) representative interested in finding new partners & funding for your latest R&D project within the field of innovative software?
Or are you a Swiss or Swedish Small or Medium-Sized Enterprise (SME), higher education or research institute interested in:
– Teaming up with innovative partners from the software industry &
– Finding funding for your newest market oriented R&D project?
Then do as Ericsson, IBM, SAAB, ETH and many others & sign up already today for the Innovative Software Networking Conference! There you can both meet your potential future R&D partner and learn more about available project funding for market oriented Swiss-Swedish R&D projects within the field of software engineering.
Organizer : Federal Department of Economic Affairs, Vinnova, Export Radet, Saab
08:30
Opening of Conference
Mr. Mauro Dell'Ambrogio, State Secretary for Education and Research (TBC)
Thomas M. Bohnert/Geri Baudinot from Zurich University of Applied Sciences (TBC)
08:40
Swiss-Swedish Innovation Initiative
Mr. Jürg Burri Head of Research and Innovation Directorate at Swiss State Secretariat for Education, Research & Innovation (TBC)
08:50
Platform as a Service: The Future of Software Development
Thomas M. Bohnert and Christof Marti, ZHAW School of Engineering / ICCLab
09:05
EUREKA – Doing Business through Technology
Presentation about Available EUREKA & EUROSTARS Funding For Market Oriented Swiss-Swedish R&D Projects, VINNOVA & State Secretariat for Education, Research & Innovation
09:20
Component Based Architecture with Ericsson
Mr. Jens Jensen, Senior Expert Implementation Architecture Ericsson
09:35
Opportunities within Model Based Engineering & Model Based Development with SAAB
Mr. Stefan Andersson, Senior Executive in Engineering SAAB Group
09:50
Opportunities within New Agile Software Development with SAAB
Mr. Tommy Eklund, Senior Executive in Engineering SAAB Group
10:05
IBM
10:20
Thales or Nagra Vision (TBC)
10:50
Coffee Break
11:20
Meeting the Challenge of Reliable Software
Professor Bertrand Meyer, Chair of Software Engineering at ETH Zurich
11:35
Chalmers University of Technology Gothenburg
Professor Johan Carlsten, Vice Principal Chalmers University of Technology
Professor Jan Bosch, Head of Software Centre at Chalmers University of Technology
11:50
Process Improvement and Process Engineering
Ms. Mira Kajko-Matsson, Associate Professor at KTH Royal Institute of Technology
12:05
Networking Lunch
13:05
SME project pitches, 7 minutes/company 8 pitches
14:05
SME project pitches, 7 minutes/company 8 pitches
15:05
B2B Meetings, Á 15-20 minutes
17:30
Wrap Up and End of Workshop