From August 20th to August 22nd, ICCLab went to a summer retreat in Grafenhausen, into the Black Forest, Germany.
The objective of the retreat was to define the current status of our research Themes and Initiatives and expose the planned work for the year to come. With so many new team members that joined us in the last months and the impressive growth rate of our lab, it was necessary to define ways to keep our work organized and efficient and respect the principles of our approach to research. Besides the hard work… well… certainly when twenty young people spend three days and *two nights* together, a great deal of fun is also to be expected!
We had some intense sessions of hard work, with talks, brainstorms, presentations and feedbacks. Everyone from the ICCLab was attending and, favored by the quietness and isolation of our location, we could dive deeply into our discussions and fruitfully move from one topic to the other.
Here is a moment during our meetings…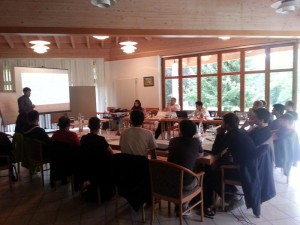 … and during a break:
… over dinner …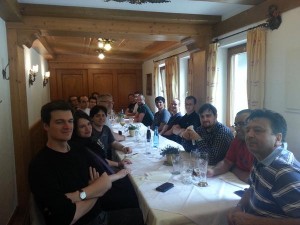 We took the opportunity to explore the black forest with a long hike and we also visited the nearby Rothaus beer factory:
We had a lot of fun playing bowling in the hotel alley! A honorable mention goes to Konstantin and Christof, who went on periodic strike sprees, raising the bar of the competition. Here's Vincenzo dealing with a poor throw!
Conclusions
To meet with all the members of the ICCLab, sit down, discuss about our work and make sure our activities are perfectly tuned with our objectives and targets, proved to be a very important opportunity and a proficient exercise.
As the group has grown significantly, we need to put more effort into managing our own internal structures and keep the organization of our research very efficient. A significant discussion point regarded our research themes, for which we realized that more effort is needed to make sure these structures are working as intended.
The importance of having well-defined roadmaps was highlighted and, for each initiative, a detailed work breakdown has been presented. This information will be maintained during the evolution of our works and will always remain available to the entire group as a clear statement of the targets to be achieved.
Looking forward to the next event! Greetings from the ICCLab team