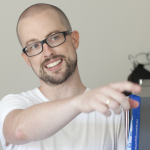 Andy Edmonds is a  senior researcher in the InIT Cloud Computing Lab. He acts as the deputy head of the ICCLab, where he is responsible for the IaaS research theme. His research interests include distributed and system architectures, virtualization, service-oriented architectures, and cloud computing. He has a research master's degree in distributed systems from Trinity College Dublin.
He worked in industrial and academic positions in Siemens, Infineon, Intel and the Distributed Systems Group in Trinity College Dublin. He has been involved in several European FP6 and FP7 projects, including DBE, iClass, SLA@SOI and the FI-PPP FI-Ware. Currently he works on the FP7 project, MobileCloud Networking.
He currently co-chairs the Open Grid Forum's Open Cloud Computing Interface working group.