Yesterday for the 4th time the ICCLab organized the SDN workshop at the University of Bern in cooperation with SWITCH. We had around 25 participants and 7 talks that tackled SDN in the world of cloud computing, NFV, IXP, video content delivery, high performance cloud, authentication request routing and access control etc. All these solutions coming from different projects from the academia and the industry.
Irena Trajkovska presented the work at the ICCLab focused on novel SDN solutions for protocol optimization challenges in cloud data center networks.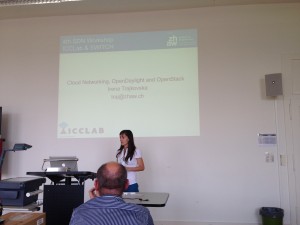 Interesting presentations on emerging topics including round of questions and discussions were followed by nice croissants and sweets break, thanks to Kurt from SWITCH. Over the lunch we had the chance to get to know our works from close and talk SDN, along with a nice coffee under the sun.
Following is the presentation list:
​1. zSDN, a lossless networking architecture for workload­ driven high performance Cloud – Mitch Gusat, IBM Research Labs Zurich
2. Future communication architecture for mobile cloud services – Zhongliang Zhao, University of BERN
3. ENDEAVOUR H2020 project, enabling next ­generation programmatic network services in Internet eXchange Points (IXPs) – Marco Canini, Université catholique de Louvain
4. ​Cloud Networking, OpenDaylight and OpenStack – ​Irena Trajkovska, ICCLab
5. GEANT Open Cloud Exchange. A conceptual study – Kurt Baumann, SWITCH
6. ​Architecture for application ­centric wireless access using SDN – Panagiotis Papadimitriou, University of Hanover
7. Video content distribution meets SDN – ​Panagiotis Georgopoulos, ETH Zurich
Although part of the Swiss SDN Group this year's workshop had the pleasure to welcome presenters from Hannover and Louvain too. With this successful experience, we are looking forward in future to receive more participants from outside the Swiss borders. Stay tuned for the next SDN workshop later this year and don't forget to subscribe to out SDN group, sdn_ws@switch.ch.