The second swiss OpenStack user group (CHOSUG) was held. It was an excellent event so well attended that there was only standing room! A big thanks goes out to the organisers and sponsors (RackSpace, SWITCH and ICCLab).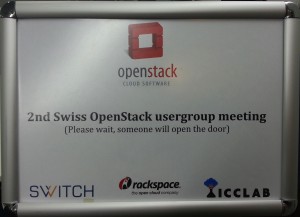 There was six presentations, 3 which were more detailed and 3 that were more lightning talks in nature. Lucas and Toni from the ICCLab gave a super presentation on Ceilometer and Christof made short work of the deep topic of OpenStack and CloudFoundry. The presentations (in running order) were:
All talks were recorded by the kind folks at SWITCH and are available for your viewing pleasure!
Check out more pics on the CHOSUG flickr account.