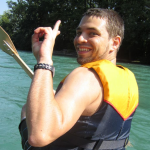 Philipp Aeschlimann is researcher at the ICCLab. His interests are coarsely ranging from data center consolidation, over infrastructure an service virtualization, to software defined networking for Cloud Computing.
In 2006, after awarded a degree in mechincal engineering, he started his professional career in the area of IT Services for various SME in the respective industry.
He then moved to the Technical University of Applied Science in Zurich, which meanwhile became part of ZHAW. For the past 3 years he was responsible for the university's core IT infrastructure and services.