For the second year now, the ZHAW Startup Challenge provides ZHAW students with the unique opportunity to jump into the startup adventure at no risk. All it needs is a passionate team and an innovative startup idea. On May 19, all teams will pitch their ideas in front of a expert jury as well as the audience, which can vote for their favourite team. The winning team will fly to Virginia (USA) to compete against 12 international student teams for prizes up to USD 25,000!
To give you a rough idea of which teams strive for the the free ticket to the United States, we have interviewed the participants. Who's your favourite? Read about five of the teams below. This post will be updated with the other teams as we receive their feedbacks.
Team Food Shelf
What is your startup idea and who are you?
We are San-Jung Yeh and Sebastien Kahla. FoodShelf is a smart internet platform contributing to solving FOOD WASTE.
We help supermarkets sell all fresh food before expiry date, while consumers buy high quality products at lower price.
Why should you win and what makes you unique?
FoodShelf is the first service provider in the world guarantees supermarkets earn profits before fresh food goes expired and worthless. We believe our solution can make earth a better place.
What is your motivation to participate in the ZHAW Startup Challenge?
ZHAW Startup Challenge offers us a good chance to execute our idea and learn through this competition. We also hope our idea can be seen in the challenge and more people can pay attention to food waste problem.
Team P-Recovery out of sludge
What is your startup idea and who are you?
We are a team of material and process engineers. Due to the reason that we drink a lot of coffee we have been confronted over and over again with the add for the start up challenge. Our first idea of regaining phosphorus out of sludge came from one of our classes here at the Zhaw. After some literature research we realized that there is already a team working on a similar idea in coorporation with "Kanton Zürich". Because of that we've been brain storming for a new idea. We came up with putting up a website for students, universities and businesses. More precisely we understood that the flow of information between universities, businesses and students is extremely poor. Lots of young people are not sure about what their possibilites are and where they can develop and expand their center of interest. Additionally businesses expect graduates of universities to fulfill certain requirements, which are often derived through degree, status, reputation and description of the studies on the webpages of the specific universities. Recently, universities began to develop mixed courses of studies, often called interdisciplinary, which do not clearly define a specific direction. This makes it confusing for businesses and difficult to keep up with the changes in hard as well as soft skills which all those numerous mixed studies bring with them.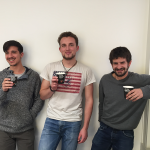 Why should you win and what makes you unique?
Especially the young generation spends so much time in the world wide web. There is a website for almost everything. However, if you're looking for education, the web is still a huge mess and full of lies. Very often there is a great gap between what a specific course of studies claims to provide and what it really provides. We think we should win the challenge because we want to build up something for the future. We want to flatten the way of our successors through consistent and therefore fair information.
What is your motivation to participate in the ZHAW Startup Challenge?
Providing targeted information about education and institutes thereof for prospecitve students and employers.
Team 'wake coffee
What is your startup idea and who are you?
'wake coffee will serve you with an ethically produced coffee on ice. It is made out of the finest coffee beans from plants, to which we maintain a relations on a personal level, after the receipt of a little Swiss coffee house located near the Sihlsee, SZ and uses plant-based milk instead of diary. The two faces behind 'wake are the two BF students André Wyrsch and Yannick Zwinselman, both engaged in the financial sector forming a capable and motivated management team having good connections to technical know-how sources and potential collaborators.
Why should you win and what makes you unique?
'wake coffee provides a new iced coffee experience. With its plant-based milk, it addresses vegetarians & vegans as well as allergy sufferer. In addition to this customers, 'wake coffee will be available as a decaffeinated version. Exactly these promises makes us unique. All major competitor and well-known brands have no products for these growing segments. We win due to profound market research and the identification of a highly-potential field in today's quick living society and not following a unrealistic idea, which only provides guiding thoughts but showing that even after a short period of time studying at ZHAW widens one visionary sight and pioneering-thinking enough to build up a profitable avant-garde Start-Up.
What is your motivation to participate in the ZHAW Startup Challenge?
We decided to join the ZHAW Startup Challenge to gain our first experiences in starting a start-up. We were looking forward to get to know all the different aspect of founding your own company and increase our knowledge in these fields. Furthermore, we identified this opportunity as kick-starter and experienced the course as kind of a candy shop of great minds ideas and the perfect conditions to rapidly develop our idea.
Team Squido
What is your startup idea and who are you?
If you want to know more about our Start-Up Team, visit our Homepage (www.squido.ch)
But we're going to present our idea in group of two. Baris Bayram & Emanuelle Mazzotta
Our Start-Up Idea is simple:
Squido is an app that leverages GPS tracking to match students looking for help and tutors in their close vicinity, here with bringing an established concept to a new field. In a group consisting of students from ETH, UZH and ZHAW and people working in the IT Field, we are pursuing the endeavour of founding a startup based in Switzerland. With the app launching in February, we are currently in the POC phase.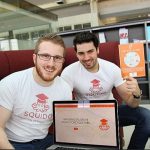 Why should you win and what makes you unique?
We' re going to revolutionize the entire Tutoring market with our Application. We're faster, more reasonable than the classical Tutoring platforms and or lifestyle is similar to our target group.
Why faster ? You can order an other Student within few minutes.
Why more reasonable ? You dont have to obtain a whole lesson like the classical Tutoring system…You can also obtain 20minutes.
What is your motivation to participate in the ZHAW Startup Challenge?
Our Motivation is also simple like our idea. We're Student's who are trying to achieve bigger goals than just our graduate. We want to help other Students and make some Experience in the Entrepreneur world.
Team skin health monitoring
What is your startup idea and who are you?
We are developing a new device to analyze the skin by measuring the relevant parameters. The device comes with an app that allows you to see the actual skin condition, verify and monitor the impact of a product you use over time.
We, Patrick von Schulthess and me, are both part-time students in systems engineering (BSc). We have a strong team spirit and know each other inside out from various projects during the studies. We both have several years of working experience in different fields.
Why should you win and what makes you unique?
We are highly committed to becoming successful entrepreneurs in the future and strongly believe that our idea is going to get us there. We have the skills to make the device and the app work, are talented also in disciplines other than engineering and feel that the timing is right to start our own business. The goal is to be "in control" and be our own bosses, and for that, we are willing to give all our time, learn every day and just keep working hard until our business is up and running.
What is your motivation to participate in the ZHAW Startup Challenge?
The main motivation to participate in the ZHAW Startup Challenge is to get a worthy feedback from the experts and the crowd – and ideally also from the US market! Nonetheless, it would be terrific to profit from the incubator, work together with experienced experts and have an ideal workspace to go on in the coming 6 months.