In a data-driven world, ZHAW data scientists are in high demand and work on a plethora of problems. This year's Swiss Data Science Conference reflected the currently strong emphasis on artificial intelligence (AI), but there is more to data science than AI. The ZHAW projects show, that at the heart lie applications and approaches that put humans, sustainability and ethics in the centre. Discover how quantum technologies, predictive models, and data-driven approaches are making an impact.
Opening his talk, Tomasz Pelczarski from Microsoft addresses the room filled with data scientists from universities and companies like NZZ, Migros, SBB, and SNB with the following question: "Should we fear that AI will destroy mankind?" In the background, a scene from The Terminator flickers across the screen. The room falls silent, and the audience hangs onto his every word. However, Tomasz Pelczarski confesses that he does not know the answer to this daunting question. Nevertheless, as the talk draws to a close, he points out how even the terminator could be trained to prioritize benevolent actions. He emphasizes: "I believe that humans should have the final lead decisions of what to do, and Microsoft believes this too".
Mitigating Discriminatory Biases in Success Prediction Models
One ZHAW researcher who prioritizes human-centered approaches and tackles discriminatory biases in AI is Michèle Wieland. She firmly believes that companies should take responsible actions and consider steps to promote fairness instead of solely focusing on profit. This belief motivated her to use a method called "gradient reversal" which effectively mitigates bias by unlearning sensitive attributes. She developed a startup success prediction model and applied the gradient reversal technique, consequently improving group fairness. For instance, when considering the gender of founders, this method ensures that the predictions for success are almost unbiased, with an equal opportunity gap close to zero. Ultimately, this approach provides investors with better and fairer recommendations.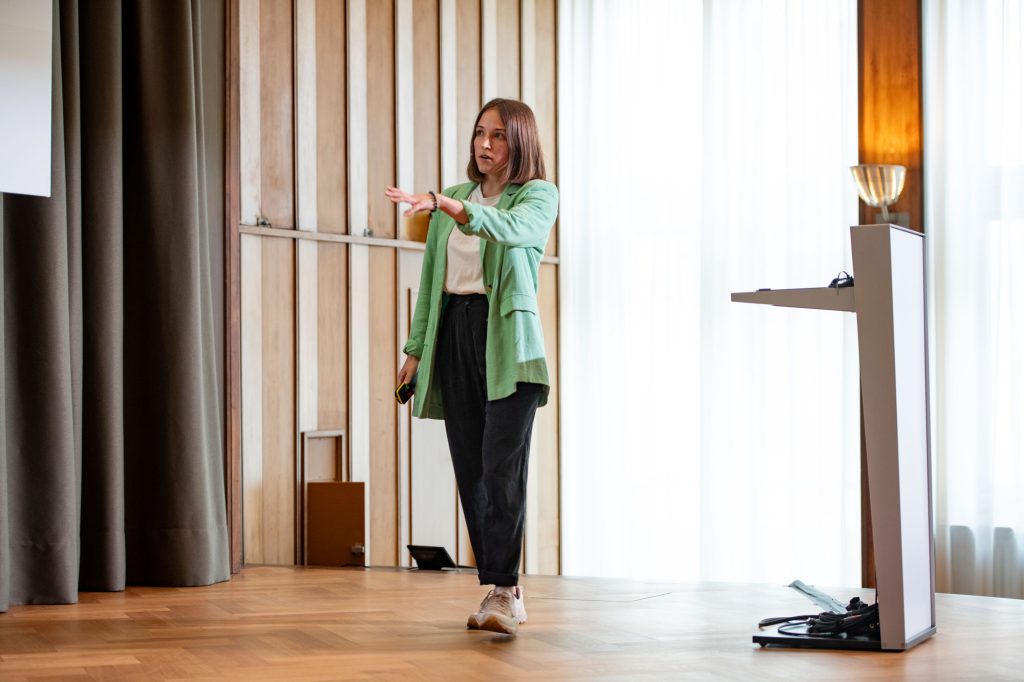 The Data-Centric Development Process for AI in Industry
AI is currently being predominantly utilized in a model-centric approach by many companies, although not all. In the model-centric approach, companies work with large datasets, powerful computing infrastructures and machine learning expertise to develop their own AI models. However, these prerequisites are often not accessible to small and medium-sized companies. "In order to unleash the potential of AI and democratize it, models need to run efficiently on smaller datasets", says Paul-Philipp Luley. He further emphasizes that small and medium- sized companies possess valuable domain knowledge that can and should be used for development. The researcher argues for a data-centric approach, that systemically engineers the data used in building an AI system. By focusing on the data, data and labeling errors can be easily identified and addressed, thereby enhancing the overall outcome.
Quantum Machine Learning – The Next Big AI Wave in the Age of Energy Transition?
Another innovative AI approach is being pioneered by ZHAW researcher and co-head of the ZHAW Datalab, Kurt Stockinger. Within just 15 minutes the large congress room receives a crash course in quantum machine learning, which combines two highly complex topics: quantum computing and AI. Kurt Stockinger contends that by merging these domains, not only does a new field emerge, but efficiency can be dramatically increased and the accuracy of machine learning algorithms can be improved. "Although quantum computing is still in its infancy, its potential is immense", affirms Kurt Stockinger. And the good news is that we can all engage in quantum programming, as IBM provides an open-source software development kit called "Qiskit". Presently, we can only tackle small real-world problems, but the results are promising.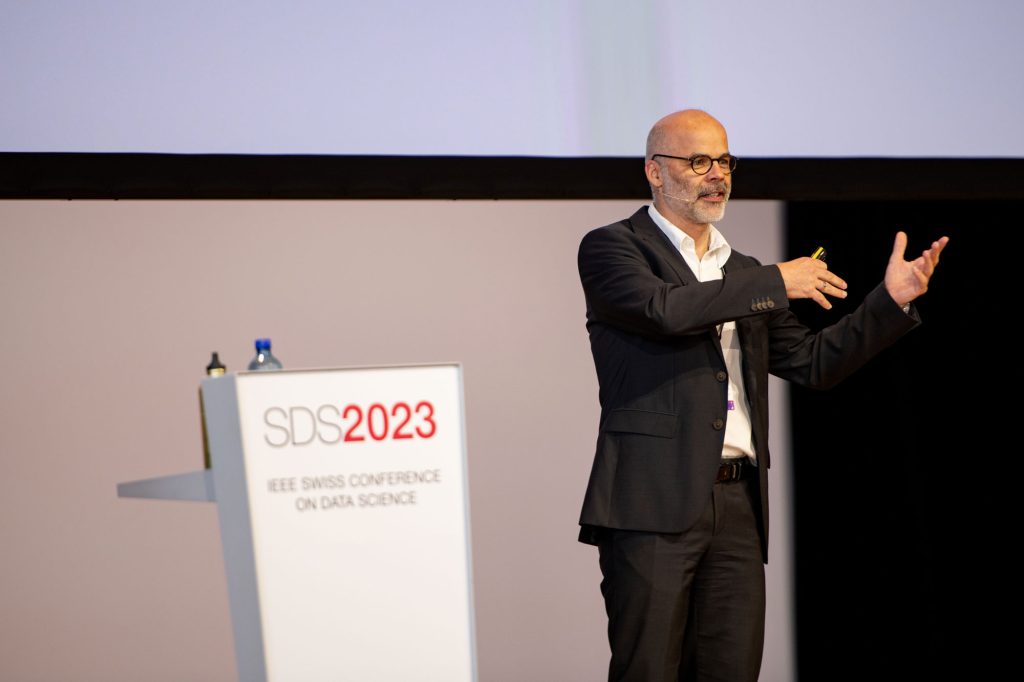 Physics Informed AI for Predictive Maintenance
Traditionally, decisions regarding the operation and maintenance of industrial machines and infrastructures have been made by engineers and service technicians. In the last couple of years, the dominant trend is to try to replace this with AI-based algorithms. But why not use the best of both worlds? Lilach Goren Huber and Manuel Arias Chao highlight three use-cases that demonstrate the power of this hybrid approach, combining domain knowledge with data in various frameworks. The resulting algorithms provide more accurate predictions, require less labeled data, are more adaptive and provide interpretable insights to domain experts. Consequently, these hybrid physics-informed AI models are more easily accepted in industrial applications, supporting intelligent and more efficient decision-making processes for industrial operations.
"Hasta la vista baby"
Data science provides the foundation for innovation and is currently revolutionizing many industries through applications of artificial intelligence and machine learning. ZHAW researchers aim to develop methods, products and services that shape our society sustainably and help overcome challenges, such as privacy and ethics. At the end of his talk, Tomasz Pelczarski from Microsoft raises three more questions: "Are we able to find a barrier behind which technology should not interfere with human nature? Can we find consensus? And do we have the time to do so?"
Swiss Data Science Conference (SDS)
The IEEE Swiss Conference on Data Science (SDS) is the most important Swiss conference for applied data science. 10 years ago, the ZHAW Datalab kickstarted this event. Every year it brings together data scientists, developers, opinion leaders, decision makers and pioneers and fosters data-based applications and research among the data science community.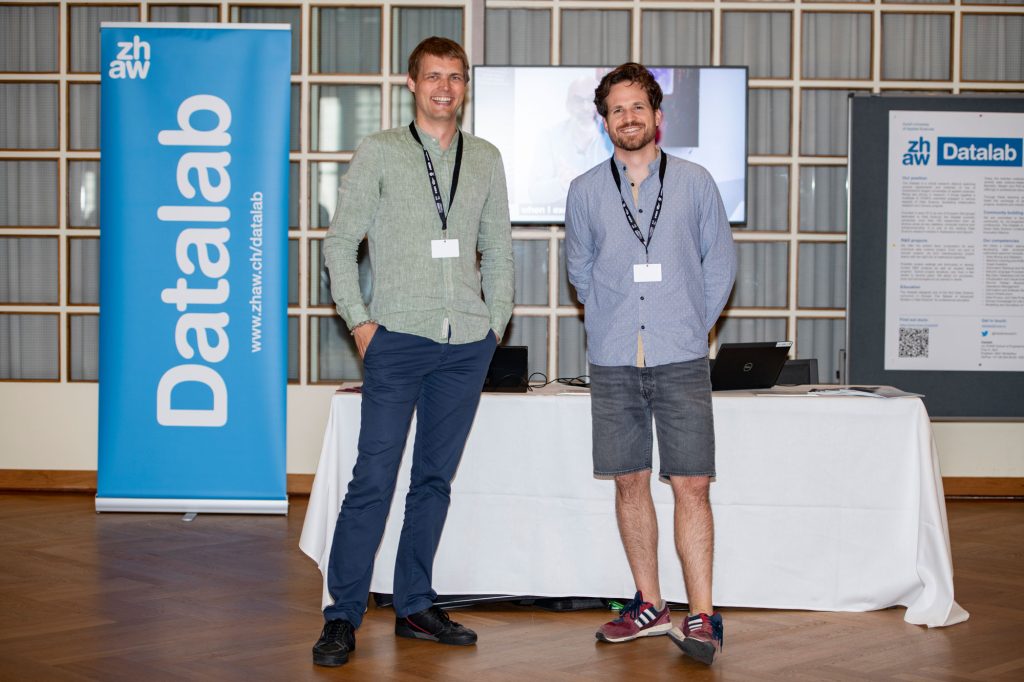 More information:
Talks by ZHAW researchers and others: (Link follows)