Commuter flows are constantly increasing in the urban regions of Europe. The results are traffic jams at peak times, overloaded public transport systems and rising costs. At the same time, lifestyles and working methods are becoming more dynamic and versatile. Classic offices can increasingly be exchanged for mobile or home-office workplaces, flexible working time models and part-time work are increasing. Mobility strategies must be adapted to this development. The European research project ENSCC Smart-Commuting uses a case study in Basel (Switzerland) to investigate to what extent digitally connected and multimodal mobility offers can be a solution. The study focuses in particular on new digital service concepts such as MaaS, which combine the planning, booking and payment of mobility in one system. The potential of such systems to encourage a shift from individual automobility to more sustainable modes of transport, such as public or active transport, is being investigated. Project results of Smart Commuting (http://www.smartcommuting.eu) were presented at the Interreg "Klimafreundlich Pendeln" closing event. Also make sure to visit their website https://www.klimafreundlichpendeln.org/ as well.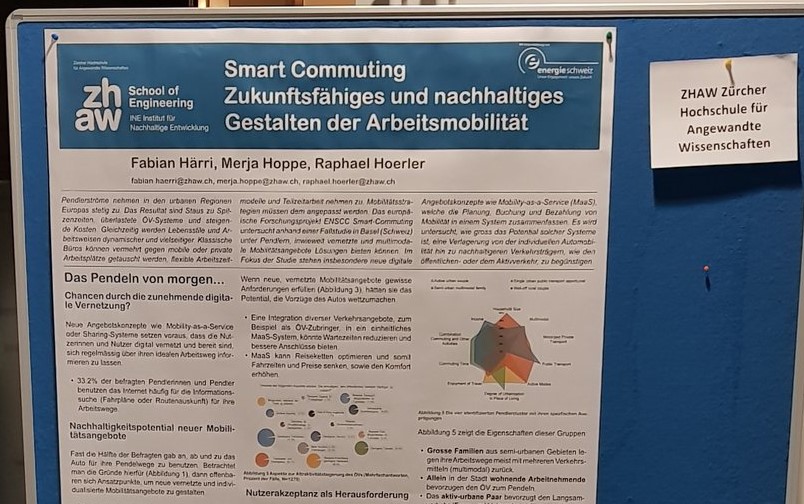 To find out how commuters currently undertake their daily travel to work, Smart Commuting undertook an online survey between March and April 2017 in the Canton of Basel-Stadt among 550 commuters. This made it possible to gain exciting impressions regarding the current layout of daily commutes, as well as to determine sustainability potentials of new mobility systems.
The commute of tomorrow… Sustainability potential through digitalization?
New service concepts such as mobility as a service or sharing systems require users to be digitally connected and willing to receive regular information about their ideal route to work.
33.2% of the commuters surveyed frequently use the Internet to search for information (timetables or route information) on their way to and from work. Almost half of the questioned stated that they occasionally use their cars for commuting. Car users appreciate the high flexibility (58.3%) and the short travel times (49.4%). More than 75% of all commuters regularly combine their commute to work with shopping. If new, networked mobility offers can keep up with these requirements, they have the potential to make up for the benefits of the car. However, the lack of openness of commuters to new forms of mobility presents a challenge. Just under a quarter of those surveyed could imagine going to work by car-sharing. The willingness of other transport services is even lower.
Reaching commuters
The study was able to show that new mobility offers can certainly respond to the changed needs of commuters and make a contribution to greater sustainability by promoting sharing traffic, public transport and non-motorized traffic. The lack of openness towards these alternatives remains a challenge. Commuters are not a homogenous group. To make alternatives to the car attractive, mobility solutions should be tailored specifically to the needs of commuter groups; such commuter groups were identified using exploratory data analysis for the sample. All groups show a similarly low openness towards car and ride sharing. However, younger and lower-income commuters tend to be more open to these alternatives. In addition, among frequent car users, men are less willing to share the car than women. On the other hand, women who often use other means of transport are less open to car and ride sharing than men. Specific measures tailored to those with an above-average openness to sharing modes could foster the adoption and spread of these new means of transport. This could include targeted promotion of public transport, family discounts or e-bike events. By the end of the project in autumn 2018, further recommendations will be drawn based on the empirical project results.