A long-awaited return
The previous installment of the TAC conferences, TAC-4, was the best conference I attended during my PhD back in 2015. A perfect combination of topics and social activities in a small Bavarian town away from touristy temptations. Naturally, TAC-5 had been on my radar, and it was initially supposed to follow the previously established triennial cycle. Due to Covid and other reasons, it took place seven years after the last one, and it was my first in-person conference in more than 2.5 years.
Bad Aibling became the focal point of aviation and climate researchers
The small Bavarian town of Bad Aibling attracted more than 120 scientists and engineers from the transport sector, mainly from aviation. The conference included oral and poster sessions covering emissions characterization and modeling and mitigation of climate impacts. A dominant topic was contrails and contrail avoidance by operational means, which is the key area of research of the conference host, German Aerospace Center (DLR).
Our contribution uses data from a long series of standardized emission tests
I gave a presentation on the topic of the variability of particle emissions of large jet engines. This is an ongoing work where we investigate the emissions variability of large engines and the impact of engine history and its maintenance status on emissions (see project website). Anecdotal evidence indicates that older engines emit more pollutants than new engines of the same type (e.g., their soot emissions increase such that smoke trails become visible). Emissions certification is usually done on brand-new engines. In our work, we have shown that, on average, in-service engines, even after overhaul, tend to emit more particle mass (which correlates with visible smoke) than estimated from emissions certification of new engines. Thanks to our work, modelers will be able to perform more accurate predictions of the local air quality impacts or airport operations.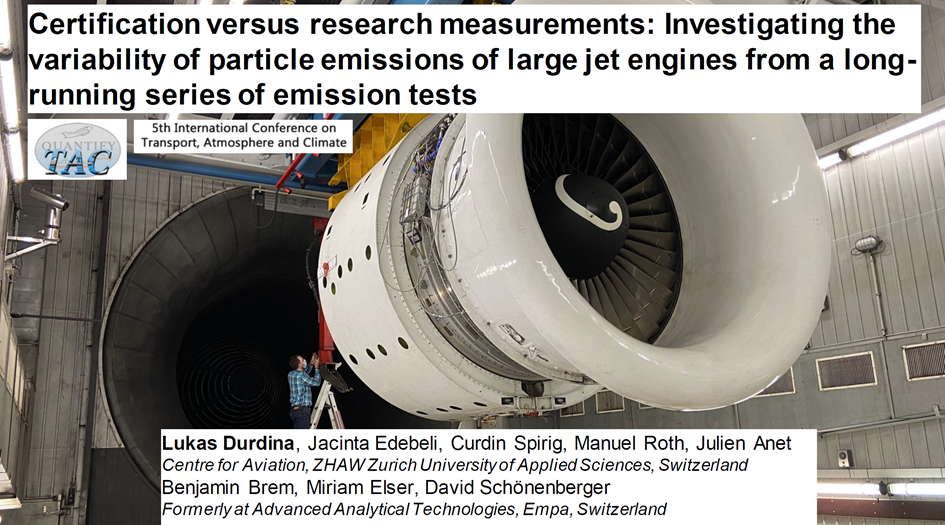 Not all work and no play
The conference did not lack opportunities for socializing, which more often than not foster new research ideas and collaborations – something that is hard to execute via a Zoom call. The highlight was undoubtedly the Bavarian BBQ dinner with our hosts tapping the traditional wooden beer kegs and playing with their local brass band. One afternoon was reserved for the trip to the nearby Wendelstein observatory. Unfortunately, the weather was not playing along, and upon reaching the observatory, we were asked to descend due to an approaching thunderstorm. We still had an hour until the next rack railway train down to the valley. Fortunately, this is Bavaria and the mountain top restaurant served excellent beer. In the meantime, the weather improved and we could enjoy some views.
Overall, the conference provided an excellent overview of the state-of-the-art research on aviation and shipping-induced environmental and climate impacts, pointing out the many challenges ahead in achieving climate-neutral transportation. A big thanks to the organizers, Prof. Robert Sausen and his team, for pulling off an event to remember.