Blogautoren: Vicente Carabias-Hütter; Jörg Musiolik; Evelyn Lobsiger-Kägi; Pascal Vögeli; Anna Kohler; Onur Yildirim
Abstract
Challenges such as the digitalisation of administration, the change of cities through urbanisation, climate change and the restructuring of infrastructure systems in the energy and mobility sector require a rethinking of the existing urban development approaches. The Smart City concept enables cities to tackle these challenges in the sense of a holistic development approach across departments, networked with partners and supported by digital technologies. In Switzerland's view, the Smart City concept goes far beyond administrative e-government and digitisation strategies. The overriding goal is to develop efficient and resource-saving solutions while at the same time increasing the quality of life and the attractiveness of the location. The overall aim is to create an innovative urban environment that involves the inhabitants and the economy and opens up new design possibilities.
From pilot projects to smart city initiatives and implementation
Many cities are currently on the way to becoming a Smart City. The most advanced cities have developed smart city strategies that build on and complement their long-standing experiences of sustainable urban development (cf. Bisello et al., 2017). In some cities there are already pilot projects in the form of living labs or urban districts in which smart city approaches are to be developed and tested for a city-wide rollout. Other cities have first experiences in the implementation of individual, topic-specific Smart City pilot projects. These projects often focus on the integration of different technologies and areas, the introduction of information and communication technologies and questions of integration and participation of the population
One possible solution for reducing energy consumption of street lighting is smart LED lights that only light up when someone is using the street. In addition, the street light could communicate with other lights and traffic sensors via an IoT network, produce electricity itself with a PV system or supply vehicles with electricity as an electric car charging station. New business models and participatory approaches are needed not only to meet the needs of the residents, but also to integrate them into the development process of solutions through co-creation. Further examples are "Share your Bicar", a PV electric vehicle sharing system geared to urban areas, or "Social Power Plus", which aims to raise awareness of energy system transformation among the population through gamification, energy-saving tips and feedback on their own energy consumption. The ZHAW's "Virtual Smart City Hero" project includes a virtual reality game that enables the inhabitants of a city to experiment with an emerging technology while at the same time recognising the potential of a Smart City (cf. West et al., 2019).
In Switzerland and elsewhere, cities moved from pure energy related governance activities such as the European Energy Award for local authorities towards an implementation of broader Smart City initiatives. These activities might accelerate the transition process of cities, since a joint governance and management of energy, mobility and housing issues is applied with the help of ICT. However, the number of successfully realized Smart City projects is still low. There seems to be a large gap between policy visions and implementation. Especially since one third of medium-sized and large cities are expected to define their Smart City roadmaps within the next few years, research governance of Smart City implementation is of key importance.
Supporting small and medium-sized cities
For the majority of small and medium-sized towns and municipalities in Switzerland, the introduction of the smart city theme is challenging. While pioneering cities have already gained initial experience in the implementation of smart cities in recent years, smaller and medium-sized cities need adequate support to get started. In order to meet this need, guidelines have been drawn up on behalf of the Swiss Federal Office of Energy (SFOE) in collaboration with a stakeholder support group. The guidelines present various steps, instruments, variants and practical examples for the implementation of smart cities, from which interested cities can choose according to their needs. These guidelines therefore not only summarise the relevant literature and experiences from pioneering cities, but also enable cities and municipalities to develop their own understanding and appropriate measures to implement their Smart Cities. In this respect, they support cities in the development, selection and implementation of project ideas. Once the cities have gone through this phase, many cities want to approach the implementation of Smart City by means of an overarching strategy and a corresponding organisational unit. For this institutionalisation phase, the guidelines present all relevant steps as illustrated in figure 1 (SFOE, 2019).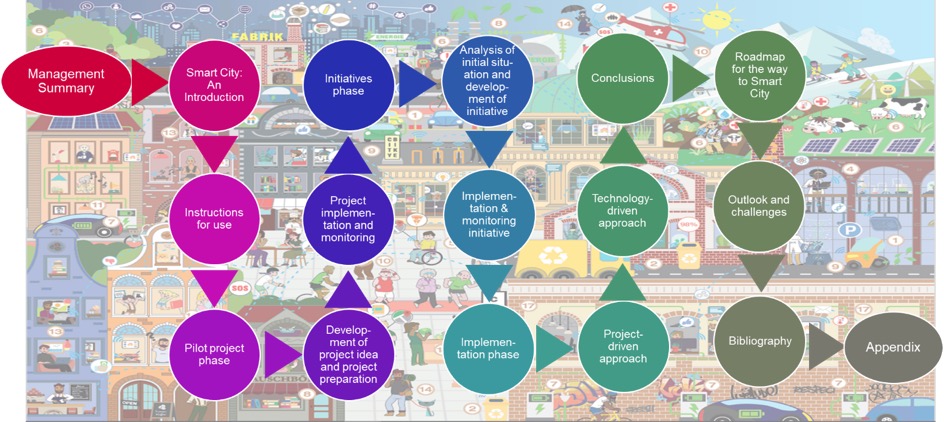 Figure 1: Steps towards Smart Sustainable Cities as illustrated by the Guidelines for Smart City Initiatives (SFOE, 2019)
The ZHAW supports cities and municipalities on their way to Smart Sustainable Cities and the associated solutions. This can be achieved through the intelligent networking of infrastructures with modern technologies, social innovation and the integration of relevant actors as well as transformation management, process support or support in strategy development. With the specially created ZHAW Smart Cities & Regions platform, the ZHAW bundles competencies and experiences across its institutes in order to use them to identify future business areas and innovations, apply promising use cases and to work within the Smart City Alliance.
The design, management, implementation, upscaling and monitoring of successful Smart City projects should be investigated in further research projects in order to provide recommendations for the management of holistic Smart City programmes. Ultimately, the aim is to establish and further develop a comprehensive innovation system in which actors enter into new cooperations and build networks.
Acknowledgements
Future-oriented research on the development of Smart Sustainable Cities was supported by the Swiss National Science Foundation in the project IZLRZ1-163866. The guidelines to the implementation of smart city initiatives in Switzerland got support from the Swiss Federal Office of Energy. We would like to take this opportunity to thank all those involved in the applied research process and the funding agencies.