After everybody had a day off on Sunday with some sightseeing in Hong Kong, the second week of the Field Trip started early at 6:45. Till everybody finished his Monday morning sport program it was 7:15 so we left a little bit later. Most of the students appreciated this delay, because the breakfast in the City View hotel starts at 7:00. On the program was the visit of the company Huawei. The Headquarter of Huawei is in Shenzhen, which is a special economic zone. This means we had to re-enter China and buy a one day Visa. Till everybody could pass the border it took quite some time because a boarder guard had the urge to examine a cell phone (probably he don't like Monday's).
Finally we arrived at Huawei where we got a warm welcome from David Harmon who is the Vice President of global public affairs. The presentation was very interesting and informative.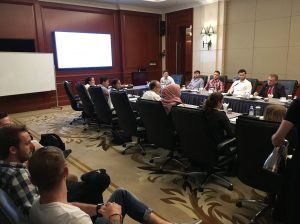 Huawei has 180'000 employees of whom 80'000 work in research and development. As a consequence Huawei has the largest number of patents in China. In the campus we visited, work and live around 60'000 people, what is a really impressive amount. We also get insights in the future of the 5G internet, the collaboration with swiss companies like Swisscom and Schindler and the importance of the internet of things in the future. After the presentation we bumped into the delegation of the swiss entrepreneurs and some people from swissnex, which was a funny second encounter. In the showroom of Huawei we get a deeper insight of the sectors in which Huawei is active.
Huawei isn't just a cell phone producer as many people think. Keywords of the products we saw in the showroom are city management, safe Railway, smart aviation, smart grids and many more. After the walk through the showroom Huawei invited us for lunch. In the afternoon we spent our time at the SEG electronic market. In this place hundreds of small shops sell their electronic devices.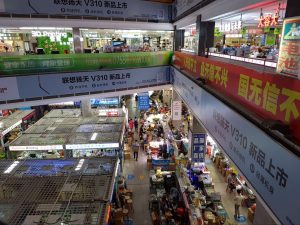 We explored the market individually and the students, who were not in shopping mood played some cards. At 17:00 we entered the car to get back to Hong Kong. Luckily this time without some time consuming border guards. At the time we arrived in the hotel it was already 19:30 and everybody was a little tired after the long but interesting day.
Group Hong Kong:
Luca Amann, Stefan Graber, Yannik Ryf, Tim Signer, Kevin Temperli