Today we started early on 04:30 AM and went to our inland flight from Peking to our second destination of the Field-Trip Chengdu. Chengdu is the capital of the Sichuan province in southwestern China. The history of Chengdu dates at leasts the 4th century BC. Back then it was capital of the Shu Empire.
After a drive without traffic we arrived as planed after an hour from our hotel Ritan to the airport of Peking. At the airport it was surprising that already so many people where in this early hours on road. As you properly can imagine, the airport of Peking is huge, so it was hard to find out where to go and find your place. But because of the inland flight the Check-In and baggage drop-off went very smoothly. The flight we took with the government-controlled airline "Air-China". The flight was at all point, very comfortable and enjoyable so many of us took the opportunity to sleep a bit.
We arrived punctually at 10:40 AM at the airport from Chengdu. Our new tour-guide Emile picket our whole group from the Airport up and brought us with a new driver to the hotel "Holiday Inn Express" near the shopping mile of Chengdu.
Now we needed to prepare us hurry, because the next excursion already was planned. At the afternoon we visited the automobile-manufacturing from Volvo in the district Zhongjia. After arriving Lawrence (our contactperson from Volvo) received us friendly.
The tour at Volvo lasted about an hour, and the program was to see the hole first building, where the cars were assembled together.  Car- windows, doors, handlebars, electronics, dashboard and so far, was fitted in different station on the car skeleton.
At the end of the assemble line, there was a completely finished car built, that could be driven. Our visit finished with a Q&A round where Lawrence answered all ours questions.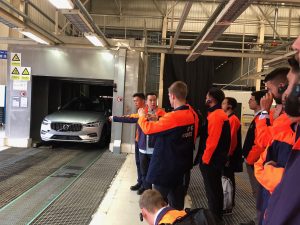 He told us:
–          The manufactory can build 500 cars per day
–          The factory is working with a workload of two periods of 8 hours
–          The Volvo employees earned between 4000-5000 Yuán
–          Volvo build their cars for all markets (europe, america, asia)
At the evening, we had all personal program. The executive-team had the pleasure to be invited for a networking dinner. All others, let's call them "the peo" could plan their evening personally, and went together to eat chinesefood.