After having dedicated the previous day to the city's history, we now returned to our major. We started by visiting 'Xi'an Hi-tech Industries Development Zone' (XHTZ), one of the most successful amongst the Chinese national high-tech zones. The tour through the exhibition of their future projects was spectacular (light show on a model of the city!) and informative due to Wei, who acted as an interpreter (and it was by far not the first time we could benefit from his presence!). XHTZ's aim is to position Xi'an increasingly as the perfect spot for high-tech companies and to foster innovation in this particular field. Driving innovation within the objectives of a national five-year plan defined by a strong state challenges the classic western approach to innovation. However, if these projects suceed SML might have to rethink theory and consider camapigning for state capitalism.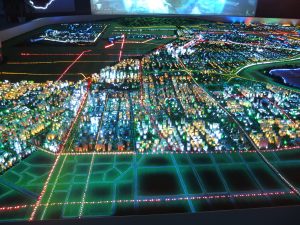 Subsequently we had the unique opportunity to get insight into the production of mobile phones. We were explained the process along the assembly line and could watch it through a pane. That ZTE let us have a glance behind their curtains allows for an assumption that their working conditions are comparaly well, which was confirmed by our tour guide who provided us information on wages, working hours and holidays. After finishing the tour she led us to the ZTE's canteen to wait for our lunch delivery from Xi'an for lunch. When we saw the delicious-looking dishes we regreted having ordered sandwiches and couldn't refuse the offer to choose at least a starter from the buffet.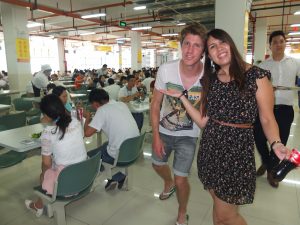 For the next company visit our bus took us to the Chinese subsidiary of the Swiss Bühler Group. After a competent introduction we were guided through the plant where machines for grain processing are produced. They explained how through leaner processes efficiency was increased substantially. What used to be process management theory came alive on-site.
After ZTE in the morning it now occurred to me again that the steps of quality control occupies quite some space in the plants and accordingly more labor, more time. I realized that to date quality control to me was first of all step 7 out of 7 when preparing for exams. Its significance in practice I have underestimated obviously. Just the things you get aware of, being a Swiss student on a trip to China…
We decided to visit the Big Goose Pagoda on ur way back home. The buddhist temple provided just the right atmosphere after a busily scheduled day. I think everyone was to tired to get deeper into history and facts about the temple, so we just wandered around and took pictures – while other visitors took pictures of us (slowely but surely we are getting used to it).