Written by Alexander Radtke & Cyril Marti
Morning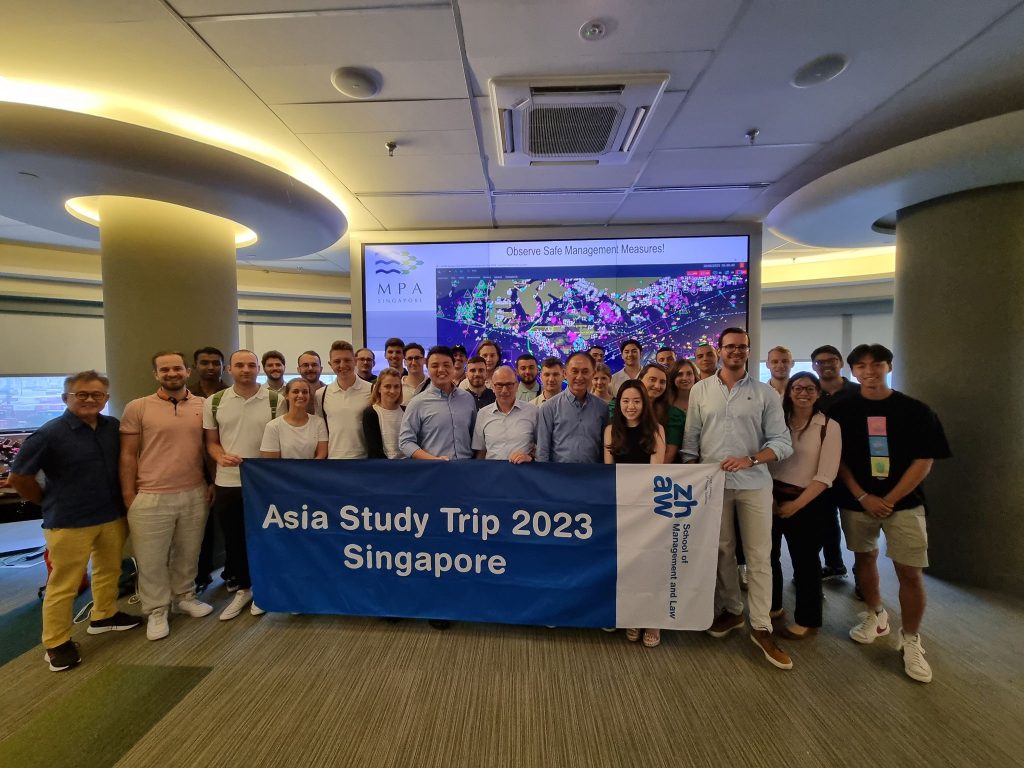 Visit Port of Singapore
On Friday, we embarked on an exciting visit to the Port of Singapore, renowned as one of the busiest ports in the world and a vital center for global commerce. This immersive experience provided us with valuable insights into the port's operations, advanced technology, and the diverse range of cargo it handles.
The Port of Singapore: A Gateway to Global Trade: Under the guidance of Frederick Wu, Senior Marine Manager, our knowledgeable host, we delved into the inner workings of the port. Frederick enlightened us about the port's sophisticated equipment, cutting-edge technology, and the efficient handling of various types of cargo. It was truly fascinating to witness firsthand the extensive operations that contribute to Singapore's status as a key trading hub.
Facts about the Port of Singapore: Here are some noteworthy facts about the Port of Singapore that we discovered during our visit:
In 2020, the port handled a staggering 37 million container units, demonstrating its immense scale and significance in the global trade landscape.
Strategically situated along major shipping routes connecting Asia, Europe, and the Americas, the port serves as a vital link in facilitating international trade.
The port encompasses two main areas: the PSA terminals and Jurong Port, each playing a crucial role in handling different types of cargo.
State-of-the-art technology and automation are integral to the port's operations, ensuring efficiency and productivity in handling various cargo types, including containers, bulk goods, general cargo, and liquid cargo.
With its deep-water facilities capable of accommodating large container ships and other vessels, the port serves as a pivotal maritime gateway for global trade.
The port's significance extends beyond its operational scale, contributing approximately 7% to Singapore's GDP and employing over 170,000 individuals.
Recognized for its exceptional efficiency, productivity, and environmental sustainability practices, the port has received numerous prestigious awards
Our visit to the Port of Singapore provided us with valuable insights into the intricate workings of a world-class port and its crucial role in facilitating global trade. It was an eye-opening experience that highlighted Singapore's position as a key player in the international business landscape.

We had the pleasure of being accompanied by additional individuals during our visit, which made it truly special to witness the bustling activity of the Singapore port up close. Our guests for the day were Clement Cheng and his son Kay. Additionally, we were joined by Tiffany Cheong, who had been immensely helpful to our class throughout the week, and her father Cy Cheong. Their presence added an extra layer of excitement and insight to our experience.
Afternoon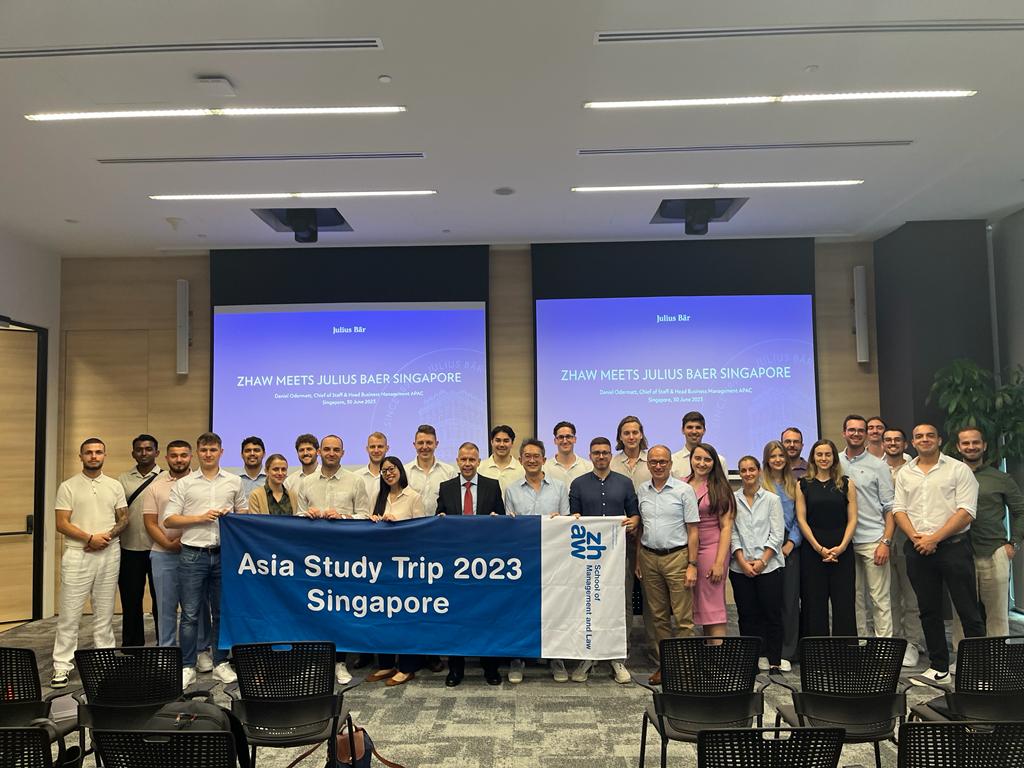 Julius Bär
Julius Baer, a renowned Swiss private bank, is a prominent player in the Singaporean financial landscape, providing exceptional wealth management and advisory services to private clients. Since its establishment in 2006, Julius Baer has solidified its presence in Singapore, with its office strategically located in the Marina Bay Financial Centre in the heart of the central business district. The bank's core focus lies in catering to the needs of high-net-worth individuals, family offices, and external asset managers in the Asia Pacific region, offering tailored wealth management solutions to meet their unique requirements.
Alessandro had previous contact with Ralf Oster, the Executive Director and Head of IT Service Transition Management Global at Julius Baer Bank. Through this connection, Alessandro managed to organize a visit to Julius Baer in Singapore. Upon our arrival, we were warmly welcomed by Daniel Odermatt, the Chief of Staff APAC at Julius Baer, and Jonathan Chan, the Corporate Innovation Leader. We had the opportunity to engage with them on various topics and learn more about Julius Baer's innovative approaches.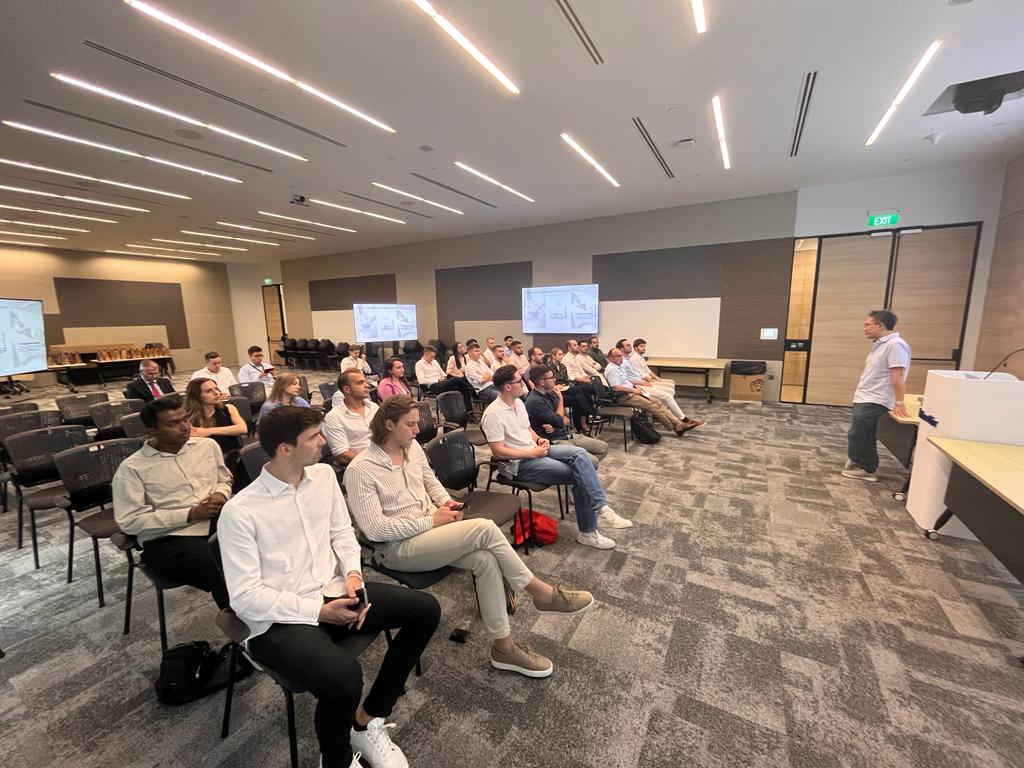 During our visit, we were accompanied by a dedicated team of university graduates who now work at Julius Baer. They supported us as visitors and provided insights into their experiences at the bank. It was inspiring to witness their passion and knowledge, and we were impressed by their contributions to Julius Baer's work. Julius Baer also offered us an apero after the presentation to talk to the employees. In addition, each student received a small gift, which was very generous.
Overall, our visit to Julius Baer in Singapore was an enriching experience. We are grateful for the warm hospitality extended to us by Ralf Oster, Daniel Odermatt, Jonathan Chan, and the team of university graduates. This meeting provided us with a deeper understanding of their work and their commitment to innovative solutions. We were particularly inspired by discussions on topics such as cultural differences between Asia and Europe, the Swissness factor as a sales driver, the improvement of data-driven decisions and solutions, and the generational shift in the coming years, which shapes the demand for products and solutions in Asia.
The meeting demonstrated to all of us that what ultimately matters is not what one has studied in the end, but rather the dedication and enthusiasm one brings to a particular field. It emphasized the importance of passion and commitment, highlighting that these qualities transcend formal education and can drive success in any chosen area.