Written by Alexander Radtke & Cyril Marti
Morning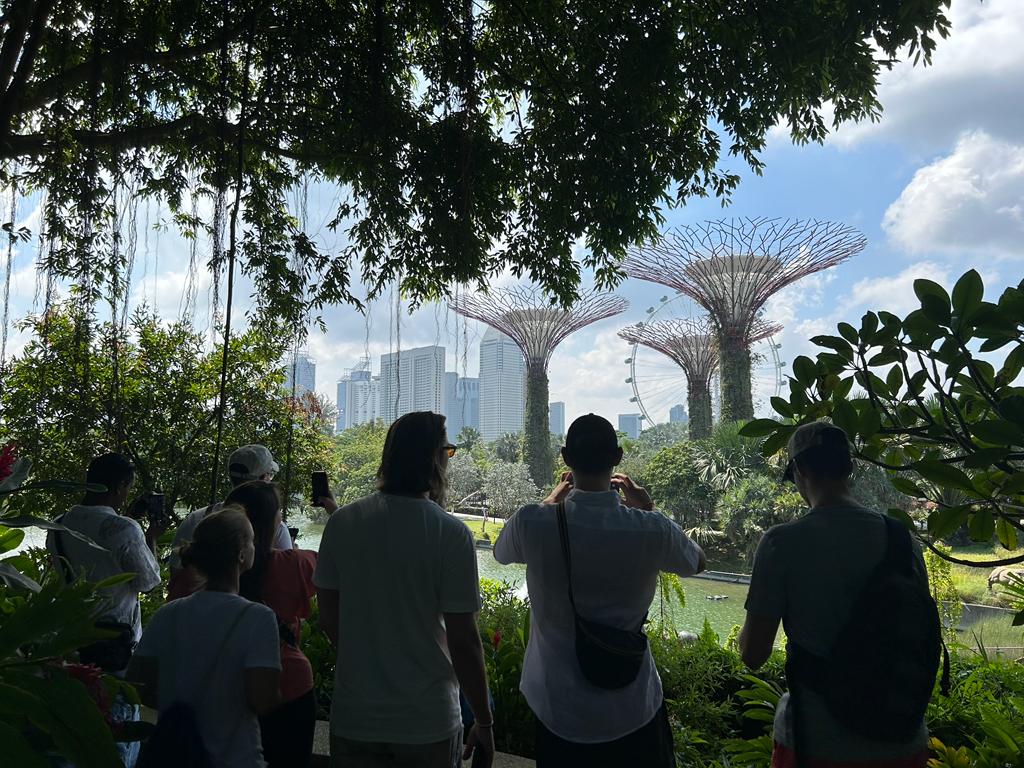 Garden by the bay
On the morning of the sixth day of our study trip, we had the opportunity to participate in a voluntary program. This program included a visit to Gardens by the Bay, a vibrant nature paradise in Singapore. Gardens by the Bay is an impressive example of Singapore's efforts to create green and sustainable urban spaces. This attraction is renowned for its spectacular vertical gardens and futuristic Supertrees. It comprises various areas, including the Bay South Garden, Bay East Garden, and Bay Central Garden. As we stepped into Gardens by the Bay, we were immediately captivated by the breathtaking beauty surrounding us. Vibrant floral displays, exotic plants, and majestic trees adorned every corner. The Supertrees, towering above us, were particularly fascinating. We took a stroll along the OCBC Skyway, offering us a panoramic view of the gardens and the city's skyline. Furtermore, some students of the group visited the flower dome and the exhibition "floral fantasy".
Afternoon
East Coast Cycling Tour including dinner at Jumbo Seafood
In the late afternoon, the entire group gathered for a cycling tour along the picturesque East Coast. We rented bicycles and pedaled along the coastline, relishing the refreshing sea breeze and the stunning views. It was a fantastic opportunity to explore Singapore's natural beauty while staying active. After our cycling tour, we worked up quite an appetite. We had made a reservation in advance at Jumbo Seafood on the East Coast. This renowned restaurant is famous for its delectable chili crabs, considered the best in the country. We indulged in the juicy crab meat smothered in the flavorful sauce, savoring every bite. We ended the evening on a relaxed note, enjoying each other's company and reminiscing about the day's experiences.
The evening was truly memorable as we had the privilege of being accompanied by our esteemed guest, Chan Chee Pong, who shared captivating insights about the renowned Singaporean harbor and its captivating features along the picturesque promenade. This experience proved to be exceptionally relevant and perfectly complemented the theme of our upcoming day's activities.