Morning
LGT Singapore
written by Christian Aeschlimann
Today, we had the privilege of visiting LGT Bank Singapore, a globally recognized company renowned for its excellence in wealth management. Our visit was filled with exploration, inspiration, and a deep dive into the wonders of LGT Singapore.
Our day began as we arrived at LGT Singapore's impressive headquarters, situated in the bustling heart of the city. The sleek and modern building stands tall, exuding an air of trustworthiness and reflecting the company's inherent financial expertise. This setting set the tone for an exciting morning ahead. We kick-started the day by taking the elevator up to the 28th floor, which provided us with a panoramic view of Singapore's finance district. We were then ushered into a conference room where we awaited the arrival of the CEO of LGT Singapore, who would initiate the presentation. The entire group was filled with anticipation and excitement, eager to learn about what lay ahead.
Our main host, Dominique Joye, CEO of LGT Bank (Singapore) Ltd., delivered a highly informative and welcoming session, providing us with a comprehensive understanding of LGT as a whole, as well as the challenges and services they offer in Singapore's fast-changing ecosystem.
The second part of the presentation was conducted by Hsueh Min, a member of LGT's sustainability team. He enlightened us about the company's goals regarding ESG matters, sustainability, and their investments in sustainable initiatives. A notable takeaway was their commitment to achieving net-zero emissions in their operations by 2030.
Lastly, Lionel Choi, with his legal background, provided us with valuable insights into different trust structures utilized by LGT clients in Singapore and the APAC region, as well as by family offices in general. An intriguing topic discussed was the growing popularity of family offices in Singapore. Additionally, he shed light on yield enhancement strategies, emphasizing how they can contribute to maximizing returns for investors. In conclusion, it was evident that with the right tools and guidance, there are opportunities for yield enhancement and tax optimization, allowing for improved investment performance and overall financial outcomes.
Overall, our visit to LGT Singapore was a resounding success. We had engaging discussions, exchanged ideas, and acquired a wealth of new knowledge.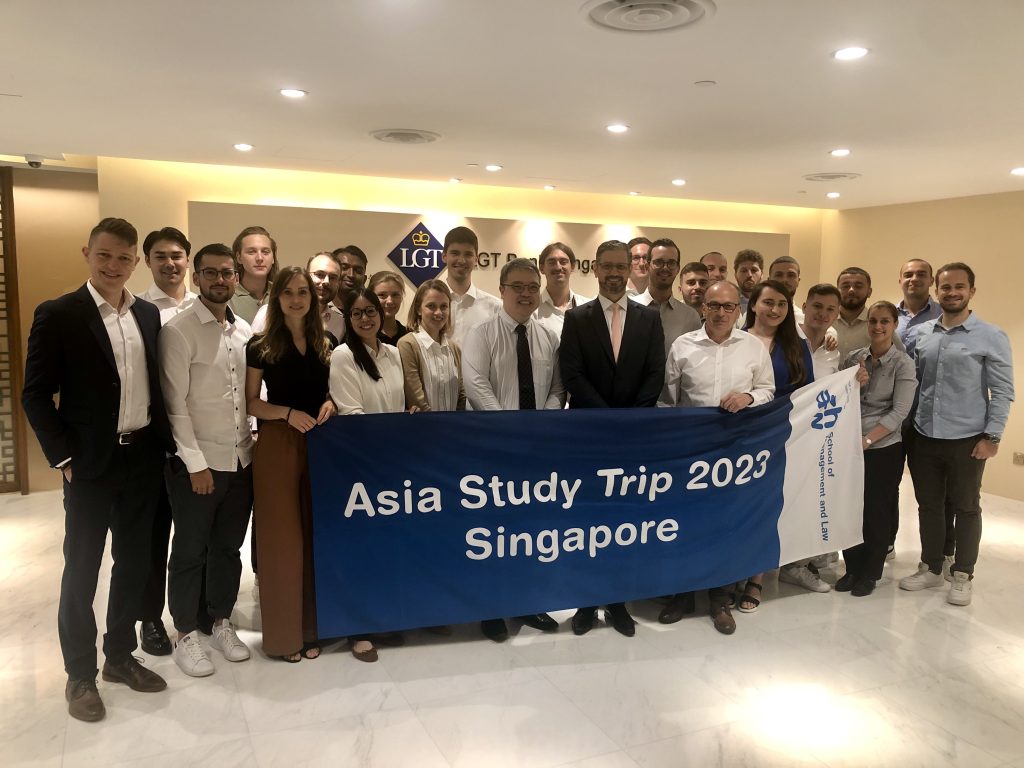 Afternoon
Panel discussion with four experts, four backgrounds, but one passion – for Singapore and their profession.
This blog reviews the insights given by four lead experts in their field. They all come from different backgrounds, but they share openly with students from ZHAW what it really means to live and work in Singapore and key lessons they have learned on their way. Written by Manuel Kropf.
On Tuesday, June 27th, the Swiss Club in Singapore opened its doors for a panel discussion. Symon Tilberis invited three colleagues to join him for a panel discussion. All share the passion for the Asian region – as a place to live and work.
Steve Holdener working for a family office and Florin Bötschi as an asset manager, consider Singapore their home. However, the way of earning this feeling of belonging hasn't gone without overcoming some difficulties. For Florin, one key learning was to adapt flexibly to plans made. Steve could relate to that well. He mentioned that certain steps such as obtaining the appropriate licenses for work can be somewhat time-consuming – and you simply got to learn to adapt to that.
Steve and Florin come from Switzerland, while start-up founder Grace Sai is well-rooted in Southeast Asia through her origins. Even though she has worked all over the world, Singapore is the place to be for her. This is because she sees the great impact and contribution she can make, as well as the talent she finds around here – these are more than good reasons to stay for her.
As for advice on startups, Grace sums her success up in three key areas. First, find the right people to talk to. Let them give their honest opinion on your ideas or let them share problems they see. Then, do research. And this should be done thoroughly. Third, hire the right people. In leading a start-up, she suggests being optimistically paranoid and impatiently patient – all at the same time.
Overall, they highlight the importance of a solid network. And they made a strong statement regarding what good networking should contain. At its core, it should be the question of what you can give – before you ask. Symon also highlighted the importance of deliberately keeping an open mindset, especially when things may not make sense to foreigners.
All in all, it was an honest open discussion ending in a lively interaction with the students. It was a privilege to get an insight on their learnings.
Disclosure: All experts spoke as private individuals. The statements given do not necessarily represent the opinion or standpoint of their employers.