Another morning in Casablanca started with heavy rain and even hail. This did of course not dampen our spirit and after a quick bus ride we arrived at Sheraton Hotel which was thought to be our first destination of the day. On arrival, however, we had to realize that plans have changed and we were indeed not at the right location. After consulting with the organization and a short coffee break in the hotel lobby, which gave one or the other sleepy student the possibility to wake up a little more, we continued our trip to the Indou Afna Hotel to meet the representative of SGS.
The presentation of the company would turn out to be a little more challenging than the previous ones as this time the presentation was being held in French. Mr. Adil Saoud, Certification Manager of SGS, started his presentation by presenting general figures of the company and continued by an explanation of the company's methodology regarding the various trainings offered by the company.
–
SGS est le leader global dans l'inspection, vérification, et la certification d'entreprises. Plus de 90'000 personnes sont employées par SGS dans plus de 2'000 bureaux au tour du monde. L'entreprise comprends 14 différents secteurs d'activités dont l'agriculture, la nutrition, la chimie, l'industrie automobile et les biens de consommation.
–
If you did struggle understanding this short part you might empathize with some of the students during the presentation. Especially in moments when explanations were given on more technical aspects.
SGS is the global leader in inspection, verification and certification of companies. Over 90,000 people are worldwide employed at SGS operating in more than 2,000 offices and they are active in 14 global industries including agriculture, food, chemistry, automotive and consumption goods.
The SGS Academy provides professional development training and customized training solutions for companies to enable a company to keep up with industry trends, changing technology standards and regulations. The solutions offered by SGS range from in-house to online courses over to mobile learning. SGS Academy has worldwide presence via centers of excellence or regular training courses According to Mr. Saoud e-learning is not yet really developed in Morocco due to concerns in safety and effective participation. The areas of training are grouped as following:
Environmental
Health and Safety
Leadership and Management
Management Systems and Standards
Process Improvement
Risk and Security Management
Manufacturing and Supply Chain
Sustainability
Industry-Based Specific Training
After the presentation students and accompagnants were invited to enjoy a tasty buffet meal in the hotel own restaurant. A variety of moroccan foods including fish, tagine, and various typical salads were served followed by a large dessert buffet. After this mouth watering break we headed back to the bus to drive to the next destination. Surprisingly, we arrived early for the presentation at the "Centre Régional d'Investissment" which is located in front of the square mohammed V. The early arrival gave us the opportunity to have a walk around the centre. This time was used to visit the court of justice or do some souvenir shopping. 2 p.m. marked the starting point of the second presentation for today.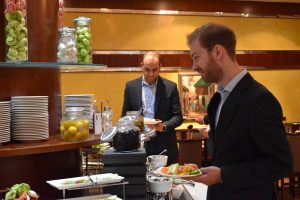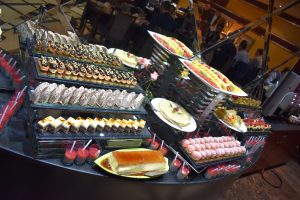 The "Centre Régional d'Investissement" helps and advises people (local and foreign) who want to invest by providing information on for example jurisdictional, fiscal and administrative procedural matters. These services are provided free of charge. Mrs. Zahra furthermore said that there is an additional desk specialized on the creation of companies. Mrs Zahra and her colleague then spoke more about the Kingdom of Morocco and Casablanca and why investing in these destinations is attractive. They highlighted that Casablanca is the economic capital and it serves as a model for The rest of the country and that Morocco has a unique set of free-trade agreements that enables to reach 1 billion of potential customers which amounts to 50% of the GDP. As a last point, it was said that Morocco is targeting more electrical procedures including the submission of tax information to move to an e-government.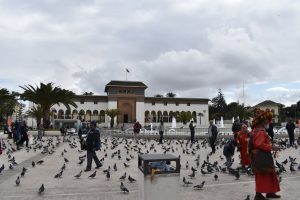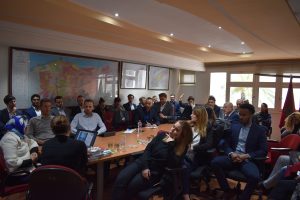 After the visit of the "Centre Régional d'Investissement" we headed back to the Mövenpick Hotel by bus. The last point on the schedule for today was a presentation on the Islam and the Moroccan specifities of the islam, which was presented by Mr. Hssein Khtou and Mrs. Nadia Halim both associate professors at the Dar Al Hadith Al Hassania Institution in Rabat.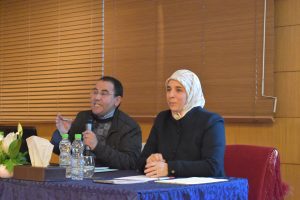 After an introduction in the history and evolution of Islam a closer look was taken on its country specific characteristics. According to the presentation Morocco is known for its modest interpretation of Islam which is defined by tolerance, openness, cooperation and stability that guarantee a peaceful coexistence. This is achieved through the following specificities:
Unity of Madhab (School of Jurisprudence) Theological doctrine and Sunni Sufism
Management of the religious field by the commander of the faithful (The King)
Scholars are tasked with scientific and religious training within institutions
The fatwa is performed by a scientific authority, not individuals
Involvement of women in the management of religious affairs
The centrality of the Quran in religious life and educational systems
The centrality of religious occasions in religious practice, social life and official management of the religious affairs
Moroccans, however, moderate they are, place high importance in Islam in their daily lives in private as well as in business. Therefore, the aspects of culture and religion are predominant and should be considered when doing business in the country. During Ramadan for example working hours are being reduced and the whole economy slows down in order to allow for the daily prayers to be held.
In the name of our study trip group we would like to thank all the contributing parties for the fascinating insights and their commitment.
Written by Group 3 – Guillaume, Joëlle, Patricia and Sandro