We embarked on our Wednesday journey with a full packed program ahead of us, starting off with Bühler as a first company visit.
Bühler
Mohamed Saadi, Project Manager and Jin Kit Chua, Area Sales Manger welcomed us warmly to their Casablanca Head Office of the BNWA subregion. 65 percent of global wheat production is covered by Bühler milling solutions. Bühler as a global company has to be close to their customers in order to provide solutions, therefore the Casablanca plays an important role in order to react quickly to the market needs. What distinguishes the African market to the other locations of Bühler are many different factors. Mr. Saadi and Mr. Chua emphasised the following especially for the BNWA region:
Quality and Quantity
In Europe the need for automation of machines is way higher than in Africa. The quality expectation that the end customer wishes for has to cover higher wishes and adding up to that the quality regulations in Europe are way stricter than in Africa regarding the food processing industry. Africa, being an emerging economy has not yet developed the same standards when talking about food preferences and nutritional values.
Training and People Development
Depending on the region, education levels differ immensely. As an example, it is hard to find highly skilled technicians and therefore Bühler sees the need to employ locals who can benefit from a training in Uzwil, Switzerland. Furthermore, they send a lot of expats abroad. For the office in Casablanca there are about two Swiss people on a team of 13 locals.
Gaining Trust
It is hard to find the right ratio of being a local who for instance speaks not only French but also Arabic and presenting yourself as a Swiss company towards the customers. It is of high importance that the customer relationships are maintained on a regular basis and perhaps way more than in Europe because the relationship is also established through private events as it is very common in collectivist cultures.
Strength is to be found in serenity.
To conclude the visit, Bühler invited us to a tasty Moroccan couscous on their rooftop with an astonishing view over Casablanca.
Student Voices:

"I knew that Bühler makes machines, and now I know what kind of machines".

"Super company with great office installations".
The Mosque Hassan II
After an informative morning at Bühler in Casablanca, we had a tour through the Mosque Hassan II. With its 200 metres length, 100 metres width and 65 metres height, the mosque is not only the largest Mosque in Morocco, it's minaret is also the tallest worldwide at 200 metres. The architect of this breathtaking building is Michel Pinseau from France which is also the best friend from King Hassan. The instructions began back in 1987 and it took them only six years to complete the whole building. Approximately 2.500 craftsmen as well as 10.000 artisans were involved during the building of the mosque and they were working on it for 24 hours each day during construction. An interesting fact about the building is that almost all products used are from Morocco; only a few products were imported from Italy. The mosque has a capacity for approximately 25'000 people, which especially on special occasions as for instance in the holy month of Ramadan can be completely full. Another interesting fact about the building is that one third of it is build on the ocean due to a Vers of the Quran.
But enough with the information – let's enjoy the pictures..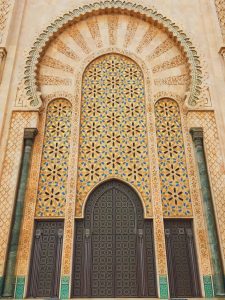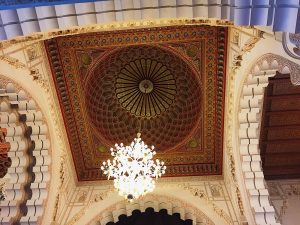 Student Voices:

"I love the architecture of the mosque – it's something different!"
Novartis
From the tallest mosque to one of the most admired companies of the world – Novartis.
The ZHAW delegation already took seat when Mr. Mourad Benhammacht, the Head of Human Resources for Morocco, Tunisia and Libya (MTL), entered. Mr. Benhammacht made a clear point at the beginning by saying that the company is not a drug dealer in first line but with the mission to improve people's life. He gave a brief introduction of the company, by mentioning the main responsibilities of Novartis, which is to provide people in need with medicine and not to make the biggest profit. When he made us familiar with Novartis Human Resource Strategy, most of the students experienced a flashback to the MPIC exam few weeks ago. HR key topics such as talent management, importance of change and benchmarking were presented and discussed. Once the first presentation was finished, conditions like in the ancient Rome were observed. Students and lecturers were attacking the welcoming snacks and beverages offered by Novartis like they had no food during the last days.
Following the sugar bombs, the warmhearted Nadia Moukafie, CFO, talked about the financial situation and answered questions to the IM students.
The last hour belonged to Ghizlaine Tahiri, Head of Quality & Compliance, which highlighted the enormous importance of adhering to local rules and policies. Furthermore, corruption mitigation in highly corrupted markets, such as Morocco, were discussed. She mentioned that Novartis would have strong procedures against corruption, internal audit and training to ensure a correct compliance worldwide.
Dinner, La Sqala
To finish this interesting day, ZHAW invited us to a traditional Moroccan restaurant in the heart of Casablanca. We were served with three courses, as a starter goat cheese salad, delicious Tagine (slow-cooked stews braised at low temperatures, resulting in tender meat with aromatic vegetables and sauce) and for dessert nougat and fruit salad.
A big thank you in our name to Mr. Khaldoun Dia-Eddine, Dr. Michael Kendzia and of course ZHAW for this meal.
Written by:
Amadeo Ismael Disasi, Christina Jäger, Marcel Näf, Yasin Sevic and Laila Werner