Today was our 4th visit during our study trip to London. We had the pleasure to have a new member joining us, also known for her busy jet-set life, Dr. Karin Brunner Schmid. Fortunately she left Vienna for London. But actually, we were lucky to have the chance to visit the UK & Irish headquarters of the American pharmaceutical company, Bristol-Myers Squibb (which has nothing to do with a Squid). The employees we were able to meet during our 2h visit were very professional, despite a few technical problems at the beginning, but let's be honest we are all human :-). They were very proud to share with us the company achievements as well as its mission, which they dedicate their work life to: ''the best people helping patients in their fight against serious diseases''. They were able to share a lot of information about their company. One of them surprised some of us, in other words, they spend 25% of their total revenue of 4.8 billion on R&D, which fights against the stereotype of ''greedy Pharma''.  Additionally, another anecdote which we found impressive, is that it takes around 2 billion USD to develop a new drug until its release to the market.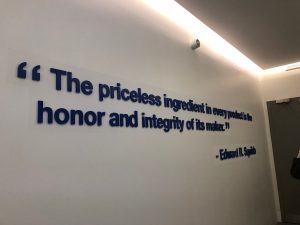 One of the speakers came from the medical affairs department and he enlightened us with some key information such as another mission of their team is to discover, develop and deliver innovative medicines that help patients over serious diseases. Also, they base their research on end to end development, from the very basic discovery in science to the development and research and finally to the commercial step. Their key focus lies on innovative medicine, which tackles new diseases with high morbidity rates. In order to achieve this, they also co-develop medicine with strategic partnerships such as academic partnerships as well as other big Pharma and biotech companies. In order to blend the experience of yesterday's visit to NICE and today's visit, we asked a few questions about the relationship between NICE and Pharma. We found out that 20% of NICE's work comes from Bristol-Myer Squibb, this number alone represents the relevance of their impressive pipeline for oncology, cardio vascular diseases and fibrosis. They are very fast in creating new products since they have a new one launched every 4 months. The relationship between NICE and the company can be also described as a dynamic tension. Since NICE does not always approve their innovations and this mechanism pushed them to continuously improve and continue to research. Additionally, the toughness of NICE on regards of  product approval is actually being mirrored by other European countries, who follow the recommendations NICE gives to companies based in the UK. Even though some products are approved in other countries before the UK, the company does not see this as a back-leap, since they have a better access to patients in comparison to other European countries.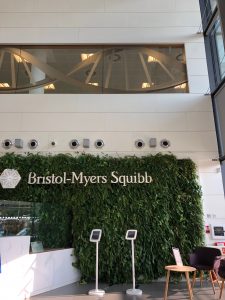 This high level of complexity, has created a job pool, that gives access to students as wells as professionals from other countries to develop and grow with their career (yes, Kevin, please do send your CV). They spoke highly about their company and it their devotion to the unmet needs of cancer patients, but this counts only for patients in countries where costly treatments are being payed for. Can we continue to go down this path or has the Pharma industry to adapt in the future? We finished our visit with a lovely lunch (for those who remembered to bring their sandwiches.. no names will be disclosed :-))  and headed to our next meeting to the Health Foundry.