Hamad Port – The gateway to Qatar's future.
Today was the earliest morning of the week. Meeting point was at 7.45am in the hotel lobby. After most of us enjoyed a delightful breakfast in the hotel, we were to able to have a little nap on the bus heading to Hamad Port Project, which will be the new main port of Qatar.  The construction of the port commenced in 2011 and started operations in 2016. However the project will only be completed by 2018.
The new port project is a state of the art mega project consisting of three parts.
Hamad Port
Qatar Emiri Naval Forces Base
Economic Zone 3- Canal
All of the above mentioned works are in line with Qatar's National Vision 2030 and the project aims to make Qatar a regional hub for sea cargo.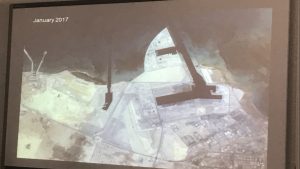 Upon arrival we were greeted by the projects consultant, environmental manager, the legal advisor and the client manager of the project. We were given in brief introduction of the new port project and how it is constructed and coordinated.
Following their presentation and an interactive Q&A session we were driven around site, were we able to view the huge cranes that can lift up to a 100 tones and the newly created basin.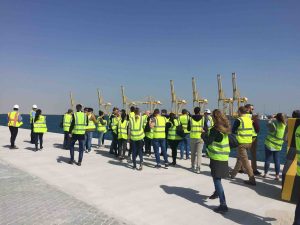 Manateq
After being stuck in traffic for an hour we were forced to consume our lunch in a quick 30minutes break – literally fast food. Once we finished lunch and arrived at the meeting one hour later than planned, we were warmly greeted by the business development manager of Manateq.
Manateq is the developer of the three economic zones in Qatar. The company provides infrastructure and the company develops and operates economic zones and logistic parks that aim to diversify Qatar's economy. Manateq pursues the Qatari National Vision 2030 towards social and economic development.
After an in depth presentation and taking a group picture we returned to the hotel to take a short rest before starting the second part of the day's program.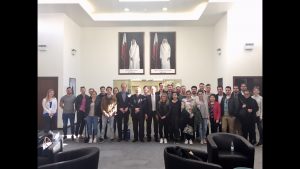 Gathering with Swiss companies at Grand Hyatt/ Dinner with H.E the ambassador of Switzerland to Qatar.
At 17:45 we departed for the Grand Hyatt Hotel where we were invited for a drinks and we had the chance to network with Swiss expats running businesses in Doha. A number of high profile people were also attending, including senior management of a large Qatari jewellery company, Qatar's Commercial Bank and the local subsidiary of Holcim.
After drinking some wine and smoking some cigars we were taken to have dinner with H.E. the ambassador of Switzerland to Qatar.  We were served traditional Arab food and entertained by a local music trio. After many interesting discussions with the ambassador, his wife and other invitees, we concluded a successful day in the warm weather of Doha.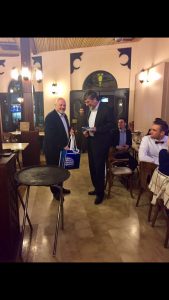 Authors:
Sandy Tran
Ramona Moser
Kristina Milojkovic
Michelle Hofmann
Jeremy Kravetz
Florian Paschka