Qatar University
After having an excellent breakfast at our hotel, we left at 8:45am to the Qatar University.
The representatives from the Qatar University introduced us to their university systems and explained us that during the undergraduate programs the school follows a strict gender segregation rule. However, a surprising fact was that approximately 60% of the enrolled students are female. Consequently, in Qatar's business environment women have many job opportunities and hold important roles within companies. After the introduction, the associate dean of the law department explained us how the law is being practised in Qatar. Their law system is based on the civil law, as in Switzerland, and on the Islamic Sharia. Concluding the visit at the university, an international expert in entrepreneurship who has spent 4 years in Doha illustrated the opportunities and challenges to create businesses in Qatar. Furthermore, he explained that Qatar has an unemployment rate of 0.5% and that most graduates are not willing to start their own business since they can receive high entry salaries. Consequently, the entrepreneurial spirit has to be promoted in order to encourage the students to found innovative start-ups and take the risks to fulfil the potential in Qatar's markets.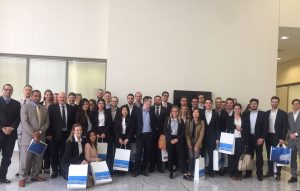 Due to our active participation in the morning we had to skip lunch and went straight back to the hotel.
Habegger Productions LLC
After having seen the theoretical approach at Qatar University on how to do business in Qatar we were lucky enough to enjoy a company presentation from Habegger LLC. This is a Swiss company operating in the event business. Coming from concerts, visitor centres and exhibition booths to festivals, Habegger has high quality tailor made services for any kind of client. They operate worldwide from 4 administrative offices located in Zurich, Berne, Vienna and Qatar. The last one in Qatar has been opened in the year 2006. After a pull-out in 2008 due to the economic crisis they reentered the market.
Habegger group re-entered with the perception that due to Qatar's immensely high GDP and steadily growing economy, demand would be overwhelming. However, they had to deal with huge cultural differences and hence had to overcome challenging burdens. Lessons learned include that Qatari people's decision making highly depends on their emotions. Pictures, videos or showing what the company actually has achieved so far is crucial and connected to huge amount of unpaid effort. Filtering out requests that actually are meant seriously (and not cancelled the next day) provided a difficult challenge. Also are there regulations that restrict doing business in Qatar such as the rule that 51 percent of shares of a company on Qatari soil needs to be owned by a Qatari citizen. Therefore, trust among business partners is a necessity. Mr. Thomas Wasshuber, the country manager of Habegger Qatar, clearly emphasized this point. The issues with regards to cultural differences are reflected in their decision to restrict their operations to projects with international clients. However, with their high quality and sophisticated state of the art solutions they were able to gain a relevant market share and win important tenders. Therefore, they managed to get famous and renowned references in Qatar.
Especially are they proud to execute many projects in the sporting area. The soccer World Cup of 2022 takes a big share of their work and delivers many projects of very large scale. Recently they finished their largest project, a FIFA pavillon that serves as an exhibition for the FIFA World Cup. If everything works out, we will be invited for an exquisite pre-opening tour on Wednesday afternoon.
Islamic Cultural Center
In the evening, we headed to the Sheikh Abdulla Bin Zaid Al Mahmoud Islamic Cultural Center were we received a warm welcome with tea and a brief practical demonstration of the Islamic culture. The guide taught us some basic Arabic language and gave a good insight into their everyday-life.
Proceeding, we were shown two videos, one of which was about Qatar's history, development, culture, life and people in general. The second video was about DNA and basically provided one main message: we are all related in some way, we are all equal. With this, we were introduced to the roots of the Islamic religion. We were given a very thorough explanation of the Islamic culture and really managed to open our minds by giving a critical view and counterattacking while answering our questions. The Islamic belief has the same roots as most religion, which means we all believe in the same god. Stereotypes and terroristic practices definitely lead back to a lack of education and misinterpretation of the Quran.
As we were right on time for Salatul Janazah, the last prayer of the day, the group split into female and male to participate in the praying. Girls had to wear an abaya and had to witness the happening from a separate female praying room. The lady explained the basic practices and behaviour of the praying practices.
After that, we were free for the evening. As the Cultural Center was located very close to the Souq Waqif, we all ended the evening there.