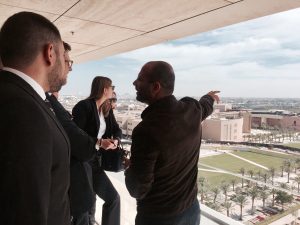 Today was the first day of our Study Trip to Qatar. For us this Sunday was very busy but in Qatar the professional week starts on Sunday and goes until Thursday. We met early in the morning to go to the Commercial Bank which is the first Private Qatari Bank founded in 1975 and offers a range of products and services across retail and corporate banking divisions. There we met the Deputy CEO who gave us an introduction which was followed by speeches of his co-workers giving us a deeper insight into the history of the Commercial Bank, the new banking regulations in the world and in Qatar and the rise of digitalisation in the banking sector. Lastly, two fresh graduates who joined the Commercial Bank recently, described to us what it means for them to work there.
Following the meeting at the Bank we took the bus and went to see the Qatar Foundation. It is a private non-profit organisation that serves the people of Qatar by supporting and operating programs in three core mission areas: education, science and research, and community development. There we also had the chance to have a look at Doha from above and all the Universities that the Qatar Foundation cooperates with.
Additionally, we were introduced to the variety of higher education provided in Qatar by universities from all over the world, having a campus in Doha. It was made clear how important the network is to Doha and how they profit from each other.
A sub-division of the Qatar Foundation is the Qatar Science & Technology Park, which has several functions. First it is a working space and "free zone", which is a opportunity to build a company in Qatar without certain regulations that are companies normally obliged to. Second it is an incubator for tech start-ups. Lastly it is as well a free trade zone within Qatar.
We were able to attend a rather technical speech about the R&D efforts made by Shell in Qatar and as well were allowed to visit the lab and a test field.
In the evening and after a very interesting day full of impressions and different companies, we drove back to the hotel rather exhausted but happy. The evening was free time, which was used to go out and find local food, bars and bonding some more.