Our first day in Vienna started in the beautiful "Palmenhaus" next to the "Schmetterlinghaus" in the centre of the city. After a warm welcome from our lecturers along with coffee, tea and croissants, we were briefed about our upcoming day. At the memorial against war and fascism in front of the "Wiener Staatsoper", we met our tourguide Yvonne Heuberger-Dornauer, who briefly introduced us to the history of Austria and particular Vienna. Our first stop was in front of the national library on the place named after Josef II, who is immortalized as a statue. In contrary to his relatives, he went down in history for being an enlighter, who passed many radical reforms. His mother, empress Maria Theresia, perfected the Habsburger marriage policy, by engaging her twelve children with all the important dynasties and acomplished many useful alliances for the Habsburger. After a quick walk through the "Schweizer-Hof", which was named after a battalion of the Swiss Guards, who were stationed there in the 18th century, we stopped on the "Heldenplatz".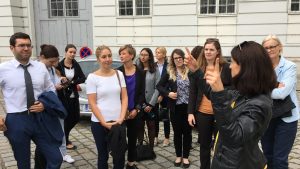 After an individual lunch, we met at the Federal Ministery of Finance. Chief of staff, Mrs. Daphne Aiglsberger, welcomed us in a conference room in the 4th floor of the former winter residence of Prince Eugene of Savoyen. Firstly, she gave us an overview on the ministery. In contrast to Switzerland, in Austria the fiscal sovereignty and tax Collection is entirely in the hands of the federation. She introduced us to the recent developements in digitalisation and New Public Management reforms on finance matters. We talked about the challenges of the departement of finance administration, management and services. For example the growing complexity of economy through globalization and digitalization. She talked on how they intend to improve the usability of the tax declaration and customer service as a whole. The question how to cope with the latest developments and how to engage engage in cutting-edge technology such as blockchain and the concept of big data is still open to some extent.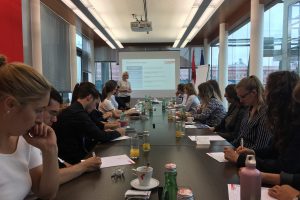 In the end, we had time to ask some questions. We noticed that the people of Austria prefer customer-service over absolute data sovereignty in contrast to Swiss people. Centralization of tax sovereignty in Austria also helps to take further steps in digitalization, such as online tax declaration, chatbots or apps for small enterpreneurs. At 4.30 p.m. an interesting presentation and thus our daily program ended.
Posted by Group Rickli, Thierer, Eiholzer and Dudzinska