Hello folks and welcome to the second blog entry about our study trip here in London!
The agenda promised a variety of exciting presentations followed by some "ducking around" in the heart of London City.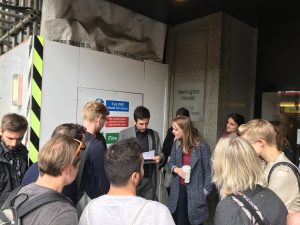 In the morning we met at 8:30 at the NHS Improvement HQ. After a short briefing and a recap about yesterday's events we were eagerly queuing up for our badges to get inside and improve our knowledge about the complexity of the English healthcare system. Starting with a brief introduction into pricing methods of the NHS Improvement, Paul Healy-Pricing Policy Manager explained how they set 2500 prices per year. In comparison to the Swiss healthcare system there is no negotiation between healthcare providers and the government. As a matter of fact, the NHS Improvement has full power in defining the prices for health services. However, with the option "payment by results" they also try to set some incentives to increase quality of care. His presentation was followed by an interactive and philosophic mini-experiment to better understand the influence of individual interpretation and perception on leadership, in general and of course in healthcare.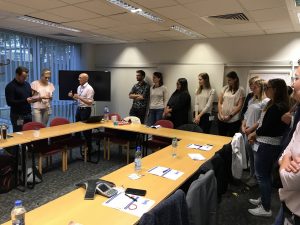 Toby Austerten gave us an insight of how health economic studies are applied as a support tool in decision making processes. Patrick Fraher introduced us on how the monitoring of the different trusts are managed. After 4 hours, almost no breaks, lots of useful information and good insights however, we were happy to finally get some caffeine and lunch.
We had some more fun afterwards on our sightseeing tour on the "Duck-Truck", where we learned how laying lions lie.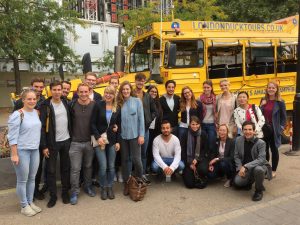 The day ended with a delicious dinner and beer tasting. 😉
We are looking forward to the rest of the week. Greetings and cheers from the healthcare class 2017.