After a one and half hour bus drive we arrived in the southern part of Israel. The region of Negev is covering 60% of Israel's territory but is home to only 10% of the Israeli population. Since David Ben-Gurion initiated the development of this particular region, many companies settled down in the Negev region. 5 years ago, Sodastream was among the companies that opened a manufacturing plant and since then produce their bottles as well as the fizz machines which are later on distributed to 46 countries everywhere in the world. Only glas components are sourced through third party delivery. We got a very interesting insight into the whole manufacturing process and were made familiar with the company's vision of being highly environmentally responsible. At the end of the tour the whole group got a Sodastream bottle displaying their vision of Israel, Jews and Arabs working side by side in peace.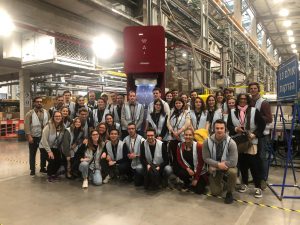 After another 45 minutes bus ride we arrived at the second stop of today's program, Soreq Winery. The winery school teaches interested people the finest art of wine making, from harvesting the grapes to the final step of bottling the wine. After an authentic tour we were able to participate in a wine tasting. Everybody got to taste three different sorts of red wine and enjoy some snacks.
Since the study trip is slowly approaching the end, the ZHAW invited everybody for a beautiful and delicious supper. The restaurant Yulia was situated at the Tel-Aviv's port, giving us a stunning view on the waves of the agitated ocean. We all had a wonderful time and enjoyed the company of each other. Hereby we would like to thank ZHAW, in the name of all 34 students, for this delicious meal.