Early in the morning a group of jet-lagged young ZHAW students gathered in the hotel lobby. After a surprisingly fishy but excessively diverse breakfast, the strengthened group of individuals set off to explore the vibrating city of Shanghai. Regardless of the cruel early hour (8.00 am!!) the group started their conquest through the business hub at the Bund. After a brief introduction of Stefan and Dr. Braun, the tour continued towards the marvelous Yu Yang garden. The mysterious atmosphere of the garden was highlighted by its temple looking like structures, its overwhelming silence, its invisible mosquito attacks, and its bonsai trees. A coup
le of hours later, the students gathered again and made their way towards the subway, which lead them to the French district, in which they enjoyed a tasty meal and a well deserved lunch break.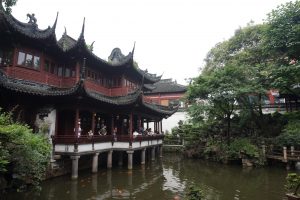 The afternoon commenced with a subway ride to Pu Dong, where the students visited the Shanghai World Financial Tower. When standing in line for the elevator all the way to the top, the wait was verbally supported by cheering voices from the enthusiastic group when new elevators would arrive. This resonated in a Chinese group' s astonishment and sounds of "ohhhnnn". Clearly, the group was already well integrated and appreciated by the local culture. The tower itself was not that great of an attraction. However, the long waits in line were characterized by great conversations, which made it a unique experience anyway.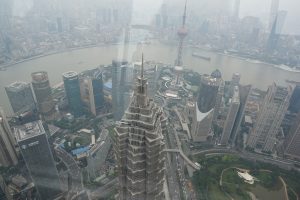 Some hours later, at 8 pm to be precise, the group met at Bar Rouge, where Dr. Braun invited the students for a drink. Thank you, Sir! The beers were enjoyed in the lovely modern environment of the roof top bar, which was even further highlighted by the lively Pu Dong skyline. Of course the night did not end here, because it never does when such a great combination of almost Bachelor's degree recipients comes together. The night continued in fusion club, where the merits of the Shanghai nightlife were enjoyed. To be continued…