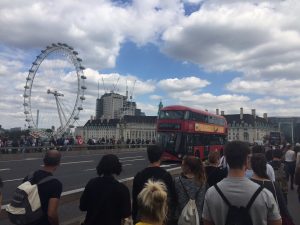 After an interesting morning at Bristol-Myers Squibb we made our way back to the city center leaving one person behind, which in the end was faster at the meeting point than the whole group, due to prior experience with missing connections.
In the afternoon we visited the Health Foundry, which is a collaborative workspace for Digital Health start-ups. The Health Foundry is exactly as one would image a start-up incubator – young, a little chaotic, a touch of hipster and with a powerful and innovative atmosphere. Since its foundation in 2016 the Health Foundry supported more than 125 start-ups from all branches of health technologies and can show a diverse portfolio. The Health Foundry supports start-ups in all stages. One of the recent emerged successful start-ups is DrDoctor, a digital outpatient platform, which is used by hospitals all over the country and facilitates over 4 million doctors' appointments a year.
We get to hear an insightful talk from a start-up consultant turned clinician Dr. Somauroo about the difficulties of starting a company under the NHS regulations. He practiced under the NHS and has now been involved in supporting over 120 health-tech start-ups with his accelerator called HS. This accelerator works closer with the start-ups than Health Foundry and focuses on late-stage start-ups. The industry of health technology has many challenges that need to be addressed due to its involvement with various stakeholders, ranging from the patients to clinicians to the NHS. The next two talks were held by founders of health tech start-ups.
Hello daisy tackles the problem of loneliness among older people, which can lead to a number of conditions costing several billions a year. A small device aims at creating a private social media platform that connects older people, without the need of being proficient with modern technologies and platforms.
Wellbones tries to circumvent the NHS and go directly to the customer, with the aim of getting NHS support once it can prove its utility with real-world data obtained by their product. Osteoporosis has not been the priority of the NHS funding so far, which is where Wellbones wants to make their impact. Misinformation and outdated "best practices" need to be corrected. The approach is a video-based platform with current information, free content on different aspects of the disease from nutrition to recommended exercises. Additionally a monthly subscription will unlock even more content and access to face-to-face support with professionals.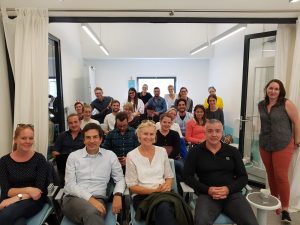 The start-up environment made for a nice contrast to BMS, the pharmaceutical giant we got to know better in the morning. We went from suits, ties and clean shaven faces to hoodies, shorts, stubbles and proper beards. The talks were less serious and more fun while being at least as well pitched as by the professionals at BMS. From the start-up point of view the biggest barriers to success seem to stem from the slow and fragmented, yet gigantic bureaucratic processes at the NHS. This makes predictions and market analysis rather difficult, with the consequences of struggling for funding. The incubator experts and environment help by tackling some of these points with experienced support, insight and mentoring.
After a very interesting day we are looking forward to our last dinner together and a fun night out. Friday morning we will conclude our study trip with a visit of the Royal Free Hospital. There we will be able to gain strategic insight on the positioning of the Royal Free NHS trust environment. Further talks on the performance and collaborations of the Hospital will be followed by a visit to different sections of the Hospitals.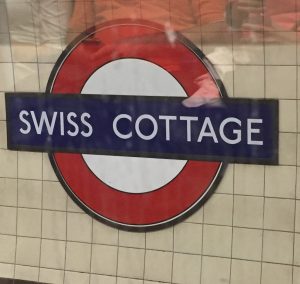 In the end we would like to thank our supervisors Alfred Angerer, Karin Brunner Schmidt and Eva Hollenstein for organizing the details of our study trip. We enjoyed learning about the British health system from different perspectives and getting closer to our fellow students and supervisors, more than once during extended talks over a few pints.